Post by Bean Bunny on May 20, 2008 23:07:10 GMT -5
Please ignore Sara's hilarious hairstyle. I have it up like this because it amuses me.
Overall, the set's pretty cool, especially if you're looking for a bunch of separates, but it can be pretty annoying to put on. We'll start with the sweater stuff I got for Sara:
I forgot and cut her head out of the picture, because I am that awesome. This review isn't about her, though, so she'll get over it.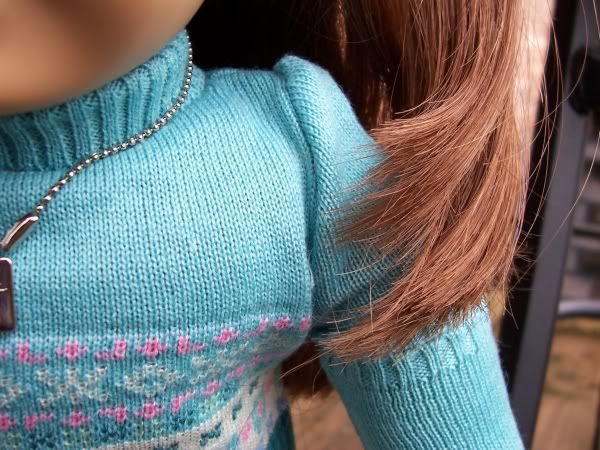 It bunches up in the sleeves funny. I think AG tried to do a gathered sleeve, which works wonders on a geodesic tunic (which they haven't made yet for dolls AG WHAT THE HELL GET WITH THE DECADE) and comes out funky on a sweater. Really, I appreciate the extra points, but a plain sleeve would have fit better on the doll.
PS: check out Sara's hair with the teal of this sweater. It's so awesome. They must've made this thing with AG #17 in mind and then gave it to Mia when they needed something else for her collection.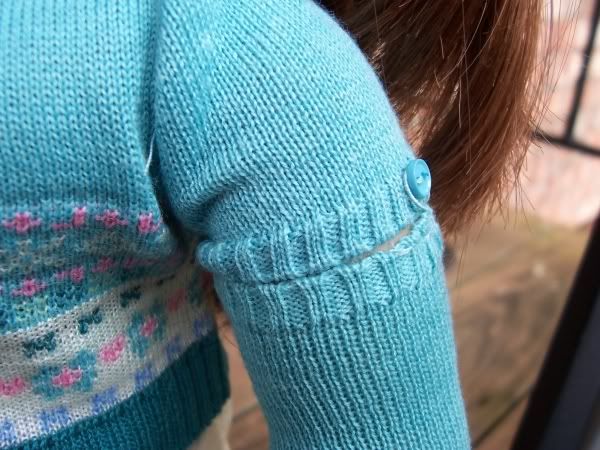 The mittens require some engineering to get on, but it's not the hardest thing you'll do all day. They button onto the sweater like so. I've never seen a real life outfit like that, so part of me loves the mittens because they're so goofy and part of me is sorely confused about the mittens.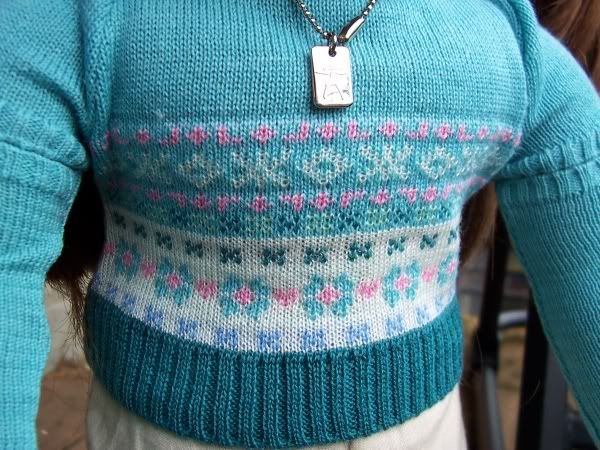 A close up of the kitting pattern, in case anyone was wondering. You can also see how it fits Sara -- it's a little snug in the chest, but otherwise not terrible. Keep in mind that Sara is an extra-hammy PM doll. And yes, it velcros in the back.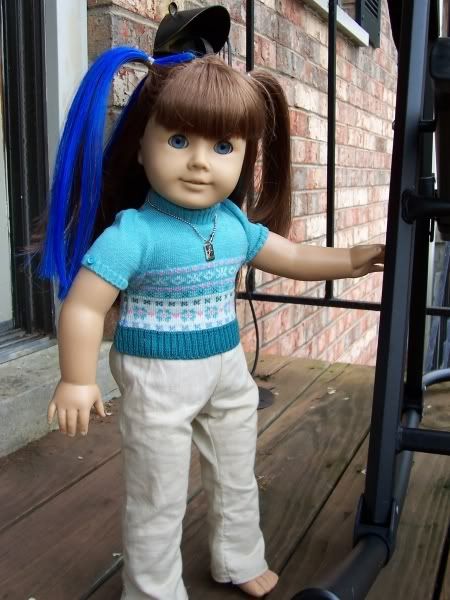 Sweater without the mittens. Actually pretty nice for this weather.
The rest of the outfit? I started to put it on Jess, but look: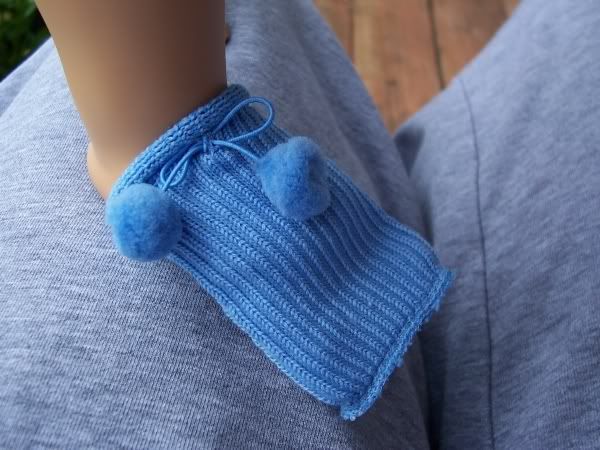 One leg warmer fits SUPAR ULTRA TIGHT on her leg, the other one won't go on at all. I can only get it this far up the foot. I can't untie the little bow, either, because it's stitched on. This is a call to CS, methinks.
EDIT: I just re-read Goo's review, and his leg warmers aren't sewn. Whut? So I got mine back out and gave the pom poms some solid hard tugs, but mine are definitely sewn in and aren't budging one bit. Go figure. Maybe they started sewing them in?
So, uh, rest of the outfit minus the leg warmers.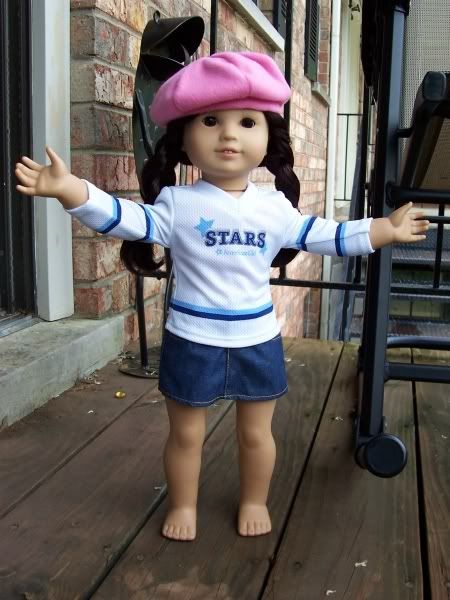 Tada! The first thing I noticed: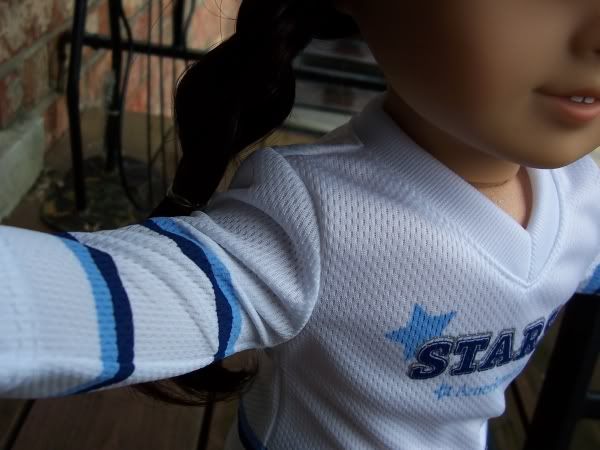 It fits funny in the sleeve again when the doll's arms are up. Jess is Mattel, too, obviously. It fixes itself quite a bit when her arms are down, though: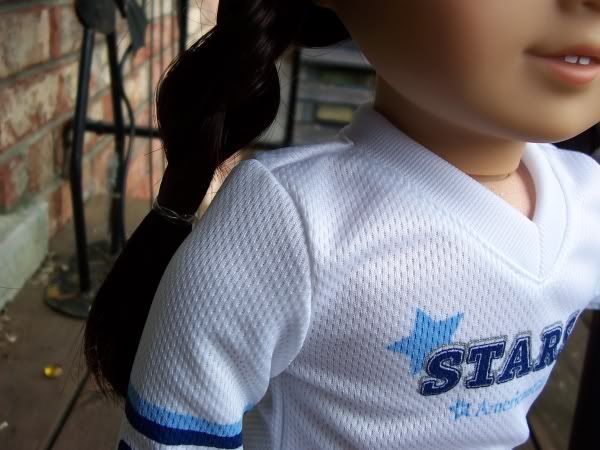 This angle also shows us that the jersey is fitting a little snug on Jess. Which, srsly, she's Mattel, that shouldn't be happening. Also, it's a jersey. Isn't it supposed to be a little baggy?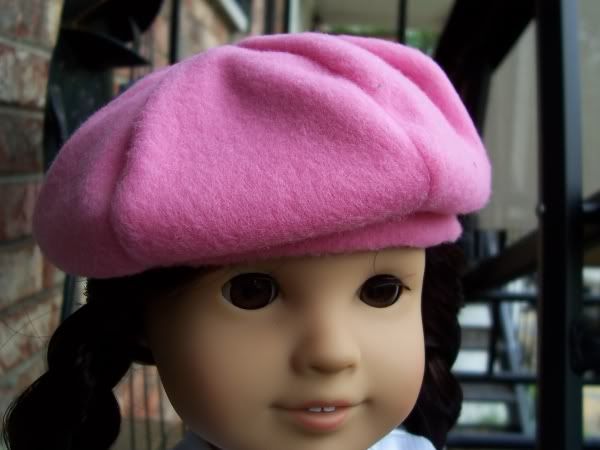 The hat is delightful, hilarious, and it's gonna pill like no one's buisness in a few months. Do not expose to moisture ever.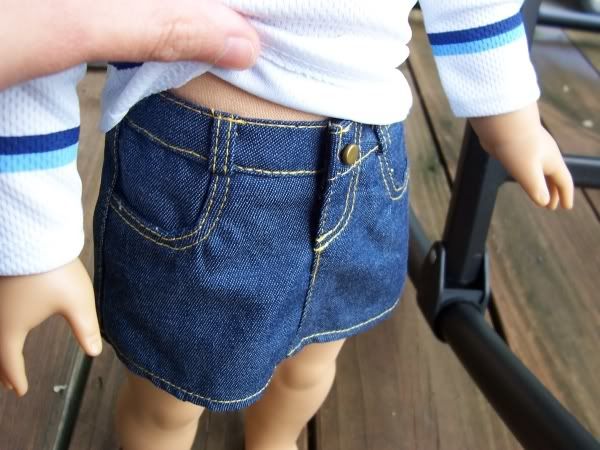 I srsly did not think I would enjoy the denim skirt, but it might be my favorite part. I actually pulled it out and thought about Ivy instantly. It's a pretty neat neutral piece that would go great with a doll's t-shirt.
I don't know squat about hockey, so I'll just offer puck and stick photos. I didn't care about these items at first, but now I think they'll be great props for my doll bedroom or future albums.