Post by EofA on Oct 26, 2008 20:57:58 GMT -5
Addy's chemise is simple, soft and sweet. Mine wears it all the time (and yes, the button goes in front) under her heavier dresses or those whose necklines won't allow it to show.
B
for the chemise; would be better if it had a slightly lower neckline for versatility under Addy's Civil War-era necklines:
I am not entirely happy with the red petticoat, which rates a
B
. It does indeed tend to show beneath her skirts, and I don't find it all that useful with her AG outfits because of this. I mainly use it with the non-AG OOAK outfits I own, all of which have much more fullness in the skirt to offset the full petticoat. Perhaps I ought to be rating Addy's AG-issue dresses lower because they aren't cut generously enough to accommodate the necessary and appropriate undergarment!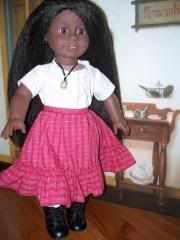 Lastly, the cage hoop or crinoline. This is so ingeniously designed, and so Civil War era accurate that it's hard not to like it (and it almost makes me forgive the lack of trainer stays for Addy. Why is Felicity the only doll who gets stays?). But the cage crinoline has limited use with most of Addy's AG outfits because they aren't full enough to cover the circumference of the hoop (shown here above the petticoat so you can see it better, although in real life I understand that the cage would be worn under a petticoat for comfort).
My understanding is that the cage crinolines were fashion items for fancy occasions, not undergarment necessities for girls of Addy's age and station, so since period authenticity is important for me, mine doesn't get used every time I dress Addy. Her Tartan Dress works with it, as does her Birthday Dress (although since I pose Addy sitting at the table on her birthday, I don't tend to put it on under that dress because it's too awkward to position her in it), and her blue school suit. Here it is under the Tartan Dress:
The limited utility of the hoop lowers the grade to a
B+
. Like the petticoat, it's great to use with non-AG OOAK outfits that are cut more generously, like the one Phoebe-as-Harriet is wearing in the bottom photo.
I've always been amused that Pleasant Rowland patented her crinoline design. French and German doll manufacturers as far back as the 1850s were making them for the fashion dolls of the era, so Rowland definitely did not invent the design in miniature.
Anyway, unless you feel compelled to collect everything from Addy's collection, I think it is safe to pass on this set, which is retired and tends to be dear on the secondary market. If you can find just the hoop, that's about the only thing that is really unique about it. Any full petticoat in the color of your choosing will do. The chemise, while sweet and simple, can also be replicated or replaced with a colonial shift as suggested by princessredpez above. Doing so has the advantage of a lower neckline, and thus more versatility.
Neat article on cage crinolines is
HERE.