Post by EofA on Dec 27, 2008 17:36:53 GMT -5
Kirsten loves to bake traditional Swedish holiday treats for her family, and this set has everything she needs.
Kirsten can share a little Christmas cheer with everything here:
5 pretend candles that sit in a pretty wooden candle holder
A bunch of pretend apples that fit inside a decorated ceramic bowl
Pretend cookies and buns on a curved wooden tray
A woven cloth table runner
A speckled metal tea kettle
2 ceramic cups with bird designs
I was thrilled to see my girl Kirsten get some more stuff. This isn't meant to be a replacement for her retired birthday treats set with its sweet country-style pottery, but is instead a complimentary holiday set that I think looks great with Kirsten as St. Lucia (even better if I could find her sash):
The woven cloth runner and speckled kettle are high quality. Be careful dropping the kettle on your toes because it is really heavy (trust me on this). I'd like it even better if the tea kettle was instead a period Swedish coffee pot, since coffee was mentioned prominently in Kirsten's mystery. But I've nearly given up on AG making things that are story-related. The bowl and mugs are pretty and I don't mind the clump of apples since this is meant to be a child's toy. As a parent, I don't want to be hunting resin apples all around the house, and these apples are very well done compared to Kit's peaches from her cooking set. So no complaints here about clumpy food, although I know that is a pet peeve for many adult collectors. The cookies and St. Lucia buns are a little too glossy-looking for my taste, but I'm not eating them and it's good that they are included to make this set specific to Kirsten's St. Lucia Day story. The candelabra is so warm and inviting; it is wood, but it's got lots of layers of paint on it. I love the design, though. The wooden platter is very plain and simple and can be used for lots of things, so it has versatility in its favor.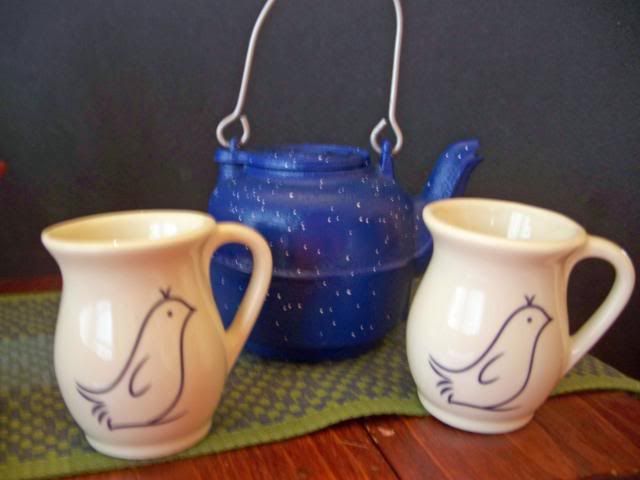 Do the mugs match Kirsten's birthday pottery? Pretty much, depending on whether you have an older or newer set. The glaze on mine matches fine, and the birds are just slightly different but not enough to be troublesome. I can't imagine they'd match well with the old Rowe pottery, though.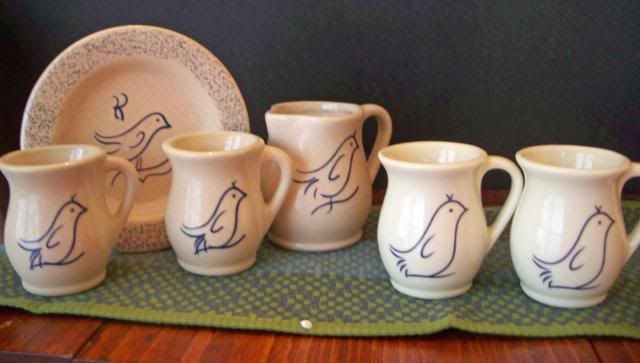 Birthday pottery on left, Holiday pottery on right
Holiday mug on left, Birthday mug on right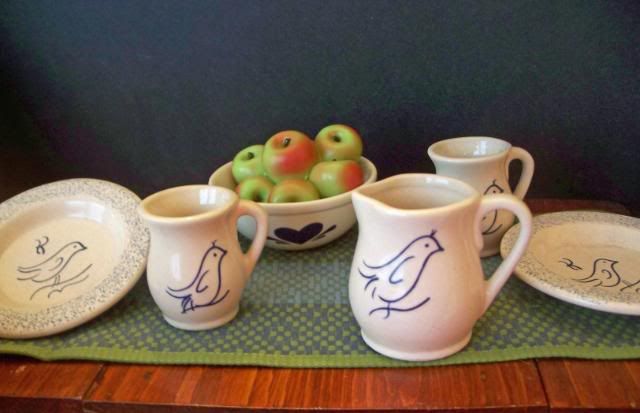 Birthday pottery with Holiday bowl
Mixing the sets
I think this set is horribly overpriced at $68 but then, I think most of the AG dish sets are overpriced, so that's my bias. Nonetheless, I was very pleased to receive this set as a gift and I really do love it. Grade A- from me (misses a higher grade for the inclusion of a tea pot instead of a coffee kettle, and the shiny pastries). It is a very worthwhile set to get if you have the money and are collecting for Kirsten.