Post by ada on Feb 18, 2009 2:42:07 GMT -5
I got this outfit because I think the top looks great on #25. As a whole, I think the outfit is a bit more sophisticated/high fashion than most other JLY outfits. It is a bit too preppy for me overall, but I really just wanted the shirt and that's the piece I'm keeping.
I did not get the sunglasses or hair ribbon with mine, although I think the sunglasses are really cute and I wish I had them!
The
shirt
and its appropriateness for #25 is the whole reason I even thought about getting this outfit. It's a long-sleeved, navy and white cotton stripey top. I wish that it was black and white striped instead of navy and white, but that's just my personal color preference. It ties at the collar in the front, which is a cute touch. As shown in Keri's photos above, it's a great mix-and-match piece which can be worn as a casual piece, or dressed up a little bit for a slightly more formal event, like dinner at the country club or the boat race at the yacht club. (Sorry, but with the pants, that is where my mind goes. Probably why I don't like them very much.) For versatility and adorability, I give the shirt an
A+
. It adds that dimension to your doll's wardrobe without having to go truly prepped out and getting her a polo shirt.
The
pants
, I'm sorry to say, leave me cold. Probably because this outfit is exactly the kind of thing my my mom would have loved for me to have worn when I was a preteen. They're
cute
, don't get me wrong. And they look great on my doll. But I couldn't help projecting when they were on my doll, and I felt like that I really should just take the review photo and then take them off immediately. Those of you who were never forced into tennis and golf camp with snobby kids in South Florida may not have as visceral a reaction as I did. Back to the review. They're made out of white khaki material, just like you'd expect a human-sized pair of pants like these to be. Your doll will probably have to go sans underwear, since otherwise they probably show through. They are laced at the bottom, which, as mentioned above, does limit their mix-and-match potential but does add some cuteness. They are widelegged, to really bring the nauticality. The
belt
is OK; it adds some color to the outfit and ties the ribbon and sunglasses to pants and shirt, since the belt is navy and red. There are two real pockets in front, and while the fly is velcro, it actually has a button which snaps. These are really high quality doll pants, like shruken people pants instead of doll pants, if you ignore the velcro.
B+
, because I can't really think of another outfit I could use it for due to the fact that they're so specifically nautical. If someone can find another top to go with it, I'd love to see it. I also have to subtract some points because they make me queasy.
Espadrilles
is a word I learned from reading
The Ultimate Preppy Handbook
. These are white with red piping and laces. I didn't have quite as strong a reaction to these as I did the pants, but they're really just not my doll's style. And I tried them with a skirt and I thought they looked kind of funny. I think these have to be worn with pants exclusively. I didn't find them to be too big for my doll. Maybe they would look OK with a bathing suit if you can find a red-and-white one, but I don't have one.
B
, because again, I can really only see a doll wearing them with this specific outfit.
Overall, I'd say
B+
. The top is awesome, but the pants and espadrilles have limited mix and match potential. And when I look at the doll in the outfit, I'm trying to convince myself, "OK, she's just in a 1970s Soviet beach comedy!" and not "She is having lunch with her grandma at the Palm Beach Bath & Tennis Club." If I can convince myself of the former, I'll probably keep the whole thing, but if not, I will have to keep only the top, due to the latter.
Now for pictures.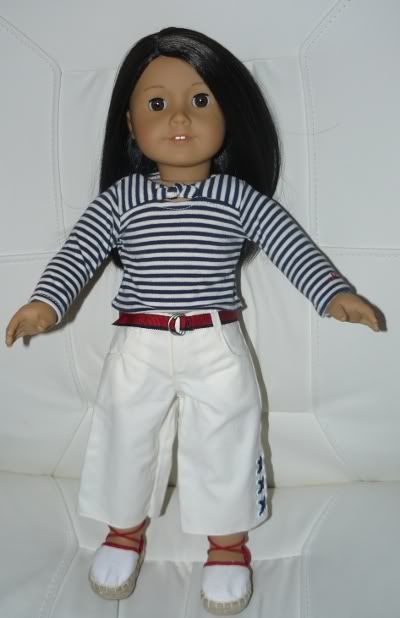 The full effect.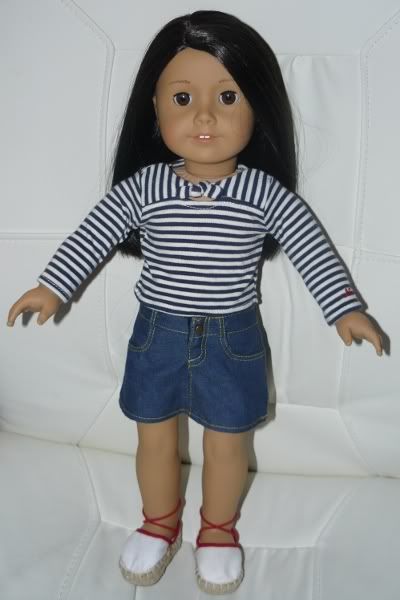 You can see what I mean about the shoes with a skirt here. It's just not working for me. (The skirt is from Mia's 2-in-1 outfit.)
With the shoes from the Star Hoodie Outfit. A vast improvement.