Post by madkate on Feb 25, 2009 12:48:07 GMT -5
My WB Samantha just came today, and when you hold her up to my PM tan bodied Sam, they just look like different dolls. There's a huge difference in hair color, and the faces just aren't quite the same, either. Or the eyelashes. They don't seem redundant at all, now that I've seen them both together. Not that anyone ever really thought I'd sell the first one anyways, even if I had mentioned that I'd think about it. Perhaps this one will have an interest in actually *being* Samantha, as opposed to First AG And Therefore Official Dolly Overlord, as seems to be the other one's position... And her hair is in such wonderful condition, for such an old doll! Not even remotely like my WB Kirsten's rat's nest, this is soft and has more curl to it than tan-bodied Samantha's.
ETA: The pics!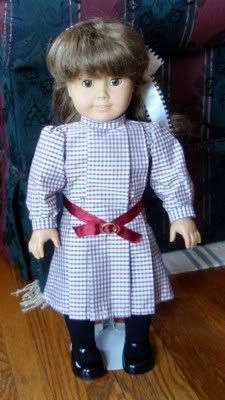 She does actually stand up on her own just fine, much better than my PM Samantha, who's had liposuction and has one funny hip, in addition to just plain looser joints to start with, but as she was already locked into the doll stand when I decided to take the pics, she stayed there. I should have taken a pic of her hair from the back, too, it's lovely. She doesn't fit the shoes that came with the Mattel "Samantha's shoes and socks" set (and her butt's a bit of a tight fit in those tights), so I stuck Nellie's shoes on her. She'd come in a different dress, and has swiped PM Samantha's meet dress. The shoes the PM doll came in probably would have fit the WB doll, but I believe they're actually Felicity's. Samantha also isn't quite as busty as she appears - I stuck a used dryer sheet up her dress to try and freshen her up a bit, and it won't wrap tightly around the body at the top.
Far from being jealous of the new "proper" Samantha, PM Sam (who had never really seemed to fit her character too much to me, but had threatened to throw a fit if I ever brought Gwen in the house and done who knows what to the other doll) seems almost relieved, if anything, to not have to play the part of "Samantha Parkington" anymore
Rating for "Real" (WB) Samantha doll: A+
Can't give the original outfit a rating, since I don't have any pieces of it.