Post by EofA on Mar 5, 2009 18:49:09 GMT -5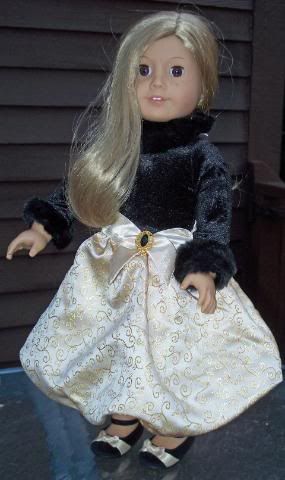 This was the dress offered by American Girl for the 2007 holiday season. I've owned a lot of AG holiday dresses over the years, and this is one of my favorites for sheer elegance and little-girl dress-up glamor.
The top of the dress is a form-fitting velour that velcros in the back. The bodice has attached fur cuffs. I think the official AG description could be misread and lead one to believe that the cuffs are detachable, but they are not. The black fake fur collar velcros shut and since it
is
detachable, the dress can have two different looks.
Without collar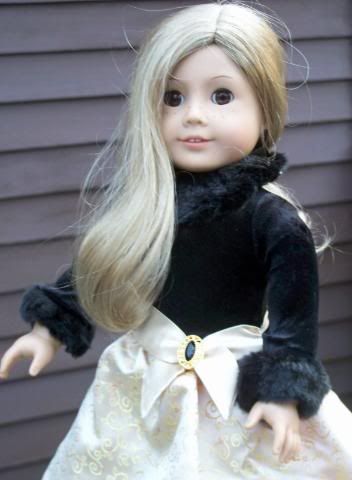 With collar
As can be seen in the detailed photo in the first review, the attached bubble skirt is of a gorgeous embroidered golden swirl-patterned brocade that includes scattered red holly berries. The point of attachment to the bodice is hidden by a matching gold satin ribbon belt with black and gold jewel acting as a non-functional buckle. The belt is not detachable. There is a button hidden on the underside of the skirt at the waist, and one can theoretically attach the buttonhole tag that is also under the skirt for an asymmetrical hike to show a little leg. I say theoretically, because this button is darned near microscopic and I never could get it to stay in the buttonhole to achieve the intended effect. I don't mind as I am not personally fond of that look, but I can imagine it being extremely frustrating for young girls who wanted to try it.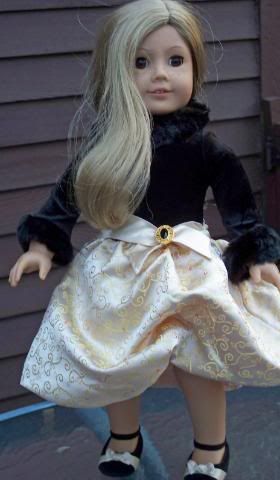 Vague approximation of hiked skirt
Lastly, the shoes are also of a velour material, though not as plush as the bodice. They are enhanced with gold ribbon and bow trim and have a slight kitten heel. It must not be as pronounced as some AG kitten heels, because the doll can definitely stand straight unaided instead of at an angle. The black elastic ankle strap not only looks good but provides extra insurance to keep the shoes on.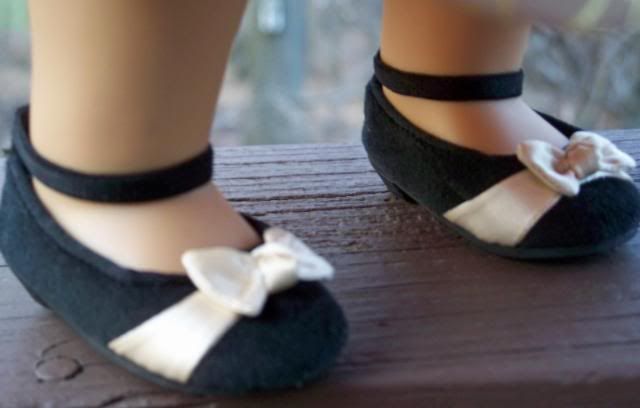 For looks, this dress gets a A+ from me. I am not normally a fan of bubble skirts, but I like the fullness of this one. The dress has versatility in its favor because different looks can be achieved with the fur collar and skirt lift; however since the latter worked in better in concept than execution, my grade for the dress gets lowered to an A-.
This dress originally retailed during the 2007 holiday season for $28, although it went on sale later in the year. It showed up in early 2009 as a purchase-with-purchase (PWP) special for $14 with a $40 purchase at AG stores, and eventually showed up in the Last Chance sales section for an amazing $12.