Post by EofA on May 7, 2009 11:09:58 GMT -5
On special occasions, Addy is sure to choose this beautiful dress. Handmade by Momma with love, it features a full skirt with ribbon trim and puffed sleeves.
For the finishing touch, Momma decorates Addy's hat with fabric flowers
and a piece of ribbon she saved from Mrs. Ford's dress shop.
Original retail $28.
Nice write-up there, AG. This dress has no connection with any of the outfits in Addy's books, but AG at least took pains to fit it into her life.
But hey, we need some photos of Addy wearing this dress!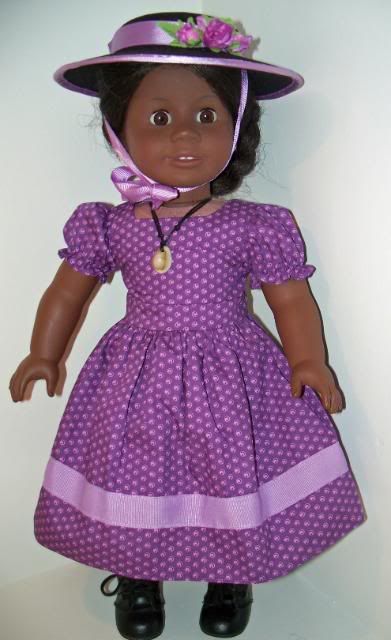 I have to admit that this dress has grown on me. I have a large Addy collection, and my first reaction to this outfit was that I didn't need it since I had OOAK pieces that I liked better. However, after I created my own version of Addy's best friend Sarah Moore, I decided I could make room for this outfit, since more dolls = more dresses. Gotta love that logic, right?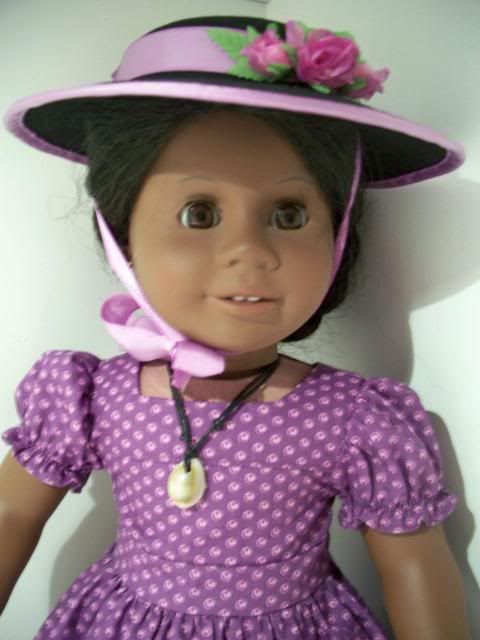 I'm glad I got it. The dress seems simple enough but is very pretty, and fits my transitional Addy well. As is true of most of Addy's clothing, the cage crinoline from Addy's undies set won't fit under the circumference of the skirt. I think that's a shame in this instance because the dress itself is meant to be special, and the cage crinoline would have added to the formality to set it apart from an everyday outfit.
The dress fabric is a patterned cotton and I like the bodice detailing. The dress does not have a growth tuck, but it does have a nifty piece of fabric trim where the growth tuck might have gone. It was common for mothers to add a piece of fancy trim over the seam when they let down a growth tuck, so I rather like to imagine that is what Mrs. Walker did here. The hat is stiff and has sweet flowers and matching ribbons. The actual brim was folded up for shipping, but easily folded down into place. Some of AG's hat ribbon ties are so slippery as to be impractical, but this one works fine.
Bodice detail: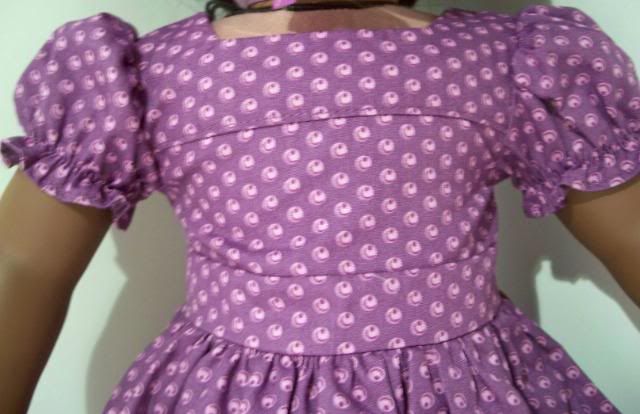 Hat:
From the back. Heh, gotta love the AG sticker on the hat. Fluff out the back of your skirt there, Addy.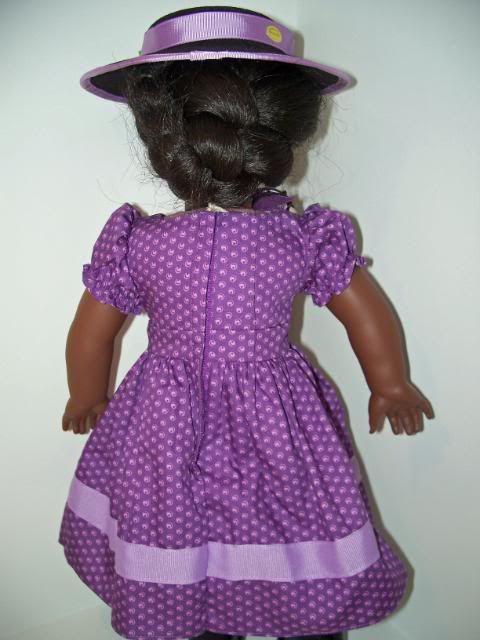 I remember reading that someone thought the dress matched Ida Bean's dress. Nice theory but, no.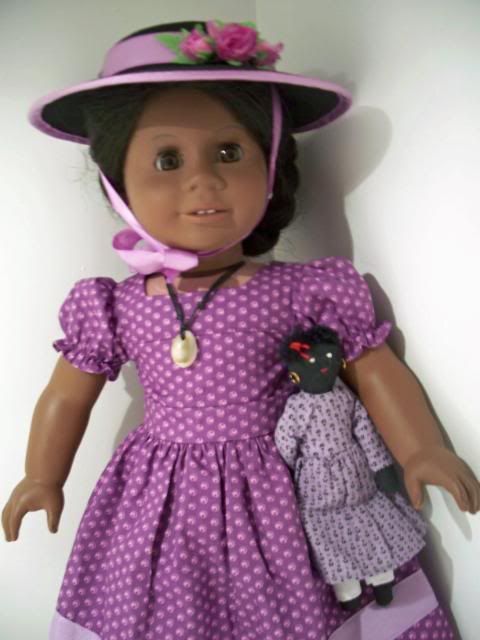 My only quibble with this outfit is that the neckline is not sewn down. I'm not normally particular about little things, but in this case the seam sometimes flips up. That wouldn't happen if it was finished properly. I know I can iron it down, but at $28 for a doll dress I don't think I should have to right out of the box.
Annoying seam: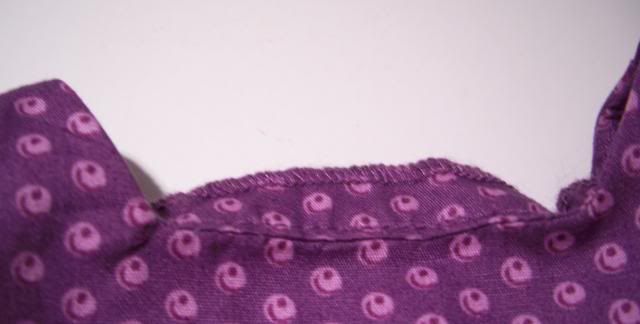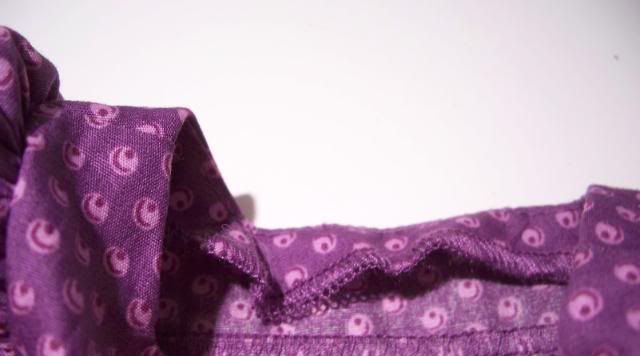 Poor quality finishing and not fitting over the cage crinoline lowers my grade to a B
++
. Those things aside, I'd definitely encourage any Addy collector to get this outfit, since it is so rare for AG to give Addy anything new.