Post by EofA on Jan 22, 2010 17:19:04 GMT -5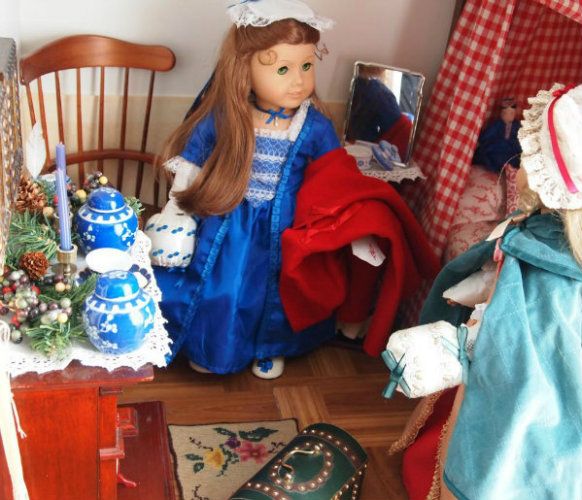 I think this is a striking dress and love the contrast with Felicity's coloring and the Cardinal Cape.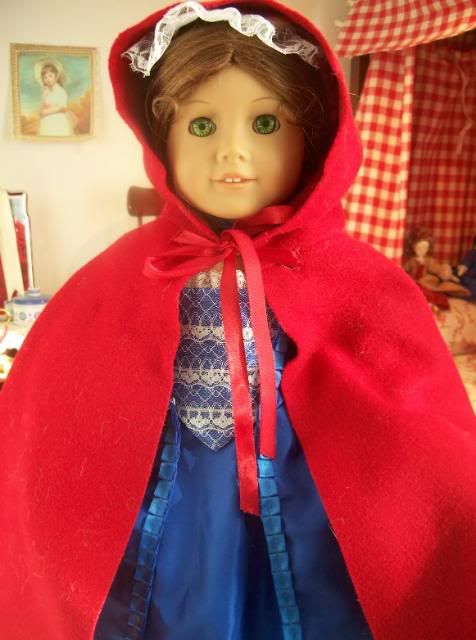 She looks breathtaking every year at the holidays when we put her into the gown. The bright taffeta has such a festive look about it and I think the pleating trim and lace set this apart as a very special dress.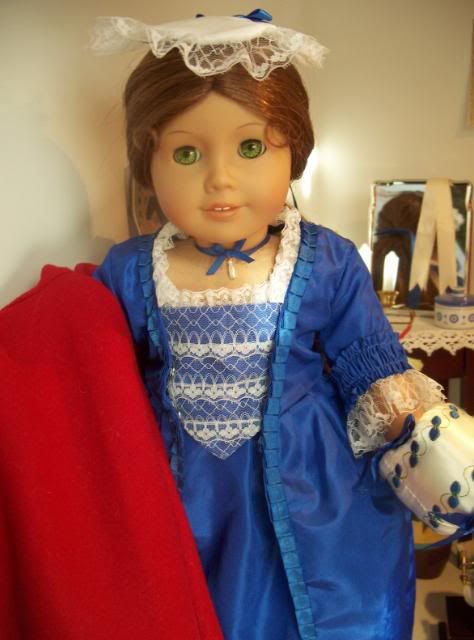 It might not fit contemporary ideas of holiday festive, but it works for a special dress in which to dance at the Governor's Palace!
I prefer the white lace stomacher best for a classic look, plus it matches the dress as worn by Lissie's fashion doll.
However, I think the pink ribbon and pearl one is fine for an occasional change.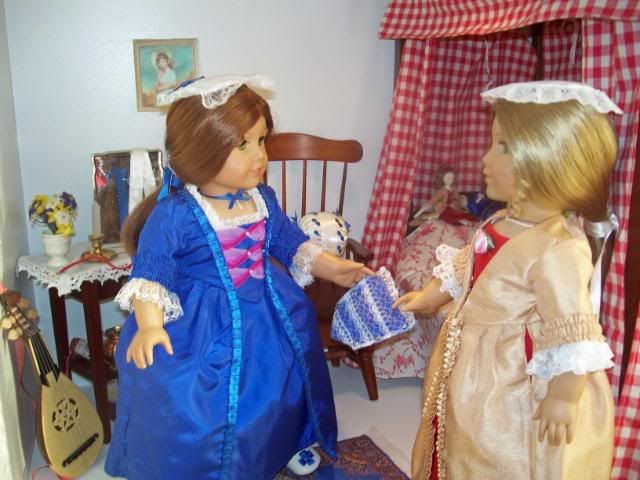 I think most of Lissie's dresses are tight over her shift sleeves, and this one is unfortunately no exception in that regard. My set came pin-less, apparently made after the switchover some years ago, but the pinner rests adequately on her head. I have not had any problems getting this dress over Lissie's panniers and as it's one of the few gowns that she would have worn them with, I like that it fits so well.
I love her mother's pearl on a ribbon necklace, just like in the stories. The shoe bows and hair ribbon in matching blue complete the look.
This outfit has gone up in price from $24 to $32 over the years, but even at the higher price it's a lot of value for the money. I consider this a must-have for a representative Felicity collection and rate it an A.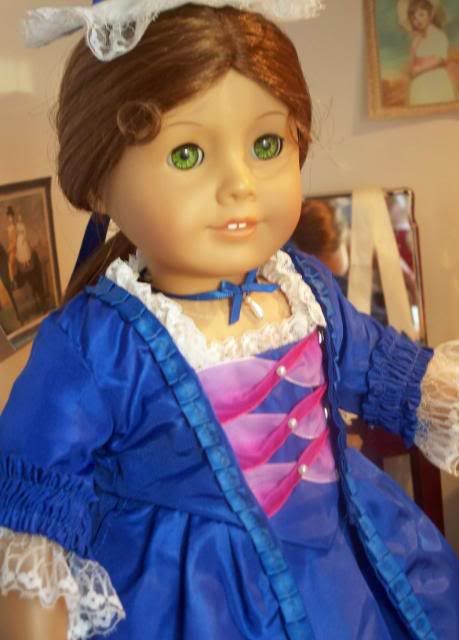 ETA that I just read through all the reviews here and on the AG site about this outfit, and I find it interesting that many of the more recent reviews on the AG site complain about the dress being too complicated to put on. My daughter got this outfit when she was 7 or 8 and didn't find it hard to figure out, so I'm puzzled about those comments. Perhaps it is a function of AG's target market skewing ever younger (despite the 8-12 age range it specifies, we all know that children much younger are buying the 18 inch dolls now) and thus not being likely to have the historical perspective of colonial fashions that one gains by reading and understanding the books. Perhaps it is a function of AG's ever-truncated advertising text, which no longer gives much historical perspective on the fashions. I think that's too bad.
There were also a fair number of comments about it running large on dolls. The outfit really is meant to go on over the now-retired colonial undergarments, and I suspect some of the sizing issues are due to the lack of foundation garments. AG gets an F from me for retiring those!