Post by maggiedoll on Oct 20, 2010 13:22:21 GMT -5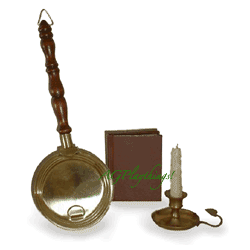 Nighttime Necessities

Light Felicity's way to bed with a make-believe candle in a brass candle stick that has a dear little heart on its handle. Make her bed toasty by warming the sheets with the brass bed warmer before you say goodnight to her. Tuck her in and read her a passage from The Little Pretty Pocket Book—a favorite of children back in England and in the colonies.
$18 EDA
Retired
(Book was not added to the set until 1993, prior to then the set was referred to as Brass Chamberstick & Bed Warmer $18)
I got this set from Ebay in 2009. It was not NIB and seemed in semi-played condition from the mid 1990s.
The bedwarmer is a historically correct reproduction that could range for the 17th to 19th century. It is made out of wood and metal. It is light and has a little hook so if able, it can hang from a wall. However, it is kind of hard for Felicity to hold it.
The bedwarmer opens so Felicity can store warm rocks or something. The problem is that the bedwamer opens way too easy. Also, over time it seems like the screws attacking the metal to the wood loosen.
The candle and candle holder are very detailed and realistic. The candle holder is metal, because mine has dulled over the years. It is too heavy for Felicity to hold but looks like it was made from an original. It is made to catch wax and has a cute heart detail that would appeal to a nine-year-old. The candle does not seem to be made out of wax, perhaps plastic. It is not bendable but looks like it has been used, with wax dipping. The "wick" also looks like it has been burning for a while.
The
The Little Pretty Pocket Book
has been reproduced in full (I think). It starts at the title page and introduction and goes though the alphabet. It's a cute little children's book with Purtian-like verses ("If proferous, of Pride beware; Changes of Fortune frequent are.") The book even has period appropriate printing, spelling and grammar. The book itself is made with brown leather like material and can be fit with much work and little comfort in Felicity's pocket.
An example page.
This nighttime accessories is one of the Felicity's best PM sets. It is historically correct and can be used for other time periods and very pretty to display. It is a little high maintenance, with the bed warmer and candle holder prone to tarnishing. Keep in mind that it may not age perfectly well even if it is NIB. However, Felicity probably did not have brand new things herself. I do believe that it is worth the pretty Ebay penny and is needed in any Felicity bedchamber.
A+
The original with the replacement. Enough said.