Post by Memory on Nov 1, 2010 18:48:15 GMT -5
I love Tatlo. As you will see...
I bought my first Tatlo, named Howler, probably in 2003 -- new from AG, with the travois. I like the travois for carrying light items. Like cats or small snowmen, for example. I tend to use it in the winter for some reason.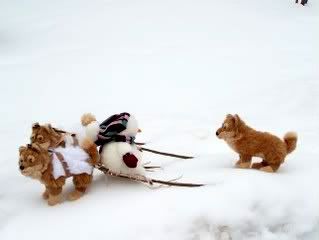 For several years Howler was on his lonesome. He linked up with Zhindi, a JLY#2 from ebay, and was happy having his own person. But after a bad time with some renegade snow people, he felt it would be nice to have back-up. So I bought one Tatlo from ebay without the travois and I swapped someone something they wanted (I've forgotten what!) for a new Tatlo from AG, with another travois.
The new Tatlo is named Snapsome and the ebay sidekick is called Kang. All was well until recently, when Howler decided he needed to lead a PACK of wolves. Two other wolves was not enough to be a pack. So I found a nice Tatlo here on PT. His name is Rowlf and he looks like there's a question mark after it.
Rowlf is on your far left in back, then Kang and Snapsome. Howler is in front.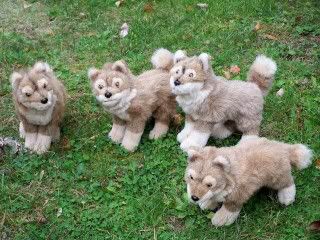 Howler was now happy. He felt the mantle of leadership falling over his shoulders.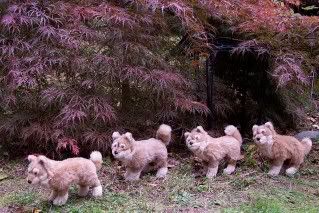 However, I began to fall for all the different faces. And I was bidding for another Tatlo on ebay anyway, whom I won. And before the auction ended, I asked JSMT to choose the perfect new Tatlo from AGB in Natick. So the next two arrived fairly close together. The ebay Tatlo has a very funny expression and a crooked nose, so I'm calling him Quirk. (Due apologies to Quirked!) And the newest member of the pack is quite different from the others, with a narrower head. More feminine. So she's a girl named Tailina.
I think even Howler will agree that we have a full pack now!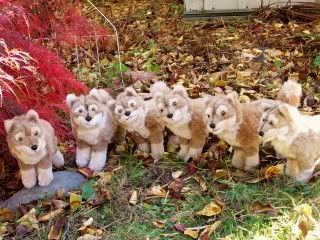 Of course Howler is over the moon about Tailina. She's the one with the narrow face and sexy stripe on your right.
Looking at the guys, you see a lot of personality in their faces.
Snapsome, Kang, Rowlf and Quirk (left to right)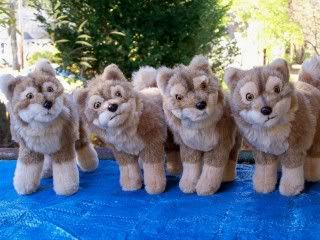 Only Howler has no hint of a face stripe so if your Tatlo has no stripe, he might be 6 or 7 years old.
What I find most interesting is that the newest Tatlo, Tailina, has no wires in her tail or her ears. All my other Tatlos have wires so you can pose their ears, move their tails and I think there's an armature that lets you pose their legs. Tailina has beautiful soft fur and is very cuddly but the armatures are gone.
Moral of the tail -- when buying a brand new Tatlo, make sure the ears are where you want them! And I do like the travois. I have 3 of them now. I glue them together so the poles stay put and put up with the storage issues.
So Tatlo gets an A -- and I guess the wired Tatlos get an A+. And the travois is probably a C.