Post by EofA on Nov 16, 2010 10:20:10 GMT -5
This is a set that very much appealed to my 11 year old daughter because she immediately pegged the drinks as
butterbeer
and therefore decided it needed to come to our house for her customized Harry Potter gang. "Fall Party" notwithstanding, the drinks are destined to be used as butterbeer at our house all year long!
As an adult collector, I was very pleased with this set. I understand the frustrations folks have with it seeming incomplete. However for me this set appealed because of its great display potential, especially mixed in with other Halloween-themed party items as shown in my photo below. Since it inspired creativity, I likes it.
The set by itself, sans the bags.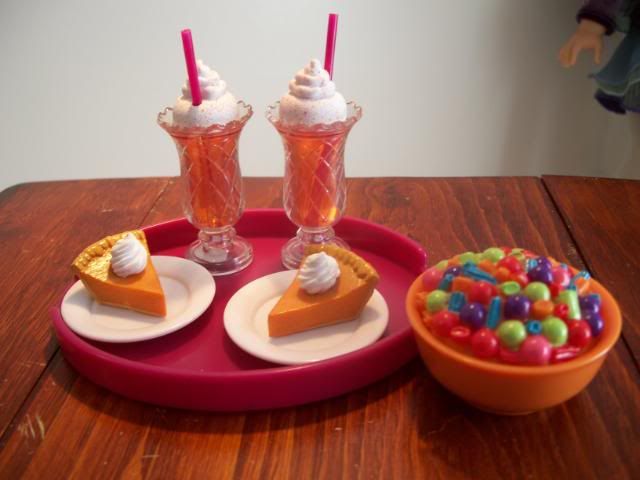 I wasn't impressed with the bags because I think they're too small in terms of scale to work as actual trick-or-treat bags for the dolls. AG has made larger ones packaged in with costumes that are much nicer. My daughter shrugged and tossed them aside but her younger brother enjoyed decorating them...for about a minute. I think they work okay as little take-home treat bags from a party, which is likely what they are intended to be.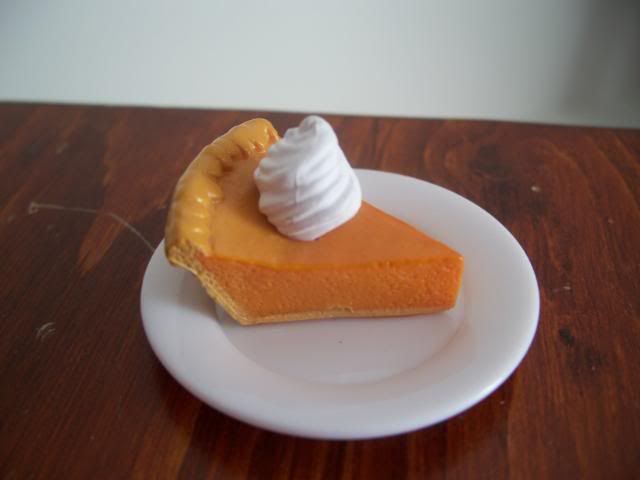 The pie is wonderfully detailed and I'm personally glad it is attached to the plate, as I don't know what I'd do with a hunk of pie otherwise. I do think the playability of the set would have been increased had AG included an entire pumpkin pie with individual removable slices (like Addy's original pie from her retired
Party Treats
). But in my world, pie sits on plates, and so this configuration is okay by me for display purposes. I never thought about the need to include utensils because I personally have plenty of stuff like that to include in a scene if I want to, but I agree that the playability of this set as a stand-alone is diminished by the lack of forkage.
With and without flash, here is the 'butterbeer':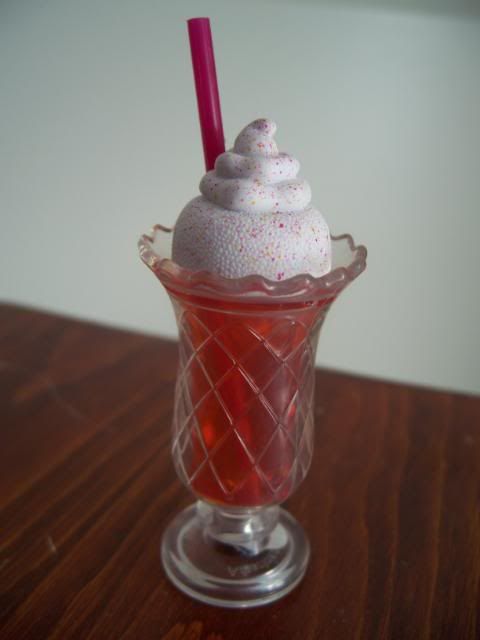 LOVE these. They are the same mold as the root beer float from the
Sweet Treats Accessories
set, but I don't mind that. When this set goes on sale, we'll probably pick up another one or two to have butterbeer for all!
Plastic tray is a plastic tray, unremarkable but a useful prop. The candy bowl also makes a cute prop but it seems anachronistic because it seemingly portrays hard candy and I don't know any kids who want to gobble hard candy. But what do I know? My children told me it's meant to be a bowl of Skittles, Nerds, and maybe some Pop Rocks mixed together, so we'll go with that. My teeth hurt just thinking about it.
I have to give this set an A- to B+ rating. I personally like the drinks and pie slices a lot as I find them fun and well-made, and the tray and candy bowl are fine for what they are and don't detract from the set. The bags do detract, though, as they could be bigger and nicer. This set could be more than it is, though, so as much as I like the individual pieces I can't rave about it altogether.