Post by Guest on Aug 29, 2006 21:41:28 GMT -5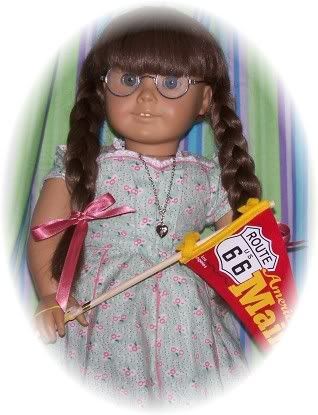 Meet Margaret Jean Kristina "Molly" McIntire, "born" July 1996
I can't say enough about my darling PM Molly. She's truly my best, best friend and has been with me through thick and thin. She's had lots of love, but I prefer her over a mint doll any day. Truly. And some of you might not think she's very pretty, but sometimes photography doesn't show her true beauty.
Her eyes are a beautiful grey, maybe not as grey as the white-bodied Mollies, but still grey enough. Her facial expression is quite unique-I've only seen a few Mollies on Hostboard and eBay like her. She just LOOKS like Molly. I look at Maya Ritter, and she is the human copy of my Molly pretty much. And then Molly cannot be complete without her silver glasses...they're the old ones that curve around the ears and fit much better than the newer ones. Her two braids define her, too...I always try to keep them nice and neat. My Molly doesn't have much facial coloring as many dolls from 1996 didn't--my PM AGoT 7 didn't either--but I don't care. I wouldn't want to add color to her face because it wouldn't be her. Sometimes I'll add a little blush, but that's about it.
And Molly is just so huggable. One of the only dolls I have who is, too. Whenever I'm feeling down, I turn to her. She always makes me feel better with that smile on her face!
Her meet outfit is nice, though mine is falling apart. Guess I've loved it too much. It's not even tagged, except her undies I think. Her undies need new elastic, but they have held up for a good while. Her skirt, which I love, doesn't fit because part of the velcro came off, so I need to fix that. Her sweater is a great addition to her wardrobe, and her *d*i*c*k*y* is just so cute. One of the shoes have broken, and I lost one of the socks years ago, but those are just minor things.
Being PM, Molly is rather chunky, but she does fit Mattel outfits. Some are a little tight on her, especially the arms, but she can fit everything...at least everything I have. Doesn't matter if she doesn't fit things, though, because she has a ton of handmade clothes my mom has made.

But my favorite of her dresses, her Victory Garden dress, fits her well!
Edited because I have another thing to say! Told you I can't say enough!
At both AGPLA and AGPC, the workers/PS commented how LOVELY she was...noticing how her hair was lighter and how special she was to be a Pleasant Company doll.

My grade for her: A++++++++++++++++++ (and on)
A favorite picture of her: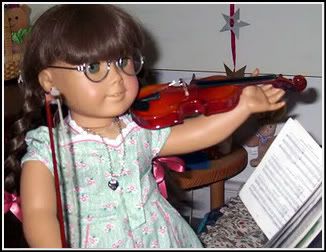 Edit: My beautiful Molly contracted silver eye a few years ago, so she recently came back from AGH in June with new eyes. She's still as special as ever to me, even with Mattel eyes.
I also have given her a little bit of lip color since the above review.