Post by EofA on Sept 16, 2011 21:28:04 GMT -5
I want to address the historical accuracy of this set since that's a selling point for me and, maybe, some other adult collectors who are interested in New Orleans.
The Daily Crescent
The Daily Crescent was one of three dailies published in New Orleans circa 1850. It was known under that name from 1848-1851 (Walt Whitman had a short stint as editor in its first year but his unapologetic antislavery views reportedly cost him his job), then as The New Orleans Daily Crescent through 1866, and as The New Orleans Crescent until it ceased publication in 1869. Along the way there was also a New Orleans Weekly Crescent version! I've not seen a copy of The Daily Crescent to be able to speak to the accuracy of the masthead AG produced, but the articles are spot-on and reference many topics of interest to New Orleanians of 1853. I was particularly tickled to see an advertisement for the Pass Christian Hotel as this was a favorite refuge of residents and it figures prominently in contemporary diaries I've read. Prior to 1853, Pass Christian was a seasonal retreat but the many people seeking to escape the summer heat of the city and exposure to yellow fever changed that.
Newspapers were usually reluctant to print information about yellow fever and cholera outbreaks for fear of scaring business away from this important port city but the epidemic of 1853 was too significant to ignore. Thus the paper focuses on many aspects including bereavement notices, acknowledgements for aid given, and advice. There's also a description of the duties and a list of members of the Howard Association of New Orleans, a formal volunteer aid society founded in 1837 to assist the poor and in particular victims of epidemics. The list includes the volunteers' home addresses and asks applicants to either apply for help directly to the individuals living in their district, or to Touro Infirmary. The latter was an old riverside plantation in New Orleans originally purchased in 1852 to care for indigent and ill sailors, but the role of Touro expanded rapidly during the 1853 epidemic and it was officially incorporated a year later as a charity hospital for all indigent sick, with neither race nor religion being barriers to care. Touro is still in operation today Uptown.
One thing is missing from the paper to make it period accurate: notices of slave auctions, sales, and runaways. I couldn't find anything of the like, which I'm sure was intentional. AG clearly doesn't want to delve too deeply into the slave trade that characterized the city, which is historical revisionism by omission that I find regrettable. By 1850, New Orleans was the South's largest slave-trading center.
Aside from that omission there are lots of great NOLA and period-specific details in this paper, which is sure to delight those with historical interests. Because it is a simple piece of paper, be careful lest you or little hands shred it...or in case Cécile's parrot does something unmentionable on it.
Parrot and Cage
Speaking of Cochon, AG has finally and officially given us the bird and I couldn't be happier about it. The cage is a substantial thing and could only be improved by having a stand to hang from...Pier One to the rescue!
I like Cochon. Yes, he's flocked plastic but it's a child's toy and I'm fine with him being flocked and not feathered. Frankly, anything with feathers would be too tempting for marauding cats. He fits so perfectly on his rest and can briefly balance on Cécile's hand or on a piece of furniture.
Book and Magnifying Glass
The book that comes with this set is a reproduction of the first edition of Woodworth's Cabinet Library, published in 1852 according to the book itself. Woodworth's Cabinet was a monthly magazine series of collected stories, songs, and poems for children edited by Francis Channing Woodworth from 1849-1857. His editorial focus was on geography, strict inspiring moral lessons, and history. You can read examples of typical content
HERE
.
Good luck reading the doll sized book - that's some seriously tiny print, not helped by the fact that the original Cabinets had very dense typeface and you'd probably need the magnifying glass in real life. The only piece I can make out easily is a pictogram-style story at the beginning that reminds me of Addy's Mother Goose in Hieroglyphics book (which would also be appropriate for these dolls since that book was published circa 1849).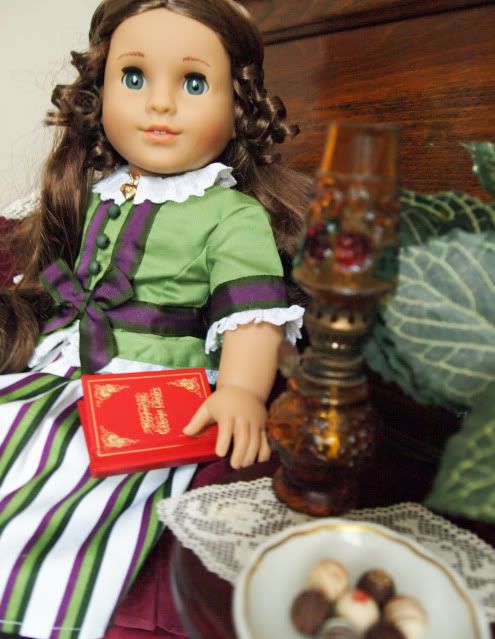 Jenny Lind Paper Dolls
Lastly the paper dolls, a young girl's joy. The Jenny Lind set AG reproduced for this collection was real, as this photo from The Antebellum Period by Volo shows:
Actually, two Jenny Lind paper dolls and their accompanying dresses were made in Germany around 1850. The two dolls were similar with slight facial and head tilt differences. The clothing supposedly illustrated costumes worn by Lind in some of her featured roles.
General Comments
So can you tell how impressed I am with this set? I truly think it is one of AG's most accurate accessory sets ever, and a must for the antebellum New Orleans collector. It's heavy on easily ripped paper products, but the items are well-chosen. There are other toys AG could have made to supplement these items, but the ones selected provide a snapshot of history. Take good care of the paper items, maybe make your own copies to replace lost pieces so you'll be in good shape if something bad happens.
Now as much as I like this set as an adult collector, I'm not sure it's all that appealing to those girls aged 8-12 who comprise AG's desired target market, and I really doubt it would hold the interest of younger girls who extend and comprise AG's real market! So in that sense I think this set is lacking. AG should have provided a mini domino or checkers set, a miniature replica Mansion of Happiness board game (although the morality of that would cause modern toenails to curl), or a needlework craft kit. Any of those items might have been more appealing for kids from the standpoint of having something to play with (besides flying the parrot around and making it poop on the newspaper. What? You know kids are going to do that. Well, I would if I was a kid). OTOH, dominoes and checkers would be problematic from the standpoint of tiny bits and pieces that AG is trying to avoid, and the old craft kits were never big sellers for the company.
Still, I'm an adult collector and I give this set an A- grade (no higher, because that bird cage really needed a stand, and Samantha got a more substantial magnifying glass back in the day).