Post by EofA on Jun 11, 2012 12:40:00 GMT -5
Although I have not purchased this item, I have inspected it multiple times in the stores and feel qualified to make a fair review.
DESIGN INSPIRATION:
It took me a while to track this down, but I can say with certainty that it appears to have been inspired by the girl's period bed in the Gallier House, a furnished antebellum home in New Orleans which has provided many other inspirations for this particular collection: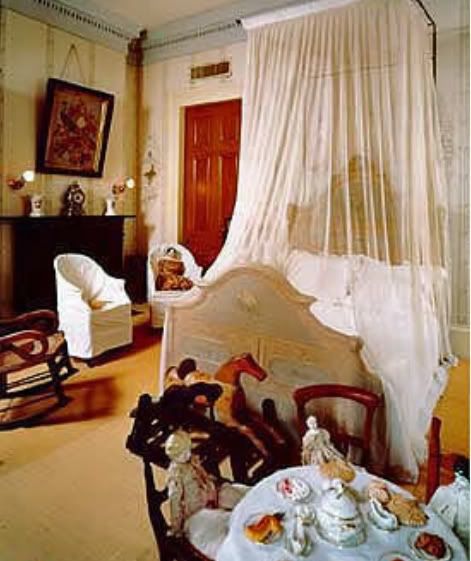 PROS and CONS:
I like the concept of the bed. The bed is well-made and historically accurate on many levels. I like that it is sturdy and made of wood. I like that it was based on a young girl's bed from roughly the same time period. I like that it is an accurate representation of a half-tester bed (AG changed its descriptor in June 2012 from "Bed and Bedding " to "Half Canopy Bed"), a type that IS lower to the ground than we are used to today. The mattress for this bed is purposely not meant to be as plush as other AG mattresses, which is place-specific since most mattresses of the period in Louisiana were stuffed with Spanish moss which would have given a flatter look.
However AG has not made any of this clear in its descriptions of the bed and bedding, and I think that is unfortunate Marketing Fail. Without such information, collectors and parents of target market children are judging (and often dismissing) the bed from the standpoint of modern sensibilities, expecting a big fluffy overdone bed that is simply NOT historically accurate.
I think AG also erred in making the paint more vivid than the softer colors of the original bed pictured above, likely in an effort to provide that 'girl-friendly' shelf appeal it considers to be so important. I also find the bedding choice of a skimpy satin coverlet and pink linens regrettable, and think this item would have been better served with simple white bedding and more generous mosquito netting.
GRADES:
While the height of the bed and mattress may look odd to our modern eyes, there's nothing glaringly inaccurate about that and I give the bed a B+ in terms of historically accurate design. The paint choices lower the grade from the A that it could have had. The bedding merits a D grade. And the marketing of this item, minus important information on historical context, deserves an F.
APPEAL:
Have I purchased this item? No. That is partly due to space considerations and partly because I believe that for the price asked by AG and the modifications needed to satisfy me as an adult collector, I'd rather invest in an antique doll bed. Like, say, something like this smaller doll bed from the mid 1800s that I found online: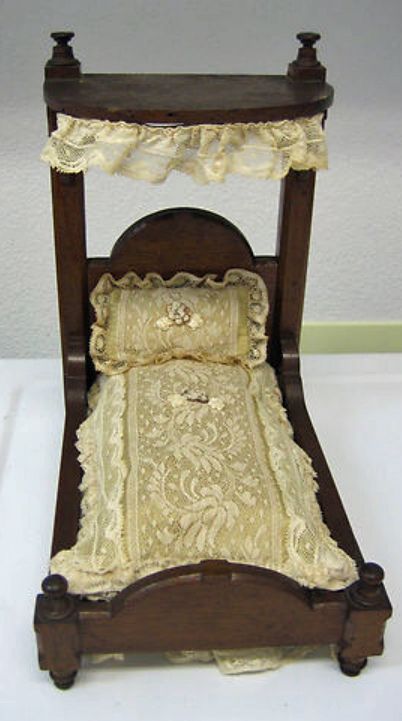 (I decided to add the above photo to illustrate again that these kinds of beds really did exist. While the bed in this AG collection is tarted up, the design IS historically accurate).
I think this bed is competitively priced compared to the other beds in the Historical collection, both past and present, and is even of better quality than some (namely Kirsten's, Molly's, and Rebecca's).
And I think this bed would have made me swoon if I was in the target age range. It's got a lot of visual and play appeal for the kids, so kudos to AG for that.
Finally, an apology: my personal photos were all taken in stores and I can't get rid of the display lighting glare, so I won't post any of those until I can obtain better ones.