Post by EofA on Aug 30, 2012 20:30:42 GMT -5
Even in the warmth of a Williamsburg summer, Elizabeth stays cool in this outfit: A satin gown with a quilted mock petticoat that peeks out from under her skirt....A satin-covered hat to tie underneath her ponytail...Heeled slippers for an afternoon stroll in the colonial countryside
I've always been ambivalent about this dress from the standpoint of historical accuracy, which is so important to me. Usually I pass on an item if it doesn't make that cut, but I'm a sucker for a green dress and so this one is one of the few things I have that is probably more historically 'inspired' than period accurate.
In terms of historical accuracy, I can live with the color being unusual for its era but the trim and quilting are more problematic. As noted above, and so far as I've been able to learn to date, the eyelet trim is not accurate. Certainly whitework embroidery gained popularity in America in the late 18th century but did so after this era. Plus, that embroidery was far more delicate and not as, well, modern-looking as the trim on this dress is. I suspect AG was going for something like the trim on
THIS
dress, but didn't quite get there. I think the sleeve and bodice trim should have been either plain ruffles, gauze, or lace for fancy.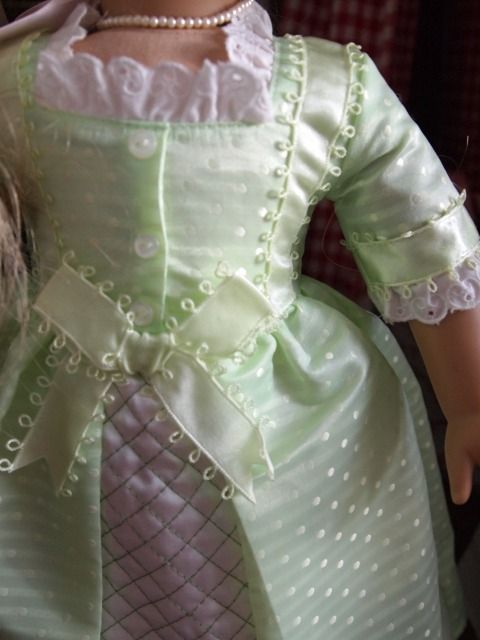 Quilted petticoats (colonial petticoats being skirts worn under open jackets or gowns, not underwear!) were certainly worn for both warmth and fashion like
THIS
one. But this item was marketed as a summer dress, and so I've always been puzzled why AG chose quilting for the petticoat. Imagine poor Elizabeth fainting "in the warmth of a Williamsburg summer!" I also wish that the dress came in two pieces, with the petticoat separate as it would have been in that era. AG moved toward making its colonial outfits all of one piece when the collection was revised in 2005, and historical accuracy was a casualty as a result.
Still, despite all that, I do like this outfit. The hat is especially appealing, representing the height of colonial fashion with its shallow, flat crown, wide brim, and fancy decorations. It was not uncommon for straw hats of well-to-do ladies to be entirely covered with fabric like this one is. Our Elizabeth ALWAYS wears a cap under it, as the ladies and girls in Williamsburg of the era would have done, and ties it at the nape of her neck.
Why AG made "heeled slippers for an afternoon stroll in the colonial countryside" is a mystery to me. If she's not fainting in her quilted petticoat, Elizabeth is likely to turn an ankle! Still, the slippers are dear, although we add to this outfit by making sure Elizabeth has her stockings on because she's far too well bred to be running around bare-ankled! AG did not sell separate stockings for its colonial girls when the collection expanded in 2005 and the expectation was that doll owners would use the original stockings the dolls came with for other outfits. This dress was marketed with Elizabeth wearing slippers sans socks, but no, that's not going to happen here. No problems with fitting the slippers over her socks, fortunately.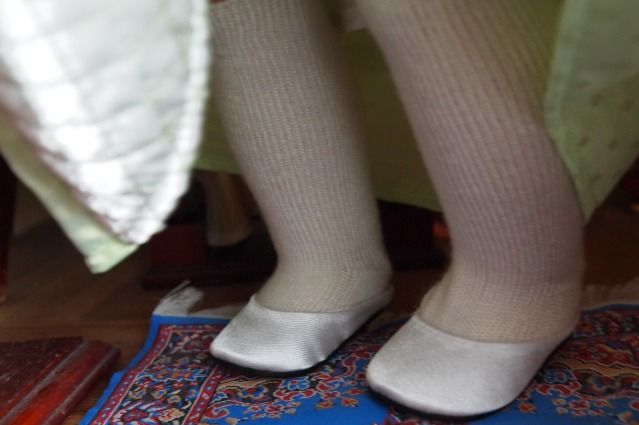 I've also had no problem fitting this dress over the panniers. It is shorter than I'd like it to be but I'm less bothered by that when Elizabeth is wearing her socks.
This dress was retired before the colonial collections were archived. It can still be found on the secondary market but collectors should be very careful about checking the quality. There are many non-AG knock-offs, plus the satin of the AG dress is terribly prone to snagging.
My grade overall is a B. The outfit loses points due to historical inaccuracies and the easily-damaged fabric of the dress.