Post by EofA on Sept 3, 2012 15:09:06 GMT -5
Like other reviewers, I've never been able to wrap myself around this dress as one that suits Kirsten. I think it's a darling dress with very pretty details, though definitely made of a thin cotton. Kirsten wears her flannel underskirt beneath it for modesty's sake!.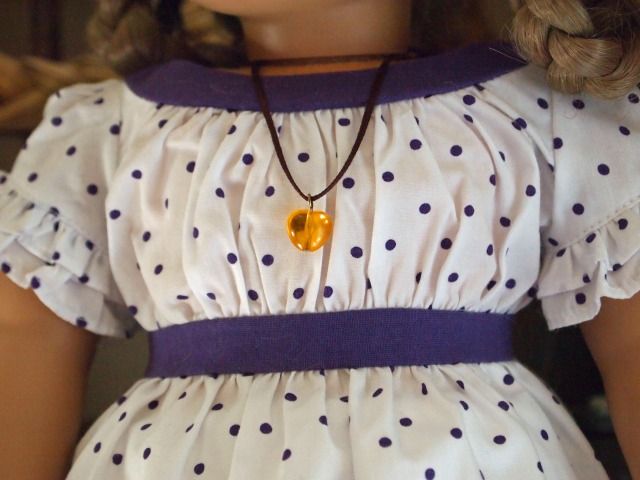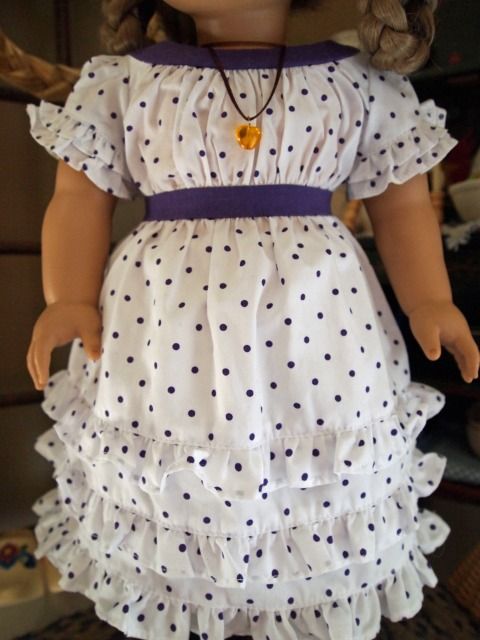 I was happy to learn that it was probably inspired by a child's dress from the period that's in the online Children's Clothing Collection of the
Wisconsin Historical Museum
:
But it simply doesn't fit Kirsten's character, so I've rarely used it.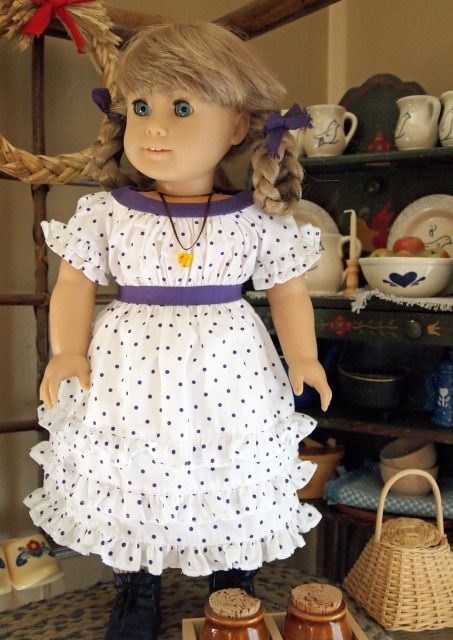 Then, AG made the NOLA characters from 1853, with this illustration of Marie-Grace from
Makes a Difference
. Note the dress.
The dress was rendered this way in the paper doll set:
Now AG hasn't actually made this dress for Marie-Grace but hey, AG doesn't have to because we have Kirsten's Midsummer Dress. What's old is new again only in multi-colored clown polka dots instead of purple (really, it's just as well AG never made the dress pictured above).
So now we know: this dress was meant for Marie-Grace!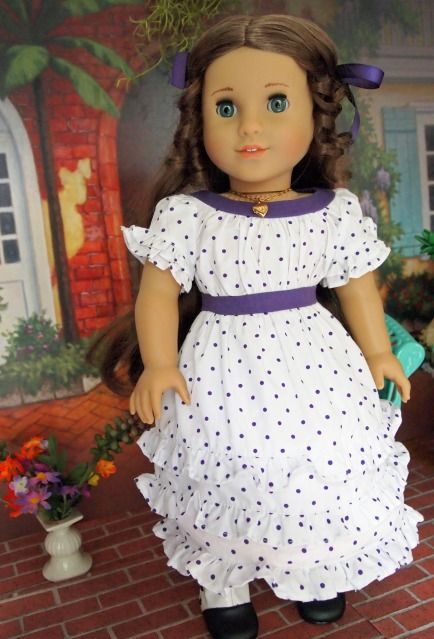 The dress needs an underskirt because it's of such a thin fabric, and doubly so if you want to try to squash the NOLA cage crinoline under it. That stupid pink contraption doesn't fit well under the more narrowly cut skirt of this dress, and the color shows through as you can see in the bottom tier on this photo.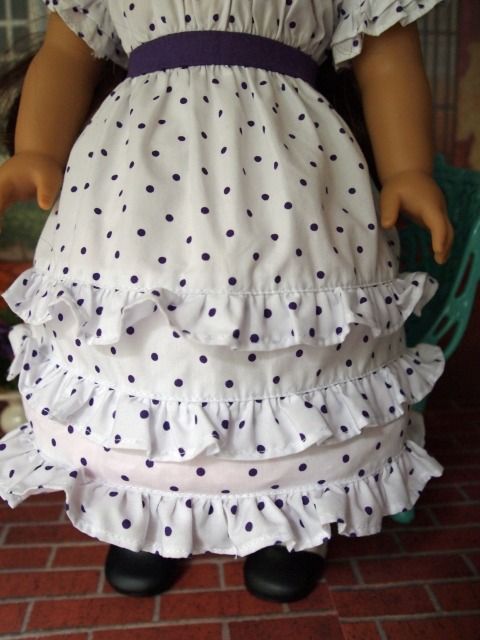 Still, the cage gives a nice shape to the dress. My antebellum characters always wear white underslips over their cages and that does help with the sheerness of this fabric, but it's tough shoving all that fabric under this dress. Be that as it may, I like the dress SO much more for Marie-Grace than for Kirsten.
Because it was retired in 2006, this outfit tends to be high priced on the secondary market especially if it is complete with the flowers, basket, bouquet and hair clip. I don't have the latter so can't include them in this review, but my dress is definitely an authentic AG one. I mention that because there are many knock-off non-AG copies of this dress available (which we don't review here) so FYI and beware of them if you covet the real dress made by AG.
Dress Grades:
A- in general (pretty but too sheer), D for Kirsten, B for Marie-Grace!