Post by maggiedoll on Mar 21, 2008 13:40:38 GMT -5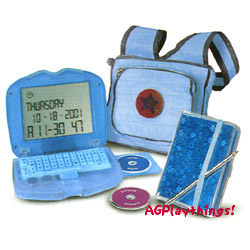 Laptop & Bag
Lindsey doesn't go anywhere without her laptop. Best of all, it keeps you both connected! Store 50 names and phone numbers, view the date and time, and use the calculator while you're out and about. Two pretend mini disks slide into the side of the laptop. Lindsey can carry her laptop along with her notebook and pencil in her messenger-style computer bag.
$32 GSAC2 discontinued 2003
Wow, only $32? That sound you hear is several Lindsey collectors baning their heads against the wall.
It is a shame that Lindsey had to be such a guinea pig, unlike some LEs American Girl really tried to make her stuff modern and realistic. However, how many kids in 2001 had a laptop? Not I and I'm seven years older than Lindsey. Had to graduate high school for that treat. But now it is 2008 and how many kids don't have a laptop? Lindsey was ahead of her time.
The
laptop
is made of hard plastic, kind of like my laptop. The colors are medium blue, light blue and a clear plastic on the bottom. I kind of remember color computers being hip in the early 2000s. I also remember seeing laptops being as thick and bulky as Lindsey's computer. The standard AGOT Star with the girl is seen on the lid. Way less abusive than the current American Girl logo seen today.
When open the keys are made of rubber and can be typed individually. The two
disks
are for "math" and "history." They don't do anything but can go into the computer though the disk drive. There is even a little mouse pad and space bar. I'm going to say that the laptop is a little more realistic than this:
The selling point for the laptop was that it could hold names, numbers and tell the date.
I bought mine NIB, so my computer has a clean slate. I'm guessing that you can still use the feature, but I haven't tried too hard to figure it out. But hey look it is March 2001!
I love little
notebooks
. This one is made heavy laminated cardboard with a piece of elastic to keep it closed. There is a little slot for the
pencil
. The pencil is a wooden with a heavy silver coat and like most American Girl pencils it writes.
The
bag
is made of thin, light canvas. The shoulder strap as Velcro so that Lindsey can carry it across her chest. There are two pockets that close with zippers. The back one is for the laptop and the front is for the notebook and disks. There is another AGOT star and girl in case you forgot who made this product.
Everything with the doll.
I like most today accessories from 2000-2004. I think they are most realistic and not too obsessed with pastels than the currant items. It is something that collectors can love and kids can enjoy. It is a toy and a set piece.
Now here is the big question, is this worth Ebay prices? I was lucky with my NIB set with a BIN at about $15 dollars more than original retail price. I think it is worth spending the extra $15-20 for it because of the realistic scale-appropriate details (I don't care if the current computer has sound). There are plenty of NIB sets on Ebay so I don't think you have to buy an overpriced "play with" condition unless it is for a child. Just wait and the correct price will come along.
A
An extra photo of dolls "using" the laptop.
Edited to add pictures!