Post by maggiedoll on Apr 25, 2008 23:17:05 GMT -5
Oh yee a little Playthings:
Floral Bedding Set
Your doll will dream of daisies in this pretty flower-scattered bedspread. The set includes two ribbon-trimmed sheets and pillowcases, plus a pink flower-shaped accent pillow.
$22 GTAF discontinued 2004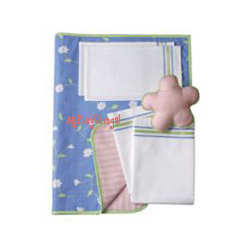 Oh yee my Ebay splurges:
As you may have noticed, my floral bedding set is lacking the flower-shaped pillow. I bought mine with a played with yellow tumble bed and somewhere along the line the pillow wondered off. I'm sure it is nice but I have accepted my fate and moved on.
The
bedspread
is blue with white daisies and green pipping trimming on one side pink, white, green and blue stripes. The bedspread feels like it is made of polyester and has a stiff feeling to it. Even though it matches the bed fine it is nothing special. First of all, it does not cover much of the bed. It is short so that the tumble can be pulled out but I would rather have a spread that covers the sides of the bed. Second, if you are sucker for details this bedspread messes with your mind. It is not quilted, so it is not a quit. However, it is not thick enough for a comforter. Then, what is it?
To show the bedspread with another bed. I still don't like it and as soon as I get around to it I'm making my own bed cover.
For lack of a better term the
sheets
rock. This set comes with two sheets, obviously one for the tumble and one for real bed. They are made of soft lien and they are twice the size of the current white sheets.
Each sheet is hemmed liked a real thing and has three ribbon trimmings. In between two blue ribbons there is a green color. Unlike the sheet available today, this completely covers the doll with room to spare.
With quality like this the historical are probably wondering why they have been denied sheets for twenty years.
The
pillow case
matches the sheets more than the bedspread. Unlike the current bed set, the dolls sleeping on the tumble bed have a pillow for the main bed and the tumble. It pillow comes with the bed and the case comes with the floral bedding set. The case fits the pillow well and comes easily on and off.
One more picture of everything on the bed.
Okay, so I was not impressed with the bedspread and as well, I don't understand how a bed can cost $60-70 and not come with bedclothes. However,the sheets and pillowcase helps forgive that mistake. All dolls need sheets and pillowcases and if you don't share American Girl's love of tumble beds than this set can be used for two doll beds. If you don't mind slightly stiff bedspreads this one is not so bad, just have a quilt nearby to actually keep the doll warm. A fine quality set and a good deal if you find it with the yellow tumble bed.
B