Post by EofA on Feb 28, 2009 0:43:03 GMT -5
Every American Girl can be part of a team with this softball set, featuring:

* A softball jersey with a screen-print on front and embroidery on the back
* Striped knicker-style pants so she can slide without skinning her knees
* White athletic socks and black shoes with "cleats" to help her run the bases
* A matching cap to shade her eyes
* A bat she can really hold
* A softball with red stitching

Includes the Home Run Secrets book for girls
Purple stripes and piping against grey with the red trim popping for a burst of color give this outfit a crisp, sporty, and feminine look. The jersey, hat and pants are soft knit and stretchy enough to fit the plumpest of dolls. I'm not terribly keen on the socks, which I think are on the thin side and prone to slouching and sliding into the shoes. But the shoes, oh so cute with their wee cleats:
They are a marvel of doll engineering in that the doll should have no problem at all standing on a flat surface in them. They are also very stretchy and go on easily, which is a good thing for little hands dressing dolls.
The bat has a nice gripper handle so your doll can indeed hold it. In my experience, those gripper things tend to stretch out over time but for now it seems quite sturdy. Ball? Is a ball. And a choking hazard at that, as the warning label on the website, catalogue, and even the box will tell you. Do not eat the ball, people. You've been warned.
It all comes together quite nicely, I think, and looks good coming and going.
Aside from the socks, I'm not crazy about the American Girl logo plastered on everything. We could definitely have done with a more subtle logo on the bat, if it had to have one at all. I can live with the AG logo on the back; at least it is quality embroidery and not the chintzy decals AG likes to throw on things. Still, a little less self-promotion would be nice IMO. FYI that the front of the shirt has the word 'softball' on it, since it doesn't show well in my photos.
The accompanying book, Home Run Secrets, is actually rather useful in that it has tips for understanding and playing softball.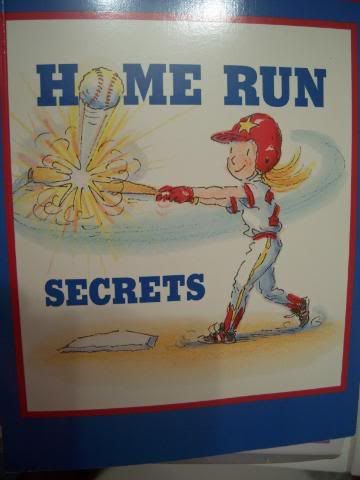 So slouchy socks and egregious logo-itis drop the grade on an otherwise fine outfit to an A-. At $34, this is one of the pricier of the AG ensembles but you do get a lot for the money. I'm not normally one to grab something when it first comes out but with a $10 off a $30 purchase code applied, the price was more reasonable. Use your codes wisely.
And don't eat the ball.