Post by EofA on Mar 29, 2009 16:10:20 GMT -5
American Girls can celebrate springtime in this special outfit, featuring:

A sleeveless floral-print dress with a flouncy, asymmetrical hem

A matching cropped shrug

A beaded necklace

A pair of open-toed shoes

Includes the Poetry Potpourri book, filled with poems written by real girls. $28
I love green dresses and AG doesn't make enough of them, so I decided to give this one a try since it at least had some green tones to it. I'll admit that I was biased going into the deal due to several member photos of this outfit looking way too tight on the store doll models, so I wasn't expecting much. My expectations were rewarded.
The dress is made of a cotton print fabric that is lined and has very little give. The style of the dress is such that it
should
be form-skimming, and I don't have a problem with that; that style appeals to me. I know some people think the style is too mature for a child of 8-12 years of age, the age AG dolls are meant to represent. I disagree, but to each his/her own opinion. The reality is that the dress is meant to be form skimming. Because of that, it is not going to fit older, chubbier dolls.
However, it
should
surely fit all the slimmer dolls, all the dolls that AG currently makes. It doesn't. Here it is first on Phoebe, my slimmest doll.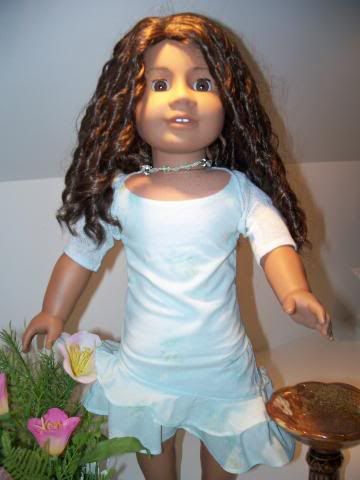 It's an awkward angle, but shows how how the sheath wrinkles and pulls where the legs meet the muslin body. It's just too tight. Phoebe took it off and refused to pose in any more photos.
If the fabric was not cotton and instead more of a stretchy knit, perhaps it wouldn't look quite so uncomfortable. As it is, the dress is too snug and definitely prone to wrinkles.
Above photo is sans the shrug. I find the shrug to be cheap. It's as if the seamstress was not about to spare even one millimeter of extra material. It barely comes over the seams of the dress, and lays right at the joint of the doll's arms and her muslin body. Also, you can see the doll's underwear waistline in the above photo (I took her panties off for the first photo). Dolly commando helps the lines of the dress to lay properly, as so: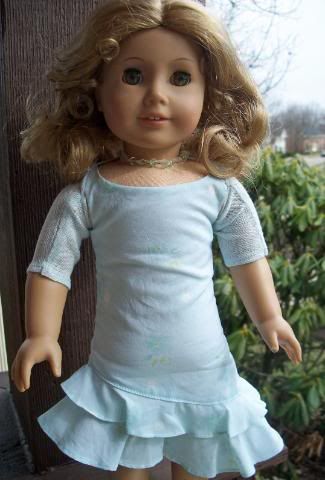 The shoes are cute open-toed sandals with a little wedge heel, which can make standing a bit wobbly but not impossible as it is in some of AG's kitten heels.
The necklace is simple but adds a nice touch and brings out the green in the print. I personally dislike these kinds of clasps because I find them hard to manage, and I imagine little hands struggle as well. I prefer magnetic clasps.
Due to nice concept but poor execution, this outfit rates a
C
from me. Perhaps future batches of the dress and shrug will have a little more give and not look so snug.