Post by Memory on Dec 18, 2009 20:43:44 GMT -5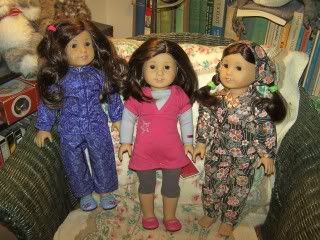 Miss JLY 40 is the Not-Jess with shoulder length straight hair similar to #28, the Not-Marisol.
She is shown above with two original Jess dolls and she is wearing the 2009 Meet outfit
. The Jess with her hair loose is Chas and the one still with braids is Iris. My #40 is named Zimmerie.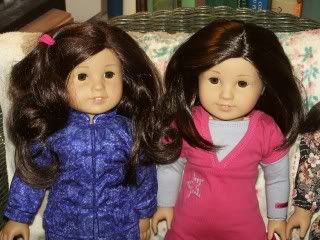 Chas' hair is wavy and has auburn highlights and a zigzag part. Zimmerie's hair is bone straight, dark brown with no highlights and has a finer texture, more like Julie's hair. As you can see when she's upside down, it doesn't have as much body as Chas' hair does either.
I was concerned about the change in jointing that Mattel made since the last doll I bought. Zimmerie's legs are a little loose for a new doll and her left arm doesn't stay up as high as Chas' does, but overall the joints seem fine.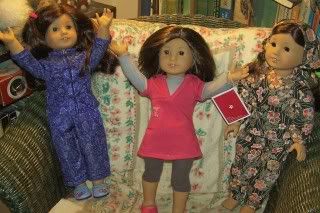 I was surprised that Chas' hair appears to be the same length as Zimmerie's. Certainly the Jess wig has more styling options than the not-Jess wig has and I think if I could have pulled one of Chas' curls down, her hair would be a bit longer than Zimmerie's in the back.
None of my Jess dolls have much facial color in terms of rosy cheeks and neither does Zimmerie. I will probably add a little blush for her later on. Iris' eyes seem just about the same as Zimmerie's - the dark brown is almost solid and the shape and size are similar.
The consistency of Zimmerie's hair is very similar to that of a long, straight Blythe wig, if you're familiar with those. I prefer the texture of the old PM AG wigs but it's totally a matter of taste.
Here's another hair comparison, this time between Zimmerie and Minuette, who is a 2006 or 2007 JLY #27. Min's hair is layered and somewhat straight, but it falls beautifully and has tons of BOUNCE! Zimmerie's is much thinner -- and in fact, I could see sections in her wig where the hair had been trimmed out to keep the sleeked down look.
A word about her meet outfit: smallest undies I've ever seen! I think Mattel should go to a thong to get more coverage! I don't like the style, the finishing (no hems on the sleeves and the top is one piece, pretending to be two) or the size (the pants are too short in the crotch) but I do like the shoes. I seldom keep dolls in their meet outfits anyway, aside from the Ready for Fun one.
Overall I give #40 a "B". She has the classic Jess face that I love and I like the length and style of her hair. I wish the wig had more texture and body. Her joints were not as loose as I'd feared they might be. Given a choice of buying a Jess on ebay or buying #40, I would definitely go for Jess. It's easy to rewig Jess and turn her into a doll similar to #40, if that's what you are looking for. And Jess has an extra sparkle that #40 seems to lack. But Zimmerie will be staying. I like her much better than my Ivy dolls, both of whom have been "re-homed".