Post by maggiedoll on Nov 12, 2007 2:32:27 GMT -5
Samantha can get ready for bed with all of these necessities:
A ceramic pitcher and bowl, and a lace-edged towel
A copy of an original edition of The Wizard of Oz to read before bedtime
$19
From my own collection
The
towel
(sorry about lack of photo by the way) is made of linen and timed in linen lace. It is not very thick, and I don't think it would be a very good drying a dolls face. It really has no purpose but to look pretty on the commode rod.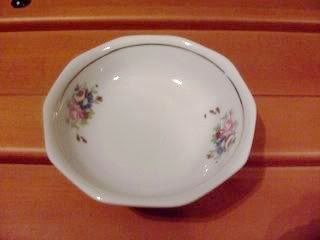 The
pitcher
and
bowl
are the prettiest part of the set. They are both made of ceramic, but a higher quality that something like Elizabeth's dressing table accessories. They seem very study and they don't seem to break easily. I've noticed in recent catalogs that American Girl makes the pitcher and bowl look very dark, almost gray. However, it is a rich, solid white.
As one may see in the pictures, the picture and bowl are painted in the image of delicate flowers. The flowers are painted on, and it does not seem to flake off easy. As well, there is gold trim along the edges of the picture and bowl. Together, it makes a very pretty picture and bowl.
For comparison, here is Samantha's pitcher and bowl with Addy's counterparts:
Given that Addy's version is larger and studier, it seems that hers is more unitarian. The major problem with Samantha's pitcher and bowl is that given that by 1904 most wealthy homes would had had running water, so I'm not sure how valuable the pitcher and bowl would be to her life.
The best part of the set is the
book
The Wizard of OZ
as far as I can tell this is a faithful reprinting of the edition Samantha would had owned, there is even a copyright of 1899. American Girl added this note to the front of the book that confirms that this was what Samantha's copy would had looked like.
Like all other miniature books, you can read
The Wizard of OZ
with your doll. However, unlike most of the miniature books which only has maybe a few pages of every other chapter this book goes straight though chapters 1-3 (about 34 pages). According to the note American Girl gives, this is to encourage girls to race to the library to get the real version to finish the story.
Another note, every piece of this set was marked "American Girl" and "Made in China" which gives a good indication that it is going to be here for a while.
To end, I would grade Nighttime Necessities a
A
for quality
B
for necessity. The pitcher, towel and bowl will look very pretty on Samantha's commode but they don't seem very useful in the historical context of 1904 and I don't think they will see much play value.
This final picture shows how the Nighttime Necessities relates to a doll and her bed for reference.