Post by American Girl Rescue on Feb 19, 2008 13:27:13 GMT -5
Julie wears this top in the book Julie's Journey
(This outfit set was modified to only include the swimsuit, towel, glasses and flip-flops in
June, 2012 and price reduced to $32; retired December 2014)
Julie's 2-in-1 Summer Outfit (released February, 2008)
Item# F6340
$36
"Julie loves to stay active, and she's ready for summer in the '70s
This mix-and-match outfit is perfect for summertime:
* Red satin shorts for walking the hilly streets of San Francisco
* A matching terrycloth hooded jacket embellished with a rhinestone star
* A halter top swimsuit with eyelet lace trim and bikini bottom, perfect for taking a dip in the pool
* Comfy flip-flops for her feet
* Red plastic sunglasses
* A beach towel so she can dry off after a swim"
This is the greatest outfit set for Julie. It is TWO complete outfits, not like some 2-1 one outfits that AG makes.
She has a terry cloth zip up jacket/shirt. The zipper is plastic. The hood is red satin like the shorts. The shooting star on the left breast area of the jacket/shirt is tiny, colorful, glued on rhinestones. Very 70's. I had one extremely like this when I was a girl in the 70's
The satin running shorts are the coolest. Authentically 70's as well.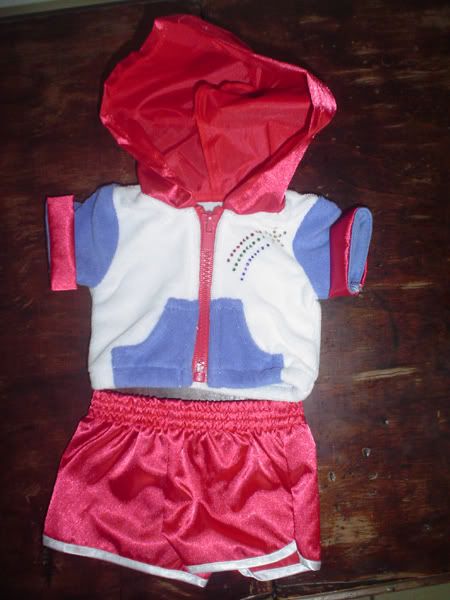 Next we have the sweetest red flip-flops and cool shades. The glasses are very similar to Molly's sunglasses in shape. They are plastic, but pretty durable. The red flip-flops have a clear plastic band that goes across her heel to help her keep them on. They do seem to stay on very well. They are made exactly like real flip-flops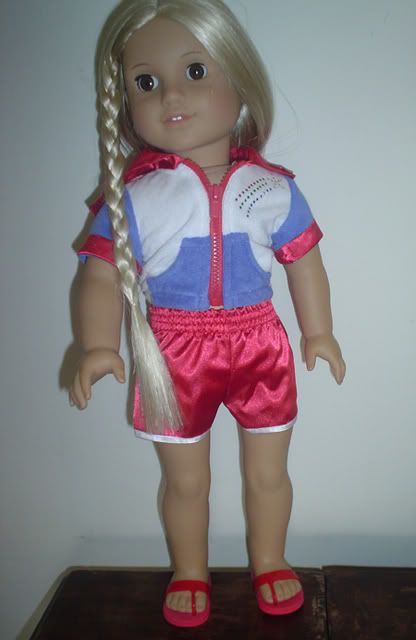 The swim suit is perfect! It's made out of swimsuit spandex and has pretty cotton eyelet lace that outlines the suit. It has cute little orange, red, and blue flowers and butterflies on it as well as green leaves. There is NO VELCRO on it to snag it or her hair...that's a
+
. There is elastic in the back so that you can slip it on her very easily. The halter top ties in the back just like swim suits did in the 70's. The bottoms are separate, so it's really a two piece suit. Very well made and so adorable!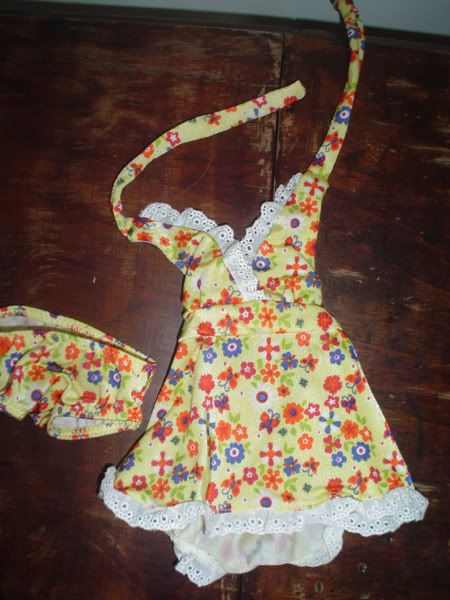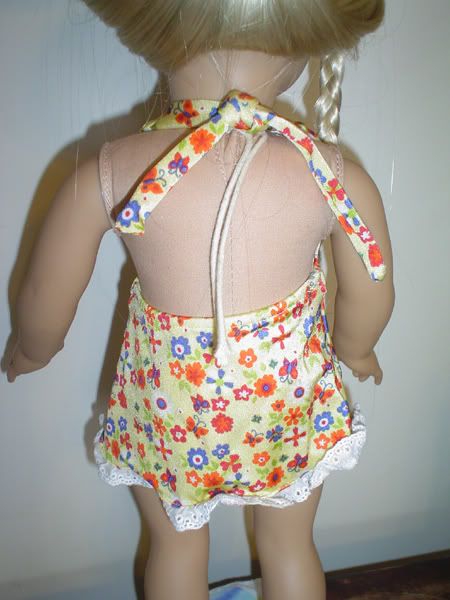 Last we have a smallish beach towel. It's much smaller than Molly's. This one measures 10" x 14". It is snuggly terry-cloth with red, yellow and blue stripes with red sunflowers. Very nice.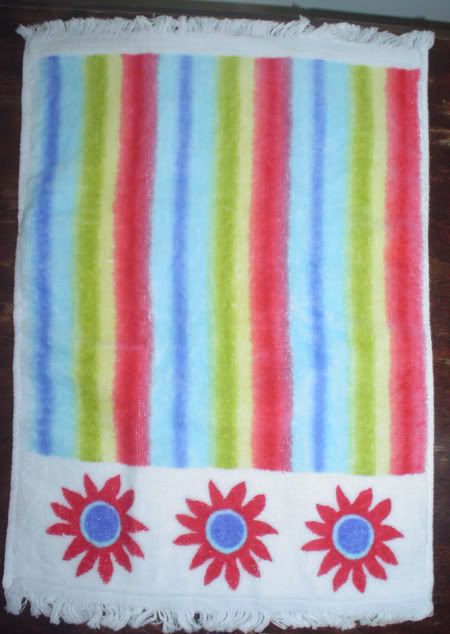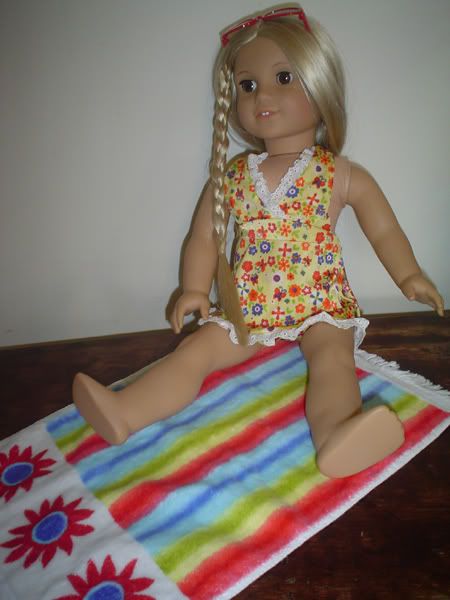 I think this has a TON of play value and the many pieces makes it worth the $36 asking price in my opinion. Grade A+