Post by American Girl Rescue on Feb 27, 2008 12:27:11 GMT -5
Julie's Birthday Goodies
Item# F6338
$48 (price increase to $58 January 2012; retired December 2014)
"Julie can't wait to celebrate her tenth birthday with a picnic on the beach, and everything she needs is right here. Your girl can have a make-believe California cookout with this set:
* A metal hibachi-style grill with adjustable grates and faux coals for cooking
* Two pretend shrimp-and-pineapple skewers
* Two plates, two napkins, and two pretend root beer floats
* A woven picnic basket to hold all the goodies
* A colorful Mexican-style woven blanket to sit on"
This is a great set for the price. There are so many pieces and they are all very well made. First let's go with the basket:
The basket measures 8" wide x 5 1/2" deep x 4 1/2" tall. It is completely made out of wood with leather-like handles. It is big enough to hold all her Birthday Goodies.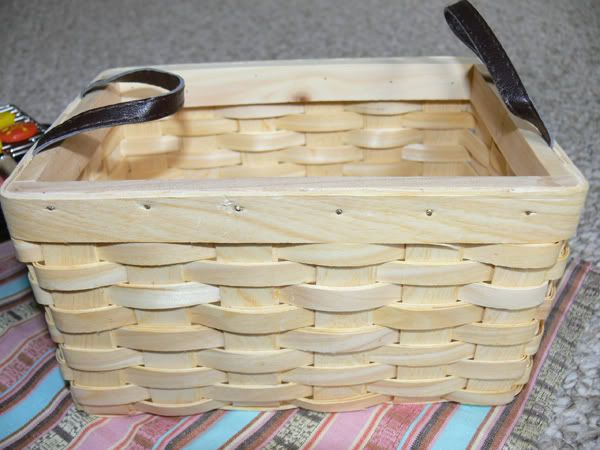 The little hibachi is ADORABLE. It is made out of metal with wooden 'feet' and handles. The grates are also metal and wood. The pretend coals are plastic and do NOT come out of the hibachi. This item measures 7" long x 4" wide x 3 1/2" overall.
The kebabs are hard, sturdy plastic, but not as fake looking as I thought they would be. Granted, they could have been more realistic looking considering how well the other Historical girls' food look, but still they are passable as shrimp/pineapple kebabs. They measure 4 1/2" in overall length.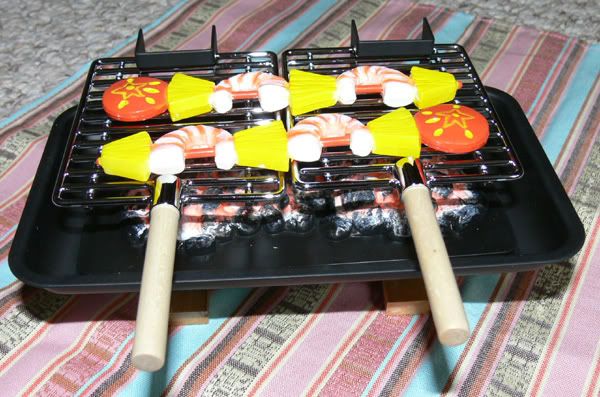 The plates are 70s authentic Melmine! Gotta love that. They are orange with large flowers imprinted on them. They measure 3" in diameter. The napkins are thick woven cotton with tiny light blue, orange, red and yellow stripes. They measure 3 1/2" square.
The rootbeer floats are clear acrylic with real looking brown acrylic for the rootbeer. The ice cream on top is more of a rubbery plastic but the plastic straw even has a hole in it! Julie can hold the mug, but just barely. I wonder why AG doesn't make items that the girls can actually hold like they were using them? They are 2 1/2" tall not including the straw.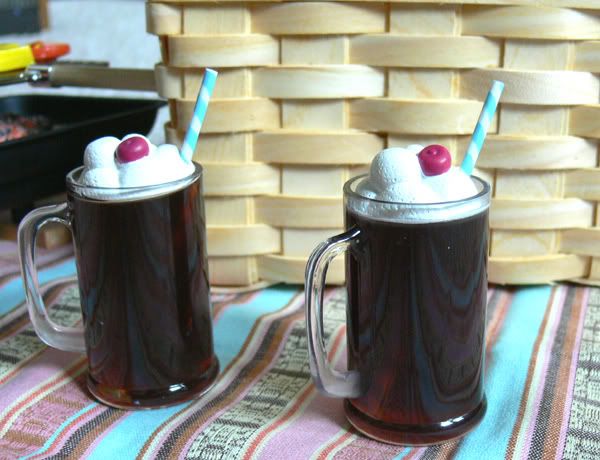 The blanket is a 17 1/2" x 13 1/2" piece of pastel woven cloth. Very nice.
Over all, everything is great. Grade A from me!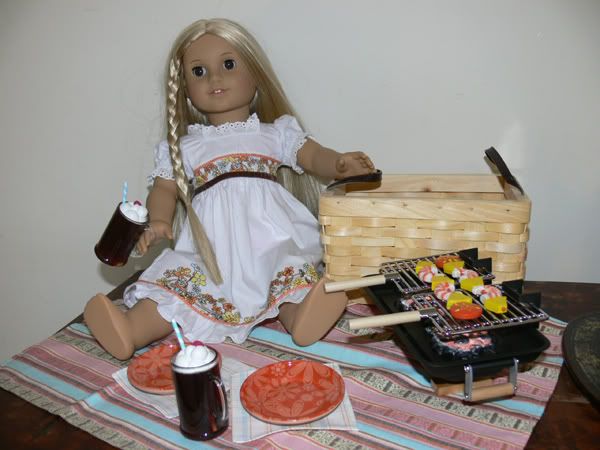 Julie and her Birthday Goodies size comparison