Post by Cher-Bear on Mar 31, 2014 16:02:44 GMT -5
*Note: Addy's Hairstyling Set debuted in 2014. Later that year, with the launch of BeForever and the change in Addy's Meet Dress, the color was changed from pink to blue. The set retired in 2016.*
Item# F9461
$22
Your girl can create a fancy hairstyle for Addy with this set! It includes:

A snood that fits perfectly over her hair
A pink cameo & bow
A double-braid hairpiece for the finishing touch
I purchased my set from AGPLA March 2014. I was so excited to have something new for Addy. I really like this set, especially the Cameo and Bow. It is so pretty. Now for the reviews and pictures.
First the packaging. I like how it was put together.

Since normal packaging is a box I give this packaging an
A
, because I can see what I am buying.
With the package open. The back of the packaging.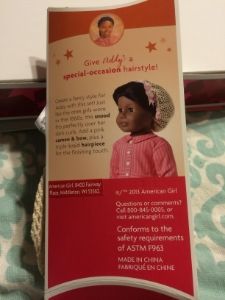 Next, the Cameo & Bow. I just adore this piece. It has a great weight to it and it doesn't look or feel like a cheap plastic piece. The parts that look "brass" are metal and not plastic which I am stoked about. It is one of my new favorite items for Addy from AG. I give this item an
A+
!
The front and back.
And for the "Double Braid Hairpiece" headband. I like this piece purely because it is the same shade color of Addy's hair and it gives it some flair. This is my first "headband" from AG; so I am not sure how others fit, but this one seems a little small for my PC Addy. I have to lay it just right or it slips. The hair that makes up the braids on the headband
ARE NOT TEXTURED
! In fact, they are straight and smooth, which is noticeable if you really look. I don't really care that much and think it looks great in my Addy's hair. If you think this may bother you, you may want to skip this part of the set. One thing I disliked was the 2 inch long tag that was affixed to the headband. I was able to cut mine off and you can't notice there was one there. I give this piece a
B+
. Lowered the grade because of the non-textured hair that was used.
Closeup of the headband.
Here you can see the difference in textures.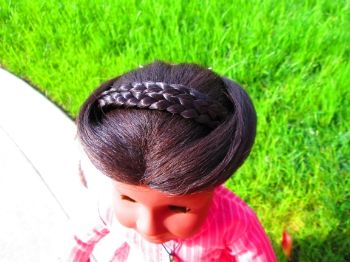 Finally, the snood. I like it well enough, however, the snood is almost too small to hold all of Addy's hair. It absolutely will not stay correctly unless you hold it down with bobby pins. The same is true with the snood from her Birthday Pinafore outfit, but the birthday one is bigger in circumference and appears there is more fabric used on the birthday one. It does have a tag attached, but it isn't one of the super long ones so it is hidden once on. The snood fabric/netting in this set is super stiff. I don't remember the birthday one being like that. I am guessing with more play, the stiffness will go away. I do like the colors they used to make this set and the little pink bow is cute. I give this piece a
B
.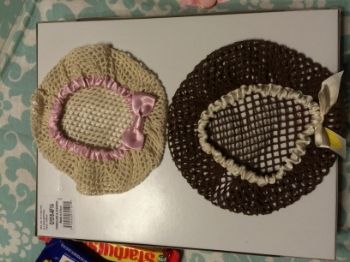 Here is a picture of Addy wearing all 3 pieces from the set.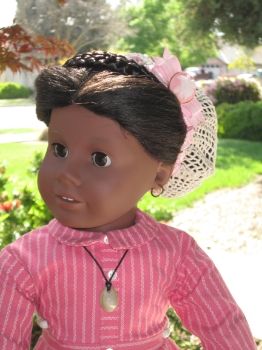 Without the Cameo & Bow.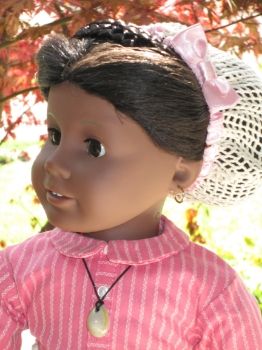 View from the back.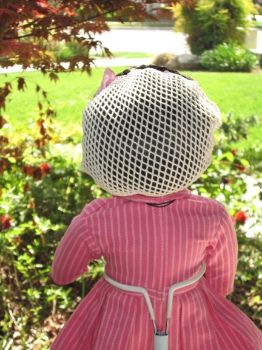 Overall, I think this set is cute and has lots of playability. I also think it is worth the price of $22. I give it a solid
A
. Thank you for reading my review.