Post by Cher-Bear on Jul 3, 2014 22:56:33 GMT -5
Bee Myself Outfit for Dolls + Charm
Item# G0663
Her doll will be as sweet as honey in this cute bee costume! The outfit includes:

A dress with ruffle-trim stripes and an attached black and yellow tulle skirt
Striped jersey leggings
Woven satin sparkle wings with elastic straps to attach to her back
A headband with sparkly antennae
Black ballet shoes with yellow toe caps
Black-and-yellow-striped nail stickers
A round "Fair" charm

$34

My DH ordered this outfit for me right after the release. I have to say this is the cutest thing ever and it is in my top 5 favorite outfits available from AG both past and present.
Dress: The bodice is a bright yellow t-shirt material with black ribbon ruffle and sequin stripes. The ribbon detail does not continue around the back of the shirt. There is the new velcro on the back for closure.
The skirt has 3 layers of tulle. The 2 under layers are a softer yellow tulle that matches the bodice. The top layer is made with a stiffer and thicker black tulle.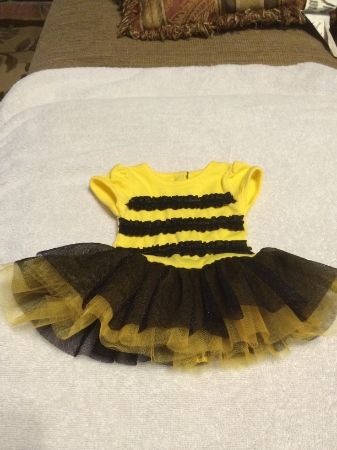 Pants/Leggings:
They are made of a t-shirt jersey material and are soft.
They go to mid-calf.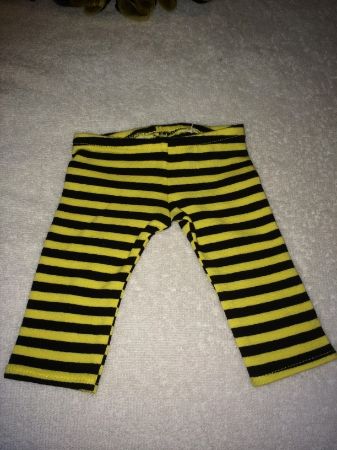 Shoes:
They are black rubbery slip-on flats. They have 3 holes in the top, kind of like Crocs. They have Yellow paint on the toes to give them more detail. They fit well on the foot and don't come off. The bottom has a tread like a real shoe. The AG logo is also on the bottom.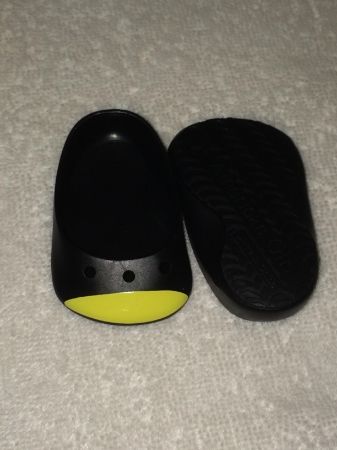 Bee Wings:
They are bright yellow with sparkles embedded into the fabric. Black and yellow stitching is quilted to give the wing shapes to it. The straps are the same yellow color and are stretchy. The only con to the wings is the stupid long tag. I cut mine off immediately after snapping the photo.
The view from the back.
The view from the front. (And the stupid long tag)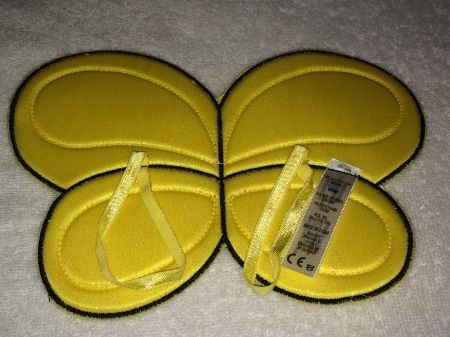 Bee Antennae Headband:
The headband is a normal doll headband. It is a thick weight which is nice. The top part of the antennae is yellow with silver glitter stuck on. Gives it a nice detail.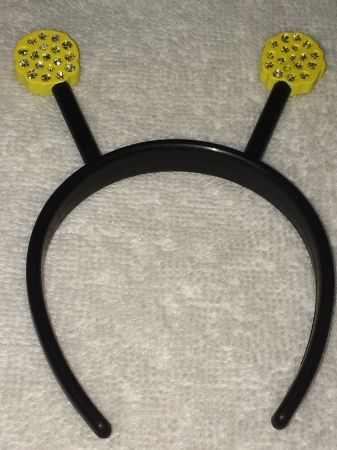 Nail Polish Decals:
I think these are cute and they fit with current trends of nail art. I don't plan on using them on my dolls, but I think they are a nice touch.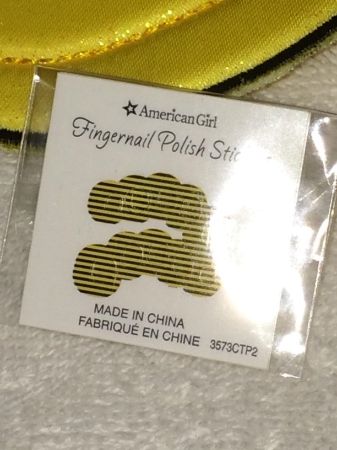 I give this outfit an A+! When this item was released I had to have it, and it didn't disappoint.