Post by Cher-Bear on Jul 4, 2014 11:41:45 GMT -5
Trail Accessories
Item# G0651
It's the perfect day to hike and see the sights! This set includes:

A colorful canteen with a cap that really opens
A carabiner for clipping accessories to her belt
A compass
Binoculars with a neck strap
A bag of pretend trail mix
A braided bracelet
A sweater-knit hat

$38

My DH bought this set for me from the website soon after its release. I think this set has good playability and goes well with the other camp sets released June 2014 and by itself as well.
Knit Cap:
It is a knit cap with multicolored purple yarn. It is flat in the front, and the back is gathered to give it a droopy effect in the back. I think it sits well on the dolls head.

The cap also has 3 embellishments on the front/side. There is a "patch" that is outlined in purple with a white center and turquoise leaf. There is also a purple bead and a gold/brass colored plastic charm in the shape of a star that is affixed near the bead. This item can be used as an accessory for many outfits so I think the playability is high.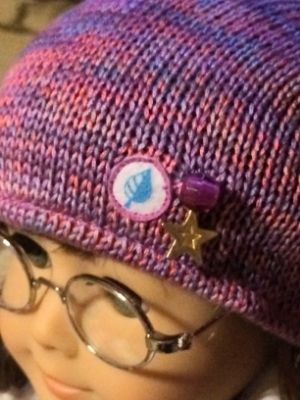 Canteen:
This is a cute addition to the set. When I was target age, I would have loved a canteen that looked like this. Mine was army green and boring. The canteen is plastic and has multicolored stripes on both sides and faux metal on the rim and opening. The cap is coral colored plastic cap that twists off, to reveal a fake opening. The strap is a ribbon material of the same coral color and is a light weight.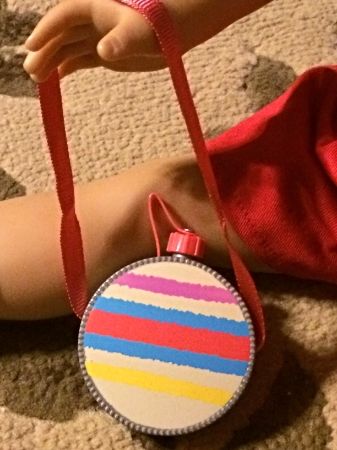 Trail Mix:
This piece has an outer box that doesn't open and is yellow and lime green. There is an oval window to reveal the "mix" inside. The trail mix inside is supposed to consist of nuts, seeds, and berries from what I can tell. I didn't open my trail mix box to see how big the mix is.
Binoculars:
These are such a wonderful addition to the set! They are very realistic and magnify when you look through them. They move to adjust to your eyes just like real binoculars. The colors that they come in aren't so realistic, but I think if they had these when I was target age, I would have wanted them. The grey cord that holds them on have a coral colored plastic clasp that opens and closes so you can fit it over the dolls head.
Carabiner and Compass:
I count these as one thing because the compass has a metal ring to attach it to the carabiner. The carabiner is metal and works just like a human sized one. I think this is something you would definitely use if you went camping or hiking. It is very realistic.
The compass is turquoise plastic with a coral, orange and blue flower on the outside lid. The face shows North, South, East, and West, with the needle pointing north. The compass does have a Rotating bezel (or azimuth ring) the thing that encircles the outer edge of the compass capsule that is used to show the direction you wish to travel (expressed in degrees). It is metal colored plastic and turns like a real one. So that was cool. The interior of the lid is embossed with a star.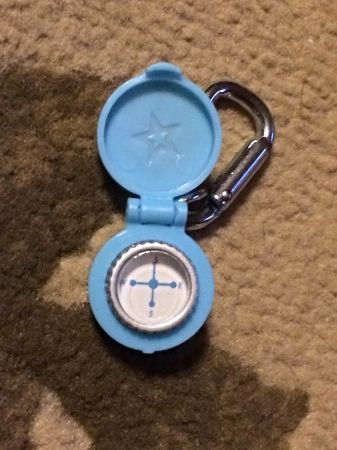 Over all, I would give this set an
A+
because it is a great set with tons of playability.