Post by SarahL on Jan 30, 2007 15:16:52 GMT -5
Grade: A
I recommend this set to anyone who enjoys gymnastics or patriotic items.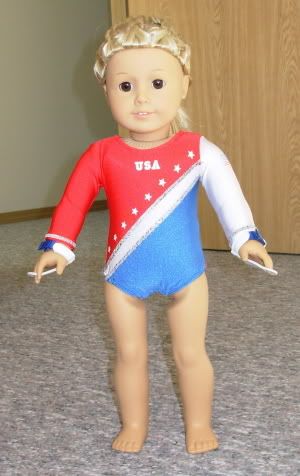 The leotard looks great on the dolls. The only problem is that even with the safety velcro, the material is still easy to snag. The material is a nice thick leotard/swuimsuit material. The sequins are sewn on and the USA, stars, and flag are screen-printed. The back of the leotard is completely red with velcro running almost the length of it. The sleeves do easily ride up to three-quarters length when the doll actually tries to do gymnastics. The grips are a failry thick foam material that attach with velcro.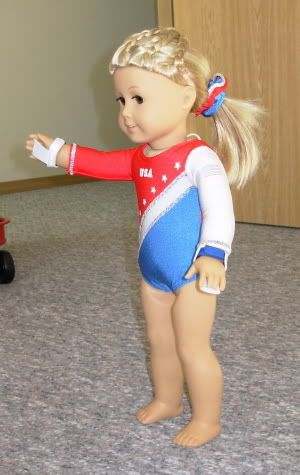 Unfortunately the flag on the left arm is faded in this picture. The scrunchie has one blue side and one red side with sequins along the border and is made out of the same material as the leotard. Unfortunately the slick material makes it easy for the scrunchie to fall out in silky hair like Kailey's. (I haven't tried it on anyone else yet.)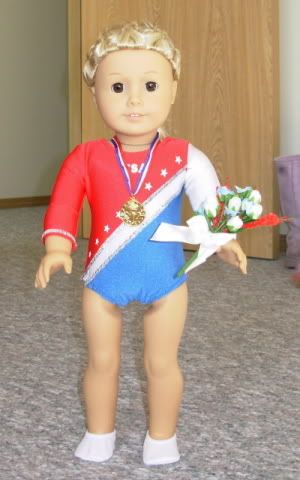 The shoes are made of a thin, stretchy material with thin, soft, foamy soles.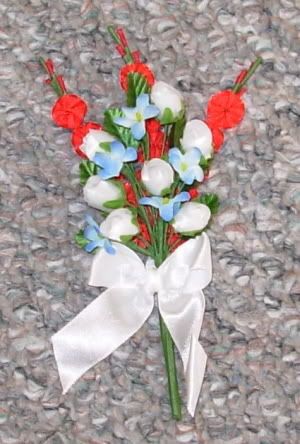 The flowers come on wire stems so you can arrange the bouquet to your liking. The ribbon is a nice satin ribbon. I think it's cute than even the flowers are red, white, and blue.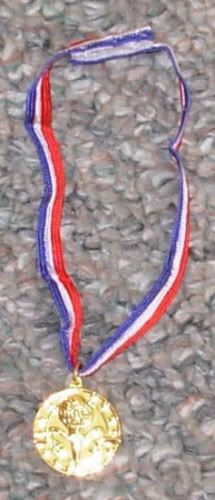 The medal is actually metal and comes on a woven ribbon. The ribbon velcros in the back which makes it easy to put on but a hazard to the leotard as well as itself since the velcro can snag the ribbon.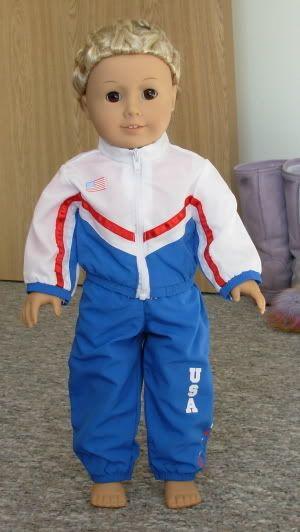 The cover-up suit looks very comfortable. It is made of a windbreaker material. The white part is partially see-through, so you can see the top part of the leotard under it. The elastic seems loose around the wrists to me, but it does fit over the grips if for some reason the doll is wearing the grips and cover-up at the same time. The flag on the jacket as well as the USA and stars on the pants are screen printed. The red stripe is a satin ribbon and only on the front of the jacket.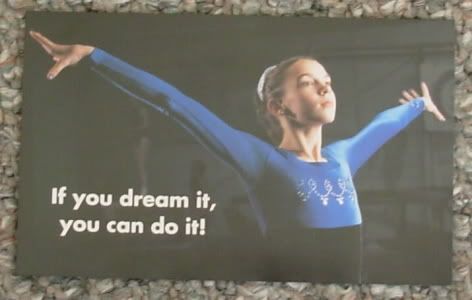 The set also comes with a mini-poster that's about 4 X 8 inches. It's cute, but since it's just a flimsy poster, it hardly seems worth including.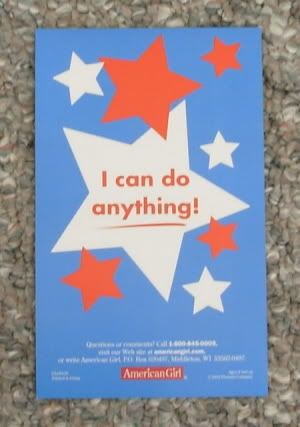 This is the back side of the poster.