Post by maggiedoll on Mar 19, 2008 17:37:16 GMT -5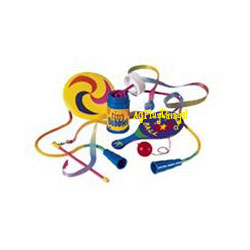 Summertime Toys
Send your American Girl out to play with her favorite summer toys. Help her toss the sky simmer that really flies, or blow real bubbles from the bottle of Tiny Bubbles. Watch her wave the colorful ribbon baton and skip jump rope. Finish the day with a game of Boing-O Ball.
$12 GAAG discontinued 2001
I bought this set during one of my occasional Ebay streaks. As I recall I was the single bidder for the auction. My high bid was $20, I won the set NIB for around $10. This is one of the items that if you wait long enough, you will get a good deal.
The
jump rope
is why I wanted to set. It looks like the kind one buys at Toys R Us for about $7. The rope is well... rope and the handles are plastic, like the real thing. As one can tell a doll can hold her jump rope.
I had a
ribbon baton
what you do is run fast and the ribbon flies behind you. It is fun for the first ten minutes. A possible display with the doll on rollerskating or a bike. Or a cat toy.
The
Boing-O Ball
is a great example on how American Girl renames perfectly good things. Couldn't the company paid for the trademark? It is made with semi-hard plastic with a starchy elastic and a bouncy ball. I'm kind of worried about the elastic breaking but so far it hasn't. I love that they made it too look like the real ones. A doll can hold it but like me she's never figured out how to play with it.
The
sky skimmer
, or what most call Frisbee, is made of bendy plastic three colors painted on. The Frisbee really flies and the colors come together in a flowing circle. Dolls can't hold it in their hands though.
The
bubbles
are real and you can refill them with soppy water. It is neat that the lid has a little blowthiny like the real thing. It is cute but kind of useless.
In all, I am pleased that I bought this set, I am also glad that I did not pay more than original retail. The toys follow my cetera for American Girl, correct scale and the doll ability to hold their things. However, something is missing from the set, and leave me wanting something. Call me fickle but I'm giving the set a
B
.