Post by maggiedoll on May 2, 2008 22:24:34 GMT -5
Oh, oh methinks this set is retired, better get myself over to Playthings.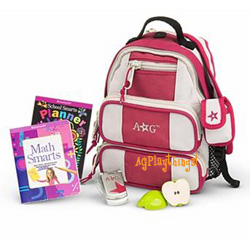 Backpack Set for Dolls
The perfect pack for American Girls on the go! Nylon backpack has zippered pouches to store everything from her Math Smarts book to her planner. Includes a cell phone with a clock that works, plus a pretend apple.
$26 GSBP
Hark! Glorious day!
All right, that is out of my system so I'll continue.
First, the
backpack
, very realistic, I think I had one like it for a few years in high school. It is large, roomy and made with canvas-like material. The backpack has a main compartment, two medium-sized pockets, a dinky little pocket, two mesh side spaces and a cell phone case. I could fit my Saffy's laptop, her schoolbooks, a couple of American Girl books and a few odds and ends in this thing. However, there is one complaint. The two front pockets do not hold as much as the real thing. Saffy keeps her lunch money, glasses and a stray pencil in there but nothing else. What use is a pocket with no room?
I received my own cell phone around the time I bought this set in 2006 (yes, I am that uncool). They look identical, right? No! I will frankly never understand American Girl's obsession with putting clocks in things and putting their name on everything. I really wish they would had not wasted that time and tried to make this
cell phone
more realistic. You really can not look at the clock, it is too hard to keep the cell phone open.
The
apple
is a nod to all of us who had mothers who insisted that we keep extra food in case we either got stranded on an island or the bus was late. It is the basic American Girl apple, tiny, semi-realistic and rubbery. It looks nice and fits well with the mess pocket.
BOOKS!
Excuse me while I happy dance. There could be a multitude of things wrong with this set and the books would make me happy. So your doll does well in school she has an American Girl issued planer and
Math Smarts
book. I've always applauded American Girl's refusal to bow down to the Barbie "math is hard" mentality and I love the fact the doll has a little math helper guide.
Like all American Girl books, you can read them. I did read them on a long car ride and both seem to be abridged well. It would had been nice however if American Girl would had added a text book or maybe a History Mystery paperback instead of wasting time on the cell phone.
Saffy read for school, or to look for her shoes. What ever comes first.
My "funny" comments aside this is a great school set. Aside from the cell phone great attention for realism was taken and your doll will be ready for school. I can see great play value for girls playing school and great display for the collector. I just wish and American Girl in the fall adds a new school set equal to this one. Hopefully they keep the math is good mentality. Final grade
A
.