Post by Rhododendron on Jan 4, 2021 23:02:47 GMT -5
It's A Wrap
Catalog description:
This miniature gift wrap kit makes under-the-tree presents a snap to wrap!
3 mini rolls of gift paper
6 mini bows
3 tiny gift boxes
3 gift tags
2 spools of ribbon
1 roll of raffia ribbon
Transparent tape
Scissors
GXAW $16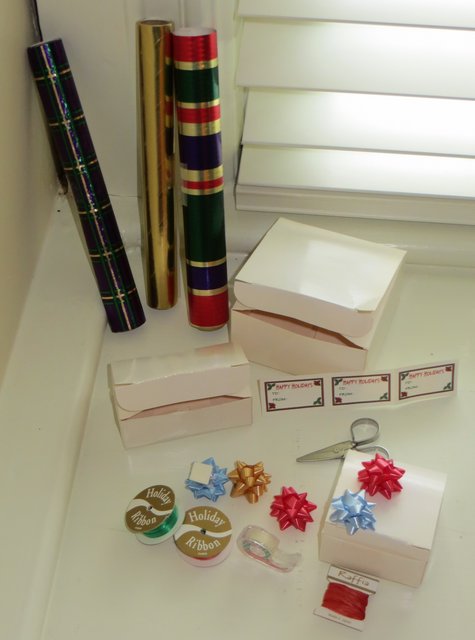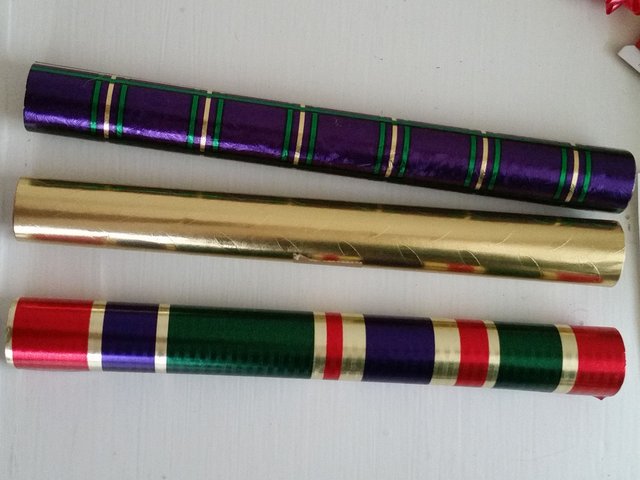 The gift wrap is nice, thick paper. You get one roll each of purple, green, and gold windowpane check; plain gold with a little bit of an embossed pattern; and red, green, navy, and gold stripe. The papers are the same as 3 of the ones used for the wrapped gifts in the Perfect Presents set. They originally came packaged together in shrink wrap with a cardboard cap on each end that says "Gift Wrap", the same way a 3-pack of human-sized wrapping paper might come.
The bows have foam adhesive squares on the bottom, with paper backing you peel off to stick them.
The gift boxes are thin white cardboard. They arrive flat, and have to be folded into shape. Each one is a single piece, with an attached lid that folds over.

The gift tags are thin paper, feels like regular printer paper. They come as one long sheet with perforations to separate them. They say "Happy Holidays" with "To:" and "From:" underneath, with little poinsettias and holly leaves in the corners. The adhesive on the back is the kind you have to dampen to stick.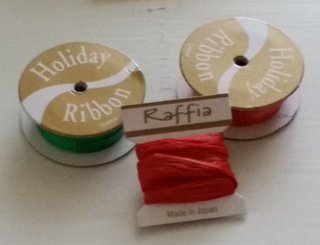 The red ribbon and green ribbon are wrapped around cardboard spools that say "Holiday Ribbon" on them. The red raffia ribbon is wrapped around a cardboard card that says "Raffia". All of the spools have a little slit in them for holding the end of the ribbon.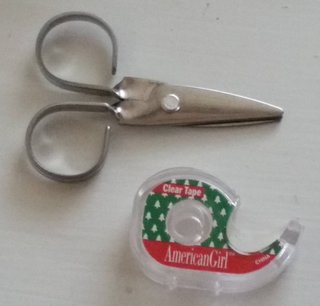 The adorable tiny scotch tape dispenser is my favorite part of this set. It's made of clear plastic, and has a roll of usable tape in it. The label says "Clear Tape" at the top and "American Girl" at the bottom, with a pattern of little Christmas trees on it. The metal scissors are the same as the pair that comes in the first aid kit from the 1998 Backpack Essentials set. I haven't tried to cut anything with them, but they don't feel very sharp.

Overall, I'd give this set a B. It's cute for setting up a "getting ready for the holidays" display, and I like that it's a pretty accurate reproduction of human-sized gift wrapping supplies. Nearly everything in it is made of paper or cardboard, so it wouldn't hold up to play for very long, and even storing it from year to year without damage is a little difficult.