Post by PleasantMemories on Jul 11, 2008 10:05:57 GMT -5
*These skates and muffs are paired with the skating sweater that Molly wears in the movie Molly: An American Girl on the Home Front. The set was introduced in 2006, the price increased from $20 to $28 in January 2012, and it retired with Molly's archival in December 2013.*
Grade: D
This has to be one of the most overpriced sets that American Girl offers. The quality of the items isn't up to par with some of their other merchandise. For $20 you get a pair of skates, a muff, and ear muffs. I didn't pay retail price, but would have been really disappointed if I had.
The faux fur used on all three pieces is very soft. However, it's also very thin and cheap feeling. They quickly become matted and show wear. The exterior of the muff is entirely made from the faux fur material and there's a satin like material inside. It's a little smaller and much flimsier than Samantha's muff. Also, unlike Samantha's muff, it doesn't have a wrist cord.
Molly's muff is on the Left & Samantha's is on the Right.
The earmuffs are basically a standard American Girl headband with two circles of faux fur. Unlike real earmuffs, there's nothing solid (other than the headband) or fluffy inside the muff part. This and the design of the band make it difficult to get the earmuffs to stay over a doll's ears. Also, something on the headband has reacted with the satin-like lining leaving a shiny spot on both muffs.
The skates are the highlight of the set, though that's not saying much. The faux leather skates with a metal blade and fur cuff are a cheaper version of the skates that came with the ice dance outfit. Many have tried futilely to get the skates on my early PM Mollys. With some work they will fit on my late PM and Mattel dolls, but they stretch out the seams in back and bow out a bit on top, and socks aren't an option.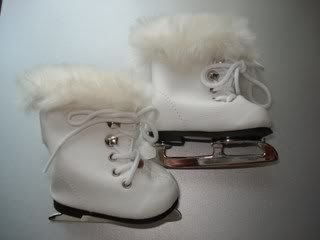 During all the tugging that's been done to get the skates on, the brown glue that holds the fur in place has loosened and come undone in some places. The skates probably wouldn't hold up well to play. It's also a little strange that the skates don't come with guards. The guards really help protect the floor when dolls skate across the floor.
Unless you want to complete Molly's collection, I'd opt for another pair of AG ice skates.