Post by Allicapri on Oct 11, 2008 18:26:08 GMT -5
These arrived in my house Tuesday, and they were on the doll within two minutes. I went a little nuts with pictures, so I'm going to give the grade straight off:
A.
They would have gotten a plus except that they're $12, which makes them half the cost of an outfit and a little more than I think they need to be.
Okay, they came in a box which seems to me far bigger than they need, but I suppose is about the right size for a doll shoebox, maybe a little bigger.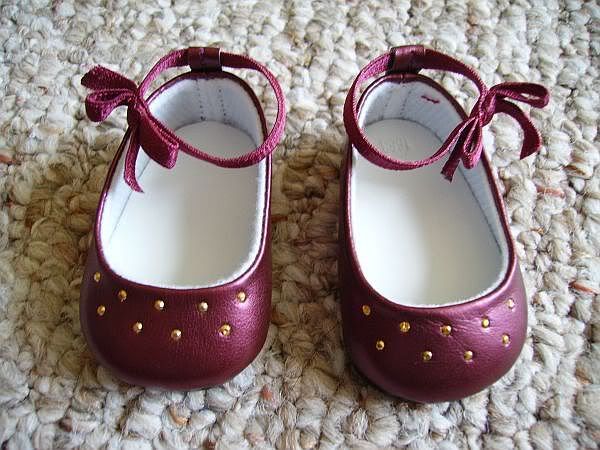 They're a very dark pink--probably best described as maroon or burgundy and kind of look like they're made out of leather, so pleather, I guess? The inside is soft and fuzzy and easy to slide on a bare doll foot. The toes have yellow/gold jewels in them that look to be set in fairly well. I didn't try to pick them out or anything, but they're not going to be falling out all willy-nilly, even with play.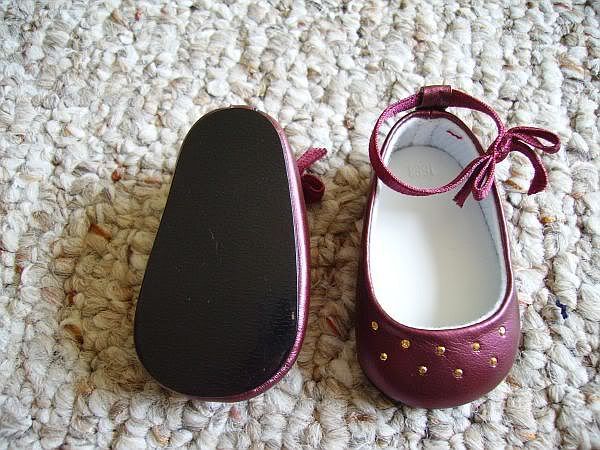 The bottoms are black, flat, and not completely smooth--if the doll was real she probably wouldn't fall on her face walking, but I bet she could slide really well on a smooth floor if she tried.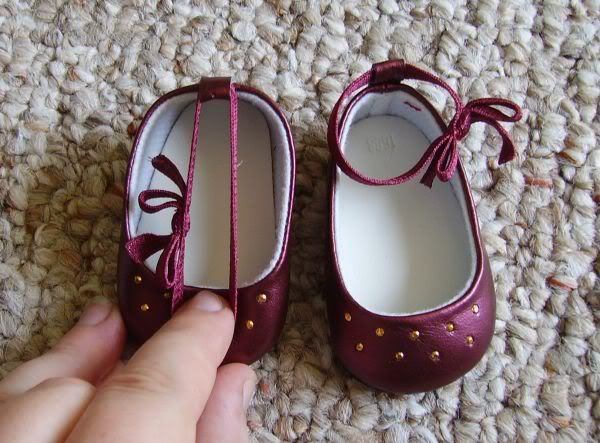 What the website calls "ribbon detail" is a ribbon of elastic in the same color as the shoes. They stretch to go over the doll's foot. They aren't very difficult to put on--I found that sticking in the toes first, stretching the elastic a bit, and then supporting the heel with your fingers to slide it on works best. Stretching the elastic pulls the little tab forward a bit so it could get stuck under her foot without some help.
The bow on the side is made of the same elastic and doesn't come untied.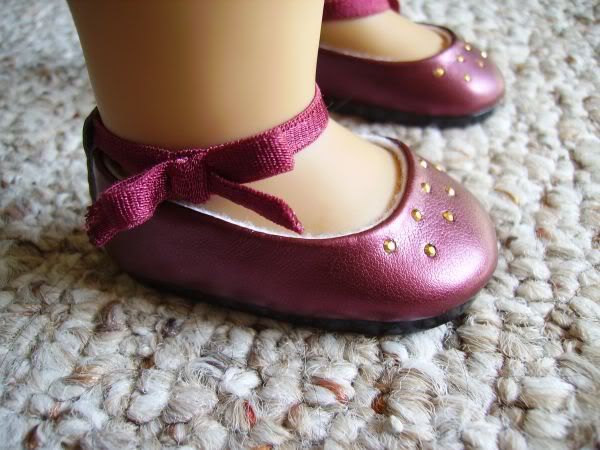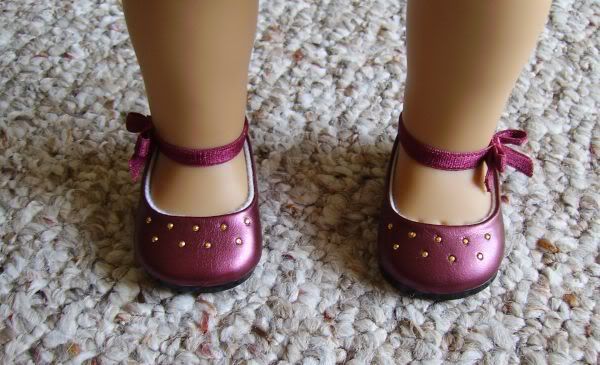 They fit pretty well--they aren't too tight or too loose--and the elastic strap adjusts a bit up or down to go over the ankle. Since it's stretchy, it lies flat and doesn't bunch or fall. The left foot has toe cleavage, the right doesn't. This happened on two different dolls, but I think the problem lies with dolly toes, not the shoes themselves. I examined my dolls' toes closer than I ever thought I would and I think the left foot has longer toes than the right. Go figure.
It doesn't bug me, but it might some, so I threw it in there.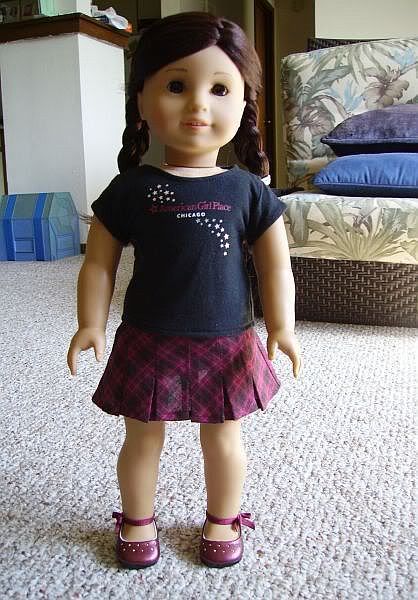 Here's how it looks with the Petals and Plaid skirt, which is what I got them for. (The outfit in the pic, for anyone interested, is Sophie's meet outfit.)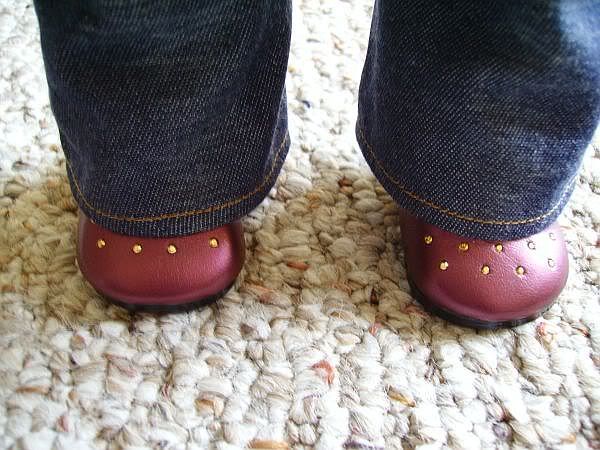 I haven't really looked to see if it matches anything else, but here's one with jeans for dressing down a bit. The gold stitching in the jeans and the jewels actually look pretty good together.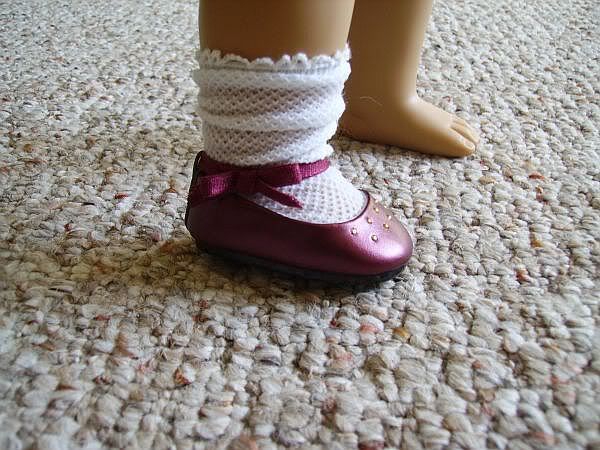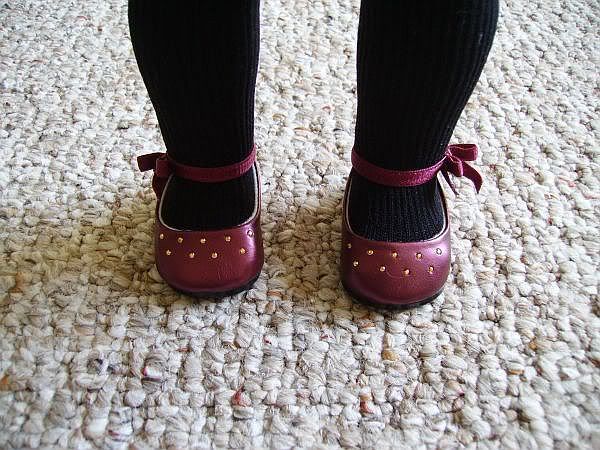 They go on with slight difficulty over thin socks or tights. It takes a little more maneuvering of the elastic, but it works. It makes a fairly snug fit, though, so I doubt anything thicker would work.
They're really cute and well made little shoes, and work really well with similar colored pieces or with something neutral like jeans. I question how they would look with a lot of the really bright pink stuff AG has a lot of, though. So just to reiterate, it gets an
A
from me.