Post by maggiedoll on Nov 19, 2008 14:31:56 GMT -5
From Playthings.com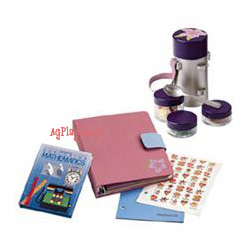 School Supplies
Hit the books! Your American Girl is ready to study with a math book and a binder filled with three folders and a sheet of stickers. Then it's time her lunch. Her thermos has an attached Spock and holds three plastic jars of pretend food—spaghetti, a salad, and a cookie.
$20 GSAT discontinued 2004
A very random purchase from Ebay during the summer of 2006.
For some reason, American Girl decreed that you get the school supplies in one purchase and the backpack (with computer!) in another purchase. That I never understood but the good news is that the binder matches the berry backpck from 2006-2008. The bad news is that it does not fit into the backpack.
The
binder
comes with three
folders
and a sheet of
stickers
. The binder kind of reminds me of the kind I had in elementary/middle school. It is thick cardboard covered with a light felt-like material that attracts lint like crazy. The binder is a deep rose-colored pink with a find purple flower in the bottom corner and a light blue strap with Velcro that keep the binder closed. The clips snap open and close and it is real metal. Mine is six years old and second hand and it still closes well.
The folders blue, grayish brownish and deep rose. They are like any other folders you get a Wal Mart for 15 cents. Each have two folders that really hold a couple of sheets of papers.
The stickers are genetic "Great Idea!" "Thank You!" "Friends Forever!" stuff you find in grade school. It is meant to decorate the binder and folders but apparently neither owner of this set saw the need to decorate with "Call Me!" and "Way to Go!".
The
math textbook
is awesome. It is just like the math books that you get around third grade. It reminds me of a time when I needed math was to figure out if 27 was < or > than 200 and not paying bills. This book is a a real textbook that one can find in public schools all over the country.
Makes me want to do some math homework now!
For some reason, the doll who had this before my Saffy ate the lunch and lost the spork. It is supposed to be pasta, a salad and a cookie. Makes me wonder if my mother was just phoning in with my string cheese and Ding Dong. Even though the lack of lunch has taught me to read Ebay descriptions carefully Saffy just uses the thermos for you know,
water
. Thermos is light plastic with a flower sticker on top. The food containers are a flimsily plastic and have no lids on them. The thermos holds the containers fairly well so the doll will not lose her lunch all over the sidewalk on the way to school. But I'm curious, why not just get a lunch box?
As individuals the binder with folders and stickers (!) get a
B
, the book a
A+
and the thermos a
C
. All together there is something missing. All the school supplies are missing something, but this one is lacking even a backpack. It would be nice for maybe some paper or a report card or maybe another text book. For the lack of fulfillment this is a worthy of a
B-
on the progress report.