Post by designerdiana on Mar 18, 2009 15:09:34 GMT -5
Camp Bunk Bed Set #F9400 ($145)
Description from the AG website:
When it's time for "lights out," this bunk bed is perfect for a good night's sleep. It features:
A green bunk bed with enough room for two
Two soft mattresses for a restful night
Two reversible pillows: one side is solid, the other has a dot graphic
Two reversible bedspreads with paisley print on one side, polka-dot on the other
Two name boards to show who's in which bunk
Two bins for plenty of storage
Two bed caddies with an embroidered American Girl logo
Four doll-sized sets of stationery
Four doll-sized postcards
A pennant that ties onto the bunk bed
Reviewer's grade for this set: A+Durability: A+,
good thick wood, strong and sturdy.
Playability: A+,
lots of accessories, bunk bed looks good from all sides so multiple doll enthusiasts can join the fun.
Value for money: A-,
I had to swallow hard to spend this much on a bunk bed, but I'm very happy with the purchase, and actually do feel that I got my money's worth. As we all know, this isn't always the case with the typical AG value-to-cost ratio, but I am thrilled with what I got for the price.
Dimensions and Construction
The dimensions listed on the AG website are not the same as what I measured, which is:
20 ½" long (including the knobs for holding the name plates)
12" wide, or close enough to it
18" high, the double bunk is almost exactly as tall as a doll
Inside dimension for laying down is just big enough to fit 18" dolls wearing fuzzy slippers. It would not be long enough to fit taller dolls.
The bed is made of painted wood that's a good, strong, thick wood. Assembly was very simple, requiring eight (8) screws and the included Allen wrench. It took about two minutes. The instructions are just a drawing with no words, it's that easy.
AG photos make the paint color appear to be seafoam green. But the truth is that the paint color is really more like a cross between seafoam and lime green. If you have a preference of one of those colors of green over the other, you could include your favored color in your scene and it would work well with the bed, whichever color you go with. For example, I'm not a fan of seafoam but I love lime green. I'm including lime green in the bedroom setting I'm creating, and it works great with the bed. Note that the AG Flip Lounge Chair for Dolls looks right at home next to the bunk beds.
Bedding
The two (2) bedspreads
are sheet-weight cotton, or possibly a cotton/polyester blend, with the polka dot fabric and the paisley fabric sewn together back-to-back, to make it reversible. Note that this is not a quilt, there is no batting or stuffing between the two layers of fabric. Dimensions: 16" wide x 20" long.

The two (2) pillows
have a nice amount of stuffing. Reversible: one side is solid light blue, the other side is dark blue with a single polka dot. Dimensions: 4 ¼" high x 7 ½" wide.

The two (2) mattresses
are very nice, thick and soft. I wish my human-size mattress was this plush and cushy! The mattresses are made of white cotton, with machine-sewn dimples. Dimensions: 11" wide x 18 ½" long.
Accessories
Let's face it, the accessories are what sets AG apart from the many other bunk beds available on eBay and other sources. I'm a big fan of accessories, and this is the selling point that ultimately sold me on the AG bunk bed. If you love accessories like I do, you will not be disappointed. In addition to the mattresses and bedding, this double bunk comes with:
Two (2) under-bed storage bins
-- these are very heavy cardboard covered with a pretty lavender glossy paper. I was surprised they weren't plastic, but they feel like they'll be durable. Each has a little teal-framed name holder where you can insert a name on a piece of paper or index card (not included). In the photo showing the names Nellie and Mia, I've customized the tags using scrapbook paper and sticker letters. Dimensions: 2" high x 6" wide x 11 ¼" long. They span the full width of the bunk, which is deeper than I thought they would be. Lots of room for storage.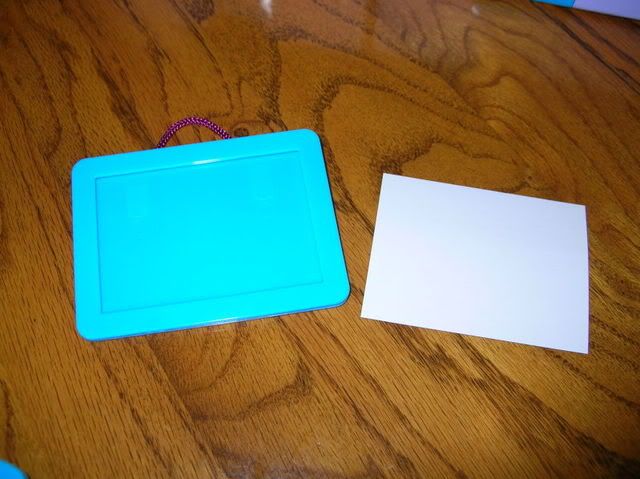 Two (2) name boards
– these are teal-colored plastic and hang from burgundy nylon cord. Contrary to popular belief, these are
not
white boards (dry erase). They just have a plain white cardboard insert that you can write on. If you want to be able to change the name of the doll periodically, I suggest saving the cardboard insert to use as a template to cut pieces of paper or index card to size to make your own tags that you can change as often as you wish. In the photo showing the names Nellie and Mia, I have customized the name boards using scrapbook paper, stickers and sticker letters. On both these and the name tags on the under-bed bins, I cut up a piece of acrylic to make clear protectors to go over the name tags. I just used the clear top to an old box of Christmas cards to make the clear protectors, and cut them to size. Dimensions: 3" high x 4" wide.
One (1) pennant
– this is made from the same kind of felted material that real pennants are made of. The "American Girl Pine Lake Camp" design is like an iron-on transfer. The pennant can be tied to the bunk with attached burgundy ribbons. Dimensions: 3" high at the tall end x 5" wide.
Two (2) stationery caddies
– these are made of a burgundy fabric that feels like denim or canvas, and are nicely detailed. There is blue fabric edge trim and a blue embroidered AG star logo. Each caddy has two pockets, one small, one large. There are straps that wrap over the side rails of the bunk and Velcro to the back of the caddy. Dimensions including straps as installed: 3 ¾" high x 4 ½" wide.

Four (4) green postcards
from "Pine Lake Camp", with the customary postcard reverse of address lines, a stamp outline, and a place to write your message on the left side. Dimensions: 1" high x 1 ½" wide.
Four (4) sheets of white, lined stationery
with teal border and leaf design motif. Each of these folds in half and fits into the following envelopes. Dimensions: 1 ¾" wide x 2 1/8" long.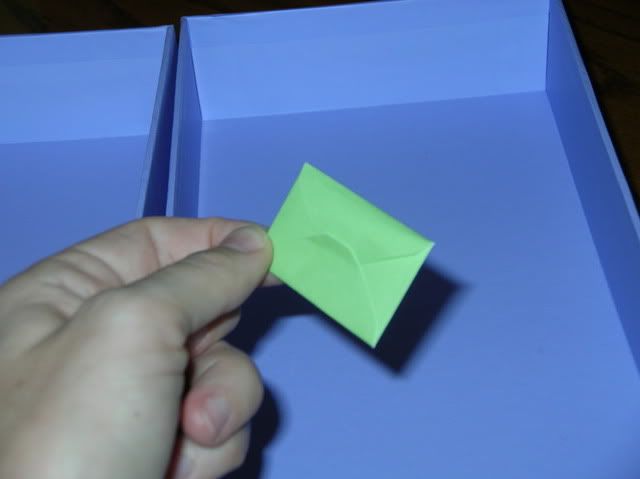 Four (4) green envelopes
. Warning! I ruined one of my envelopes because I didn't understand how the flaps were, so be careful. I thought that the envelopes were sealed, which I thought was odd that you had to tear them open to get to the stationery sheets inside. Actually, the way they arrive is that the top opening flap is unsealed but is tucked into the sealed bottom flap, making the back of the envelope appear upside down. Had I inspected it carefully before tearing into it, I would have noticed that I could just gently lift the unsealed top flap out of where it's tucked into the sealed bottom. Duh. I learned the hard way. As noted above, stationery sheets folded in half fit inside the envelopes. Dimensions: 1 ¼" high x 1 ¾" wide.
Detail on Bed Construction
Here's a little more detail on the pieces that comprise the bunk bed. When you take it out of the box, the bunk is in six wood pieces. These include:
Complete headboard assembly
Complete footboard assembly
Two (2) mattress support rail & side rail assemblies
Two (2) flat wood platforms that the mattress sits on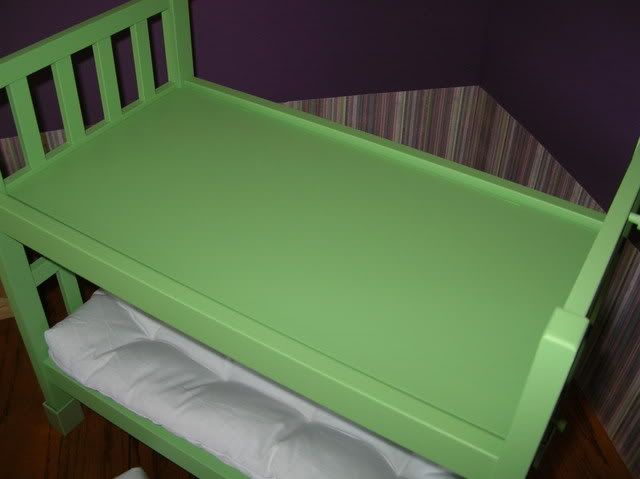 As noted before, assembly is easy with just eight (8) screws and the included Allen wrench. You just attach the horizontal mattress supports to the vertical headboard and footboard. Then you lay the wood platforms down on top of the mattress supports.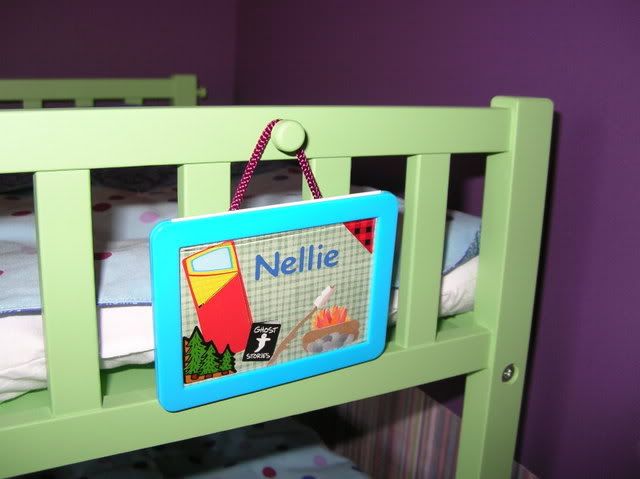 There are three knobs on the bed. Two of them are at one end of the bed, and are used for hanging the name plates. I consider this end the foot of the bed, since I have the bed displayed against a bedroom wall backdrop, and I want the name plates to show at the foot of the bed. But really the headboard and footboard are interchangeable, you can play with it however you want.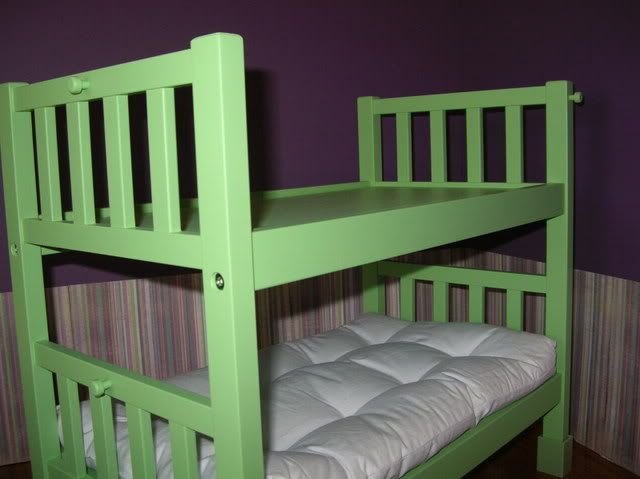 The third knob is located near the top of one of the vertical supports, and it's a little bit of a mystery (see upper right corner in photo above). There's no explanation for it on the AG website, and no photo of it being used in the new catalog. I thought maybe this side knob was in case you wanted to hang the name boards on the side of the bunk, but there's only one side knob next to the top bunk, not both. It happens that the depth of the knob is a perfect fit for one of the current AG plastic hangers, so you could hang up your jacket or bathrobe on it. But again, only the top bunk gets to do this. Maybe Mia will hang her ice skates there.
Stackability
This is an important consideration to many people who want to be able to add to their bunk beds as space and finances permit. Be aware that the AG bunks are
not
designed to stack in any combination that the owner wishes. Note the bottom of the legs on the two-person bunk bed. The only part of the bed that is plastic are these feet at the bottom, which serve as the connecting pieces that stack a double bunk onto a single bunk. The following is what you can expect, whether you have the single, double or triple bunk.
Extra Bunk & Bedding (single bed)
– Note that the headboard and footboard on the single bed is different from those on the double bunk bed. Due to this difference, the lack of location to attach the plastic connecting feet, and the shorter height of the headboard and footboard, it is not possible to stack a single on a single. However, you can stack a double on a single.
Camp Bunk Bed Set (double bunk)
– This comes with the plastic feet attached. If you decide later down the road that you want to make this into a triple bunk, you'd buy the Extra Bunk (single bed) and attach the double on top of the single. This double bunk
cannot
be separated into two single beds. At these prices, please don't take my word for this, but I
suspect
that it is possible to stack a double on a double. I can't see anything in the photos that would prevent it. However, I would like to hear input from someone who has had the opportunity to stack two doubles in real life at an AG store before we give the final report on that.
Triple Bunk & Bedding
– This is actually composed of a double bunk stacked on a single bunk. The stacking cannot be reversed, that is, you can't stack the single on top of the double. It appears as though you can separate them into a double bunk and a single bed, if you wanted to set up your scene that way (think boys' room on the Brady Bunch). This
cannot
be separated into three single beds. There is a price break for buying the triple bunk all at once, rather than buying a double bunk and single bed separately:
Triple bunk = $215
Double bunk ($145) + single bunk ($85) = $230
So, if you think you're going to end up needing a triple bunk, then you can save $15 by buying it as a triple.
Regarding
shipping costs
, AG charges shipping according to cost of item. At March 2009 prices, the shipping would be:
Single = $10.95
Double = $16.95
Triple = $22.95
I bought my bunk bed along with another box of stuff for a total of about $250. The shipping would have cost me about $23, but I used the free shipping code that AG Playthings so mercifully published. Saved me a two-hour drive to the store, plus gas money, plus tax. Sweet.
If you are one of those kind souls who picks up an item and then ships the box to someone else, please be aware that the box for the double bunk was big and heavy, and if you're paying for shipping by weight and box dimensions, this could cost quite a bit.
Notes on using backdrop scenes with your Camp Bunk Bed
It occurred to me that if one of my dolls was sitting on the top bunk, her head would stick up over the top of any of my Scenes & Settings. Therefore, I decided to make a set of two bedroom walls, which is a work in progress. In case you wish to do the same, I used two 32" high x 40" wide foamcore boards for structure and two mat boards of the same size that I attached to the foamcore boards to make my walls purple. One of the photos shows Samantha's Scenes & Settings book between the bunk bed and my purple walls, to show the height comparison.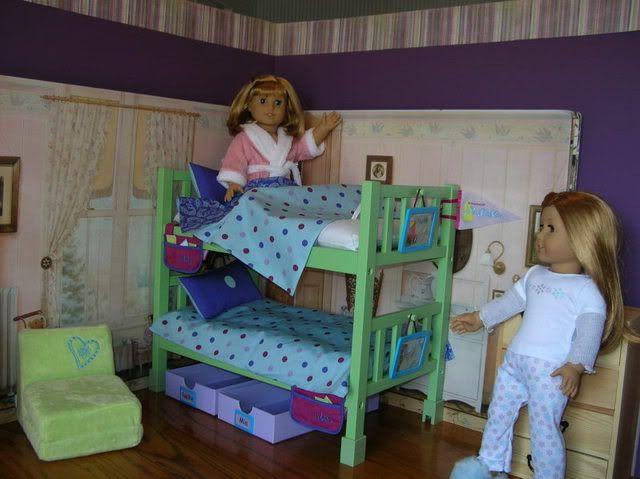 And last but certainly not least, the AG Camp Bunk Bed Set gets
Bubba's Seal of Approval
. She's claimed it as her own. Maybe I should have gotten the Triple Bunk . . .