Post by PleasantMemories on Jun 20, 2009 0:02:15 GMT -5
A+
This outfit is one of the best Bitty Baby outfits. Today, I'd probably tell you that it's my favorite. This set truly highlights what distinguishes the Bitty Baby line from other baby doll lines. The outfit is well made, quite detailed, and contains many pieces for you and/or your child to enjoy with Bitty Baby.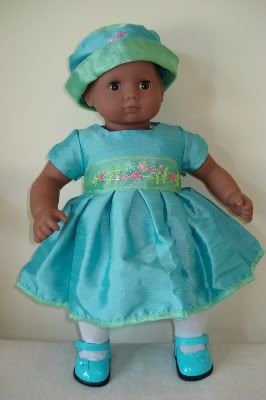 According to the AG Description:
Bitty Baby's
dress and hat
are trimmed with sequined and embroidered flowers. Put on her
tights and shoes
, and don't forget her furry lamb pull
toy
! Bitty bear joins the fun in her
egg costume
. Read to them from the touch and feel
book
.
Dress:
The dress is quite detailed and something a real baby or child would wear. Actually, my girls have had and love the child-sized version. Both the doll and child outfits look like new after getting lots of use.
The dress appears to be a raw silk with a satin-like lining. It has a lighter green trim around the edges. The embroidery and sequins really add to the outfit, especially on the attached sash. The sleeves have a cut out "V" with an embroidered star-like flower above the slit. The dress fits both the Bitty Baby and 18" doll. However, it is a little short and wide on the 18" girls. For reference, Tessa (Pictured Below) is my thinnest 18" doll:
Hat:
The hat is made very much like the dress. It fits well on both Bitty Baby and the 18" doll. However, I would worry about the hat slipping off Bitty's head if she traveled out of the house. For that reason, I prefer other hats with ties.
Tights:
The white tights are typical AG tights. However, they do seem a little thicker than ones that are included with other outfits. They also have a little bit of lace on the tush.
Shoes:
The blue patent leather shoes nicely with the outfit. The heels are a little thicker than most of the mary janes. They fit both the Bitty Baby and 18" doll, though they are a little tighter on the full-sized dolls.
Bitty Bear Costume:
The egg costume is made of polar fleece and has a white inside lining. It's well made, fits nicely, and the quality is consistent with the rest of the set. I especially like that Bitty Bear has an entire outfit instead of a hat or collar.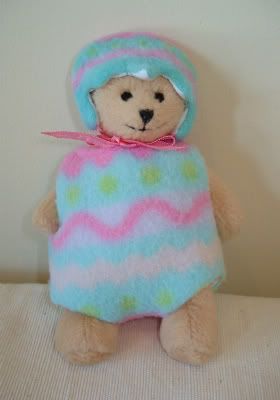 Book and Toy:
Bitty really has quite an array of pull toys. This one's nicely made and my kids enjoy sharing the toy with their babies. The one in the picture is mine and hasn't been removed from the original packaging. The book is a touch and feel book. I think it's one of the better Bitty Baby books. After all, who doesn't enjoy feeling soft, fuzzy things?