Post by EofA on Jul 2, 2009 9:55:00 GMT -5
It's Valentines Day! Your American Girl is dressed for sweet times in a fuchsia shirt over a pink tank top trimmed with heart-shaped beads, plus a stretchy printed skirt. Frosted sandals and iridescent hair ornaments keep her in the pink. She can share eight valentines with her friends. Help her seal the envelopes with stickers, then tuck them in a bag to tote to school!
This is not an outfit that I see many dolls wearing. There's a whole lot of heart stuff going on, apropos of the Valentine theme. However, the skirt has a funky vibe with its layers and I think the individual pieces can work for mix-and match.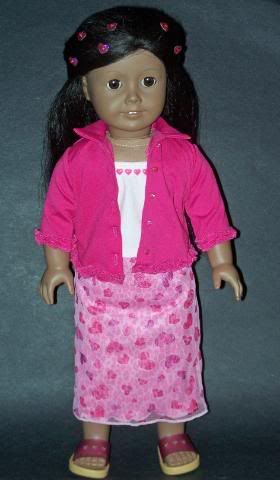 I'll admit that it's got too much heart for my tastes. I am not a fan of the 'heart-shaped beads' coupled with the heart-shaped buttons on the shirt. Too much, too much. But each piece taken alone mitigates the heart overload. The fuchsia shirt with all of its ruffles is too girly-girly for my taste.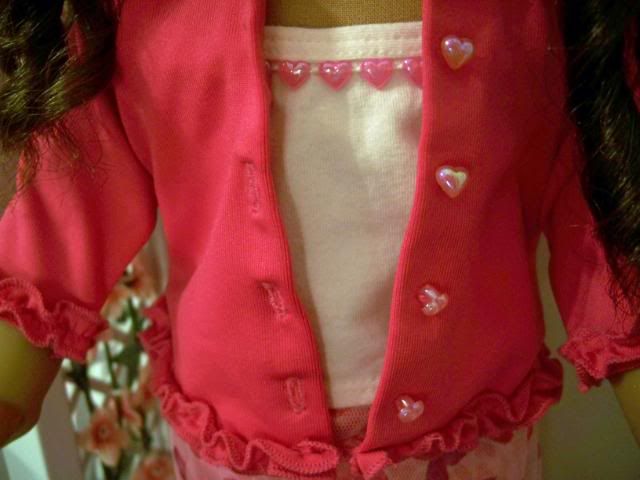 The skirt has two layers. The top layer is all about hearts, but the bottom has a cheetah vibe to it...albeit a pink cheetah.
I really like that this is a long skirt, and I wish AG would make more in this length. It is indeed stretchy and pulls on with an elastic waist. It's held up fine over the years.
The shoes have ubiquitous hearts on them. That's okay, I guess, but they are backless and thus don't stay on well if your doll is doing anything other than standing around looking pretty.
I don't know what to say about the hair do-dads. They are the type with velcro-like backing meant to stay in the doll's hair. That works fine, but I think they are too big, really. If they were a smidgen smaller maybe they'd work better. I can't help but think that the doll looks like a large pink bird has pooped on her head. But maybe that's just my hair-do fail at work; hopefully others have had better luck arranging these so they look less pink bird-poopish. I know in the catalogue photos, the doll had a Julie-esque micro-braid and the hearts were stuck on the braid. Maybe I'll try that next time.
The photo below illustrates how I mostly tend to use the outfit (sans the hair hearts). It doesn't feel so overwhelming in its heart theming to me when I remove the fuchsia ruffly shirt.
My set was used, so all I have of the Valentines are empty envelopes, and no bag.
Overall I'd give this set a B because I think it overloaded the pink hearts. I'm a fan of more subtle theming and while I think little girls might like all this frothiness, it misses the mark for me as an adult collector. The set is well-made, however, and I've seen it come up seasonally on the secondary market for close to its original retail of $24 or at least a third more than that, which I think is reasonable for a retired outfit.