Post by American Girl Rescue on Dec 18, 2007 13:37:43 GMT -5
Note: Josefina's Adobe Oven and Bread Set was retired in 2007, and then was reissued along with the food, mano, and metate from Josefina's Cochina Supplies in 2008 under the name of Josefina's Oven and Food. Reviews of both versions are found in this thread. "First Version" refers to the Adobe Oven and Bread Set that was sold through 2007, and "Second Version" refers to the combined Oven and Food that was sold beginning in 2008. First Version
Adobe Oven & Bread Set JWA0
$20
"Josefina's family did their baking outdoors in an horno, an adobe oven shaped like a beehive. To bake bread, Josefina had to start a fire in the horno with a bundle of twigs. Then she opened the horno door, scraped out the hot coals, set a tuft of wool on a wooden paddle, and held it inside. If the wool turned brown, she knew the oven was hot enough for baking! Your horno set includes two loaves of bread—one unbaked and one golden brown."
This is a great set that Josefina can use to bake her bread or just a great item to add to her (dwindling) collection. The quality of the piece is great.
We got our set from the Outlet store, so it is missing the piece of wool and the bundle of twigs. It also comes with a rectangle piece of leather that I assume is to use as a hot-pad to remove the door when it's 'hot' but since it's not listed as being included in the set, I'm not really sure what it is for.
The horno (oven) is made of a very strong resin material and measures 7 inches high by approximately 6 inches square.
Josefina and the Adobe oven (size comparison)
There is a wooden door that can be placed in front of the opening to keep the inside of the horno 'hot' and also a small vent in the top to let the excess 'heat' escape.
Horno with the door on
The oven has imitation coals inside of it that look very real and 'hot'.
'hot' coals inside the open oven
The set also comes with two loaves of bread. The bread is rubbery/plastic. There is a white (unbaked) round loaf and a tan (baked) round loaf. Also included is the wooden paddle to take the bread in and out of the horno.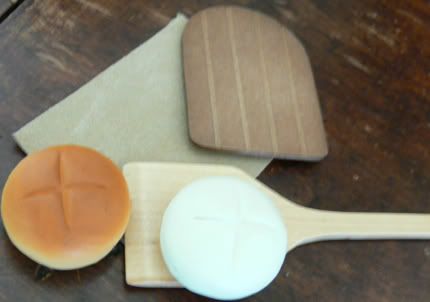 Bread and paddle, door and leather 'hot-pad'
The set also came with a "Josefina's Horno Set" full color 6" x 6" six-page booklet with real life pictures that explains how a real adobe oven would be built and used.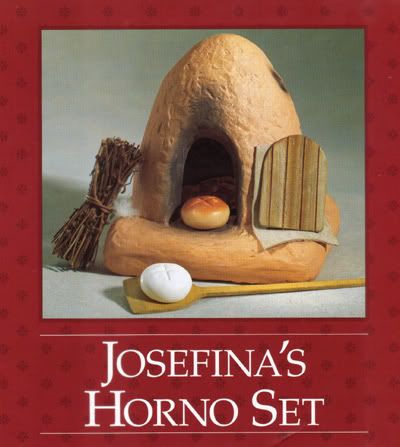 booklet
I really like this set and think that we will get a lot of play time with it. It's very durable and very authentic looking. Grade A