Post by pidgetgirl on Jun 23, 2006 19:16:57 GMT -5
*This outfit was worn by Molly in the book Meet Molly as well as the short story "Molly's A+ Partner". It can also be seen in the movie Molly: An American Girl on the Home Front*
This is a review for Molly's meet outfit.
The grade for this is a B+, but I truly love this outfit. I'll explain the grade below (it mostly has to do with her sweater).
Molly's meet outfit consists of a sweater, collar*, skirt, bloomers, hair ribbons, glasses, glasses case, socks, and shoes. Her sweater is very nice. It is mostly navy blue in color, but it has a blue, red and green plaid pattern in the front. The skirt is flared and is made of navy blue wool, I think. It stops right above her knees. It has a Velcro attachment on the back.
The ensemble comes with a detachable collar. It goes around Molly's neck and fastens in back with Velcro. The collar itself is white, but it is trimmed with dark blue ric-rac.
This outfit also has smaller items, such as Molly's white bloomers, red hair ribbons, silver-rimmed glasses, a red felt glasses case, white socks, and black plastic Mary Janes.
I'm giving this ensemble a B+ because the sweater is a little hard to pull over Molly's head. It doesn't open up with Velcro or snaps, so pulling it over Molly usually causes her hair to become mussed up. This can also cause the sweater to stretch along the bottom, but the stretch marks are not noticeable once Molly is wearing the sweater. The skirt is also beautiful, but you have to be careful because it catches lint easily. Also, I don't like the plasticky Mary Janes--they work fine but they just seem so cheap. (Still, though, you could always buy patent Mary Janes separately.)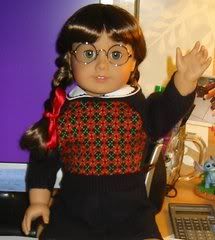 I hope a B+ doesn't seem like too harsh of a grade, because this is still one of my absolute favorite Molly outfits. It has such a simple, clean and patriotic look--very nice for the 1940s. I just wish the manufacturers had decided to include snaps at the back of Molly's sweater so it would be much easier to pull on and off.
* = I can't even say the real name of the detachable collar because of the censors on this board. LOL!