Post by EofA on Jun 7, 2007 21:13:28 GMT -5
This thread is for the original version of the outfit. It became available again from 01-18-08 until 02-15-08 as a $14 purchase with minimum $50 purchase (PWP) exclusive special in the AGP stores. However, the in that version the shirt was completely revised and no jewelry was included.
So...weekend fun...whee!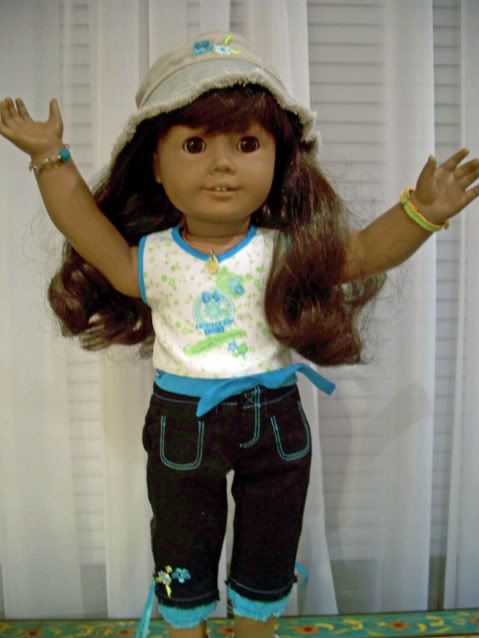 Let's break it down. The top is a sleeveless v-neck made of a crepe material. It actually has a lining of plain white, too, which I found impressive. The material is speckled with little green flowers, and the overlaid logo reads "4AG...American Girl Style...Show your Style. Express yourself." I think it says something else in the blue circle, but I can't make it out. The top Velcros up the back, of course. The neckline, sleeve holes, and bottom are trimmed in a complimentary turquoise. The bottom has a little tie on it that does not make the waist any tighter; it's just for show, but is divine.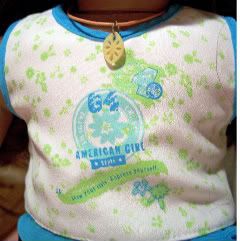 The pants end about an inch above the doll's ankle. They are stitched in the same turquoise color as the top's trim, which is a nice touch. The fly closes with Velcro. The right leg features turquoise and yellow embroidered flowers, and two turquoise ribbons hang from the outside of each leg. I don't know why. They are superfluous, really. There are two layers showing at the bottom of each pant leg; a turquoise cotton layer, and the same fabric in fringe. Again, I don't know why. It would seem strange to me to wear pants with all that stuff hanging off of them, but I'm not a 10 year old little girl or a doll-sized version thereof. The pants are not made of denim but a thin, dark blue fabric.
Shoes? I can't tell you a thing cause I don't got 'em. They look like thin, slip-on sandals from the photo.
One of the bracelets is a faux turquoise bead on a faux leather cord; it fastens with a silver lock that was a little tough to maneuver as it bumped against the vinyl doll arm. I'd imagine a child would have difficulty with it. The other bracelet looks like it was meant to be a hemp kind of thing, in inexplicable lime green with orange stitching. I swear this must be tacked on from some other outfit concept, because it is jarring against the colors of the outfit. The hempy bracelet Velcros shut. The necklace (see photo of top, above) looks like a diamond-shaped sand dollar on a faux leather cord, with the same closure as the bracelet.
Lastly, the khaki bucket hat features the same flower embroidery as on the pant leg, which makes it sort of matchy-matchy but hey, it's a doll outfit. The hat feautres turquoise stitching, and the brim is unfinished for a hip fringed look.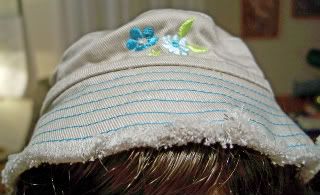 All of the pieces of this outfit can be paired with other items, so the outift has versatility in its favor. Everything is well made, and there is enough give to the fabric that I think it would fit a PM doll.
The ensemble originally retailed for $22. Mine was a gift, but honestly, I wouldn't pay more than $15 for what I have (and remember that mine is sans shoes). It's not all that complex and shouldn't carry a hefty price-tag.
I give it an A for its versatility. It is meant to be a casual outfit and succeeds at that goal, so yay. Do away with the ribbons hanging off of the pants and it would get an A+.