Post by Keri on Aug 14, 2007 16:39:22 GMT -5
This is the purple and berry-red set that matches the "mystery" sweatsuit for girls. The girls one has pictures of the historical characters on a sleeve to match the mystery covers, I believe.
The jacket and pants of this outfit are royal purple with berry red accents. There are little red flaps on the jacket that mimic the look of pockets (they aren't), and the stitching is all done in contrast red.
There is an AG star logo on the pants at the front of the left hip and on the jacket on the left breast. It's an iron-on type deal, so it's not very clear or bright, but it's there.
The shirt is white with red raglan style short sleeves. The ends of the sleeves and the hem of the shirt are all lettuce edges bordered in red, which means they have that curly look to them.
The shirt has a purple, red, and pink circle design across the chest.
What I think is the best part of this outfit? The socks and shoes! The socks are white sport socks with two purple stripes near the top. So cool! And the shoes are a shiny red with purple details, and the bottoms are made to look just like real sneakers, with a purple and red design. Oh, and the sneakers are slip-on, with no laces to tie. Very nice!
Now, as cute as the outfit is, I'm not crazy about the pants. They're sweatpants, so they cling to the doll and I don't like the way they look around her hip joints. The jacket and shirt are great, though, and do well as mix-and-match pieces. I really like the red raglan sleeves of the t-shirt - it makes a nice detail when worn without a jacket, so that it isn't all plain looking.
Overall, I give this outfit a B+. It's incredibly cute and I adore the shoes, but it's not so stunning that I'm going to rush to the website to order one right away. Luckily, I get to see it in person as Traveling Nora brought it with her.

Oh, and the jacket and pants feel like they might bleed purple onto the dolls if you leave them in it for too long in the heat, or if they get wet. I'm not sure, though. It's just a feeling I've got.
--- KERI
ETA:
I forgot that the pants have a stripe down the side! It's white and purple, but it's there!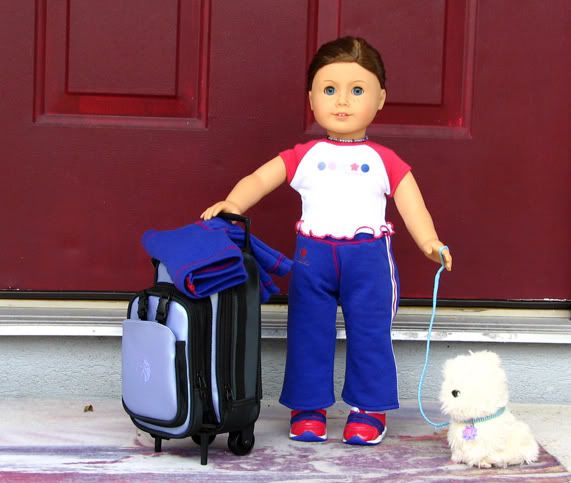 A closer view of the t-shirt: