Post by PleasantMemories on Jul 3, 2010 15:49:37 GMT -5
B+
I sort of had a sense of déjà vu when this set was released. The "boy's" outfit strongly reminds me of the one from the 2005 Red, White, and Blue for Two set. That set continues to be a favorite here and I hope this set will be too. With the exception of the shoes and book, many pieces in this set are as nice as or nicer than their predecessors.
The set contains: a polo shirt, cargo shorts, bucket hat, loafers, and coloring book:
Polo Shirt: The striped, waffle-knit polo shirt is my favorite piece in the set. It's classic, fairly easy to put on, and has great mix-and-match potential. The embroidered anchor logo is a cute detail that makes the shirt look even more like something a real child would wear. Additionally, the polo fits well on both the Bitty and 18" dolls, which is another plus.
Cargo shorts: Overall, I have mixed opinions about the cargo shorts. On the plus side, they're well made, fit nicely, and have a ton of mix-and-match potential. I also like that they have real pockets (something that the Red, White, and Blue for Two cargos don't have). However, I wish that they were navy, red, or Khaki. White is really not the best color for Bitty to wear when exploring with toddlers/preschoolers. Also, while I understand what they were trying to create with the elastic, cuffed pant legs, it's not a style that works overly well for dolls.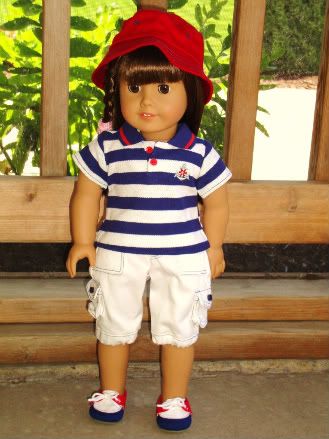 Bucket Hat: The bucket hat with embroidered rivets is also a nice addition to the set. It fits well on Bitty's head (and the 18"ers too) and seems quite age appropriate. However, since it doesn't have ties, it's probably not the best hat for Bitty to wear when he/she is leaving the house.
Loafers: While the quality of the loafers is okay, they seem like a little much in my opinion. AG should have stuck with one color and passed on the patriotic, bowling shoe look. On the plus side, they do fit well and have a bit of a sole (though it's sort of odd looking). All and all, they're probably my least favorite part of the set.
Book: It's yet another coloring book. The Bitty coloring books aren't a big hit here and I doubt it'll ever see any use.
While this isn't my all time favorite Bitty Twin "boy" set, it may be worth getting for its classic, well made, versatile pieces.