Post by PleasantMemories on Mar 11, 2011 0:23:42 GMT -5
A-:
For me, this was the outfit that was always thrown back. I picked it up or put it in my online shopping bag numerous times, but it never made the final cut. I always opted for something else because swimsuits don't really have the versatility or mix-and-match potential that some other outfits have. Also, I usually don't care for the outfits that show Bitty's cloth body. However, I finally took the plunge and purchased this set for my son's Bitty Twin at the 2010 Outlet Warehouse Sale. I'm still pleased with this choice and wish I had gotten it earlier.
Compared to some other AG sets, this one seems like a relatively good value because it includes a fair number of pieces. The set contains a tropical swimsuit, swim skirt, bucket hat, beach sandals, and water wings for Bitty Baby. It also includes a beach towel and Adirondack chair for Bitty Bear and an activity book.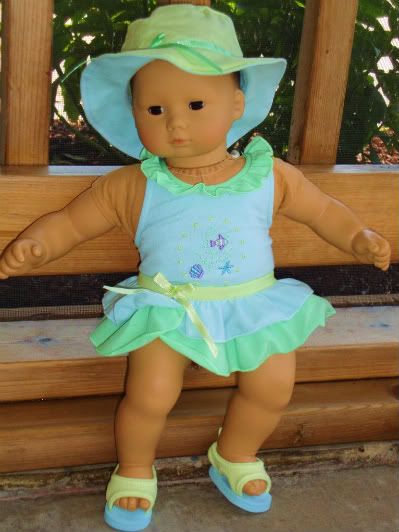 Swimsuit and Swim Skirt: The tropical swimsuit is made of a knit material. Therefore, it's not going to snag like the 2005 Sunshine Beach Set. In my opinion, that's a huge asset if the set is going to be used by a younger child. I also like that the suit doesn't have a Velcro closure. It goes on like a real one-piece. However, little ones may need help getting the crisscross straps in the right spot. The swim skirt also doesn't have a closure.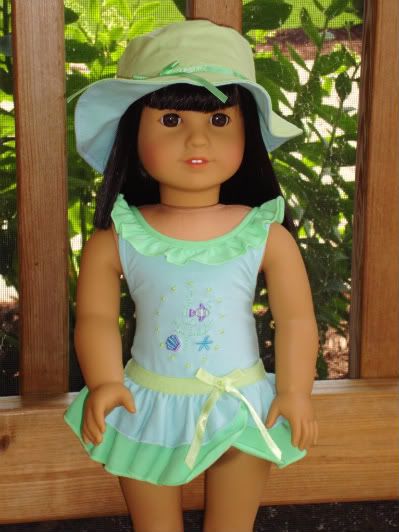 The embroidered seaweed, shell, fish, and starfish are surrounded by a ring of lime green dots. The embroidery is okay, but I wish it was placed a bit higher. There's something that looks a bit off-balance when the suit is paired with the skirt. Also, I think the design makes the suit look a bit too young for the 18" dolls.
Although I like the suit, it's a bit high-cut, especially on the 18" dolls. Therefore, the blue and green two-tiered swim skirt seems necessary to complete the outfit. However, my children's dolls wear it both ways.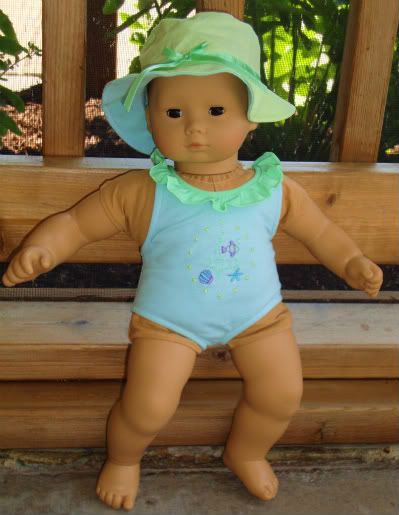 Hat: The hat is a typical doll hat. There really isn't a lot to say about it. It's green on the outside and a blue knit on the inside. It fits the Bitty dolls alright, but is tad bit on the large side. As usual, I wish there were ties to help keep it on Bitty's head. The hat also fits the 18" dolls, but I think the design is too young for them.
Beach Sandals: The sandals have foam bottoms and cloth tops. Compared to many Bitty shoes, they're quite nice and realistic looking. For the most part, the shoes fit well on Bitty feet. However, smaller children may require some assistance with them. With some effort, I can get the shoes on the 18" dolls. However, their toes and heels hang over the edges.
Water Wings: I'm not exactly sure why, but the water wings were my main draw to this set. I guess it's because most baby doll swimwear doesn't come with a flotation aid. It's a great detail. The water wings are rather stiff at first and are easier to put on after a few uses. Due to the style, they do show wrinkles and wear with playtime. However, it's not a big issue in my opinion.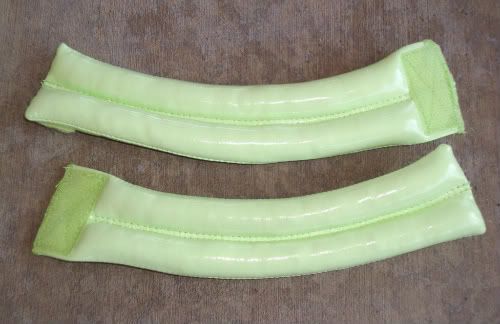 Bitty Bear Adirondack Chair: The plastic Adirondack chair for Bitty Bear is quite sturdy and has a molded wood grain. Bitty Bear and friends fit in it relatively well. I like that the chair can be put together with some of the other Bitty Bunch pieces (like the tractor and swings) to create a backyard or park scene. It seems like the mini dolls also use the chair at times.
Bitty Bear Beach Towel: Although the knit towel isn't anything extraordinary, it's a nice touch. It's roughly 6 inches long and 4 inches wide. My son also uses the towel as a blanket for his Bitty Bunch animals.
Activity Book: The activity books never seem to be much of a hit here. I doubt that it'll ever be completed. The book contains mazes, dot-to-dot pictures, seek-and-finds, and matching activities.