Post by EofA on Sept 8, 2011 15:06:41 GMT -5
This outfit is worn by Marie-Grace in the book Marie-Grace and the Orphans.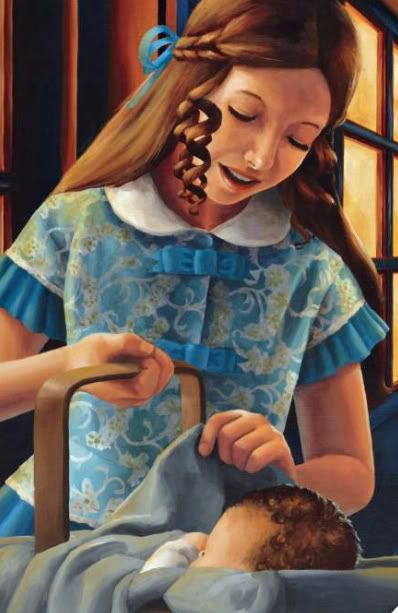 [/center][/b][/i]
Marie-Grace wears this jacket when she goes to the market; it has a delicate floral print, grosgrain ribbon bows, and pretty ruffled trim. Her full skirt with gathers at the waist is the perfect match
This is such a sweet set and I am very fond of the details and colors, which flatter Marie-Grace's pretty eyes. I wish the blue was bolder like in the above illustration, though, and not so pastel. Antebellum prints erred to the side of boldness, and I prefer historical accuracy over toning things down to suit modern sensibilities.
Photos: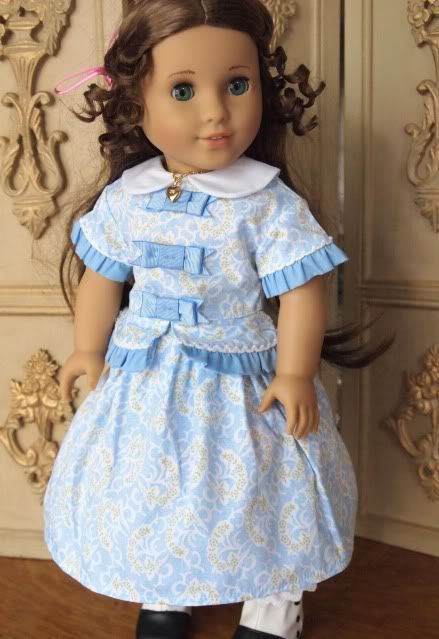 Detail:
From the back: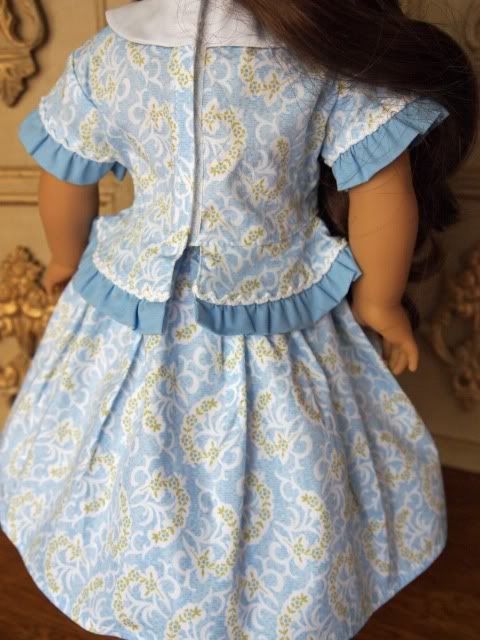 The collar, peplum ruffle, and ribbon bows all lay nicely but if picking this out in person I would check to make sure the jacket you are looking at does the same. I could see that being a potential problem from piece to piece.
Grace is wearing the skirt over her skeleton or cage crinoline in these photos. The crinoline was an ingenious device that gave the desire shape without the bulkiness of multiple layers. This skirt is generously cut to fit over the crinoline, so it works passably well. In real life, girls would wear a petticoat over the crinoline to smooth out the shape of the boning, and this skirt doesn't quite accommodate that. So IMO the skirt should be cut more generously overall for the proper antebellum look.
Grace's pantaloons are meant to just peek below the skirt, which itself has an elastic waist and slips on easily. The jacket has evil hair-snagging velcro in the back, so beware.
Grace is wearing her Meet boots with this set, which I think look smart and would have been appropriate for everyday wear.
A simple bonnet for outdoors to protect her skin would have constituted a nice accessory to enhance this outfit, maybe along with a market basket for when she makes groceries at the old French Market!
I do like this set but at $28 original retail, it should have included a set of matching hair ribbons. Sure I
can
add my own but I shouldn't have to at that price. That aside, I rate it an A for what it does bring to the collection: a pretty, well-made set for casual wear.
ETA that the paper doll set for the NOLA characters refers to this as Marie-Grace's "School Dress!"