Post by EofA on Sept 10, 2011 15:26:49 GMT -5
Welcome to the buffet!
New Orleans Society, then as now, is all about hospitality and entertainment. While as an adult collector I don't intend to play Mardi Gras ball with my dolls, I have no problem imagining this spread in a New Orleans parlor for a private party or for a Réveillon dinner on Christmas Eve.
This post is picture-heavy, as I thought it would help to concentrate on the individual items one by one. And so: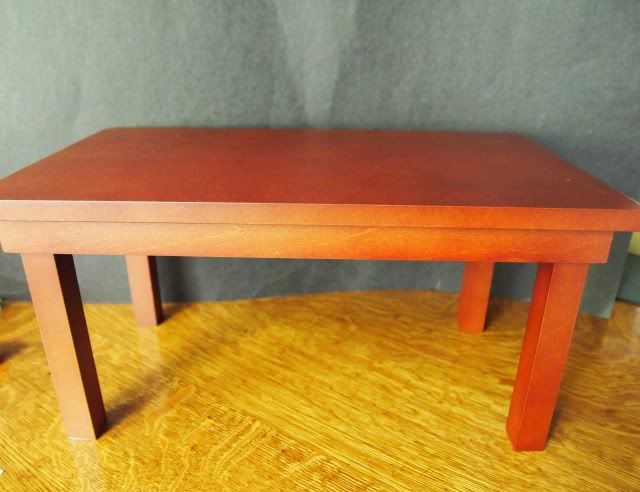 The very plain table could be re-purposed if you've a mind to have it do double-duty, although this set is pricey to get merely for the table IMO. Still, it's a nice, good-sized, basic piece of wooden furniture. Dimensions as per AG: W: 15 1/2" x H: 7 1/2" x D: 8 1/2" . Grade B for plain, utilitarian table. I wish it was longer, to be honest, so I could fit more stuff on it.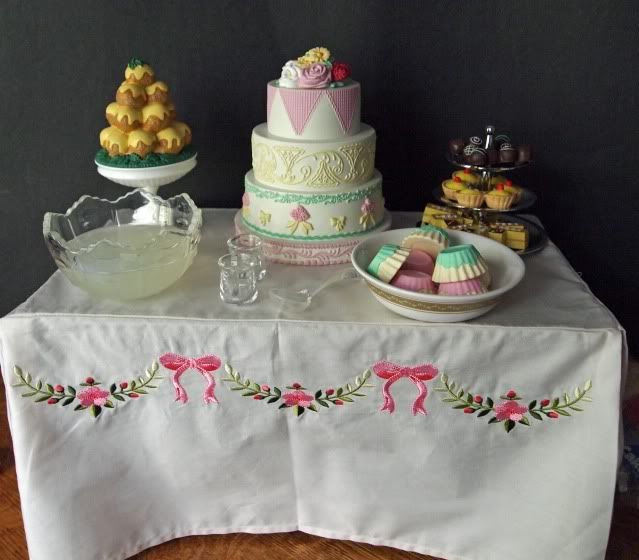 The goods. That tablecloth looks like a piece of molded plastic in AG's photos but it's fabric. Mine came wrinkled and I did my best to press it but these photos still show an embarrassing crease. The shame! I'll be the laughing-stock of Society! (Actually, I've since learned that it was preferred during this era for tablecloths to be deliberately creased in a window pane pattern in order to show off the ironing and starching. So I guess if you wanted to be completely historically accurate, you should iron in some creases! And furthermore, you should add several layers of tablecloths below this one so that when soiled, each can be removed to display a fresh one).
At any rate, I like the tablecloth a great deal for its pretty embroidery (machine or not, IMO it's still pretty) and tailored pleats. Note that the embroidery extends to the sides but not the back of the tablecloth. Grade B+ for stubborn creases; they're not supposed to be there, even if we could devise a Plausible Backstory™ justification for period appropriateness!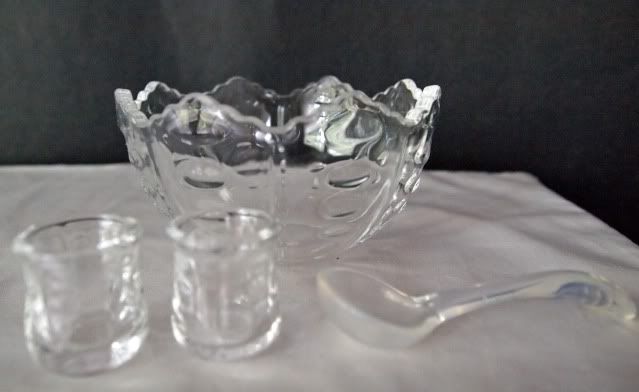 Punch bowl and punch cups are glass. Ladle is plastic. Grade B because I've personally got far nicer punch bowl sets than this plain, boring one.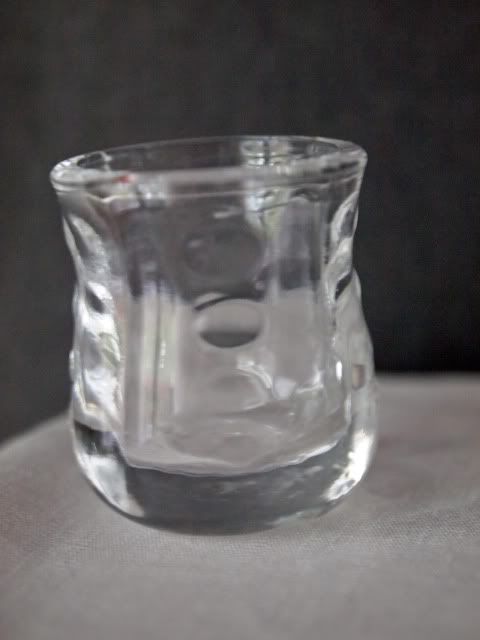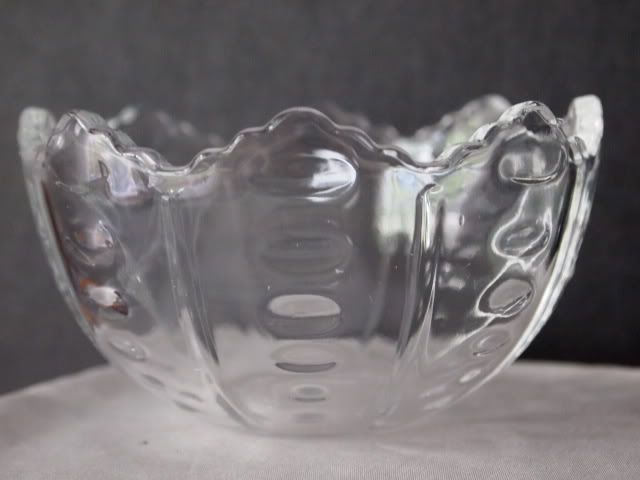 Argh AG, really? You couldn't slap a sticker on the bottom and call it a day? I'll be scraping that paint off. Thankfully the glasses don't have this.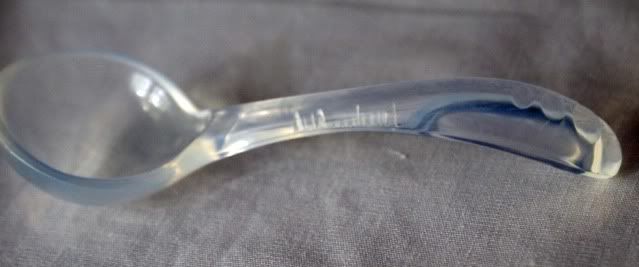 Modern punch sets have plastic ladles and I can't fault AG for not investing in a glass one that could be easily broken, but it does look kind of cheesy in comparison.
Four layer cake. I'm guessing this is AG's homage to the King Cake? Maybe I'm being generous in assuming that, though.
(King Cakes are descended from Twelfth Night cakes such as the puff pastry and almond filling cakes known as Galette des Rois in northern France and the brioche-style Gâteau des Rois from southern France. Antebellum King Cakes were served at fancy Creole balls and could contain fèves such as gold, diamonds, or other precious things that the eater got to keep (after maybe breaking a tooth on them). The custom spread to all levels of society and the inclusion of simple favors such as beans or nuts or coins was common post-Civil War, as was the tradition of designating the Mardi Gras Queen as the finder of the favor. Today, New Orleans King Cakes are purple (justice), green (faith) and gold (power) and contain a plastic baby. Do with that information what you will).
This, well, it is a Very Large Cake, bigger even than Samantha's old Bridesmaid Accessories cake. It's one solid piece of decorated, molded plastic. It's really pretty, but fairly useless as a toy since there's no way to slice and serve a piece for doll play. It's so solid it could be a doggie's chew toy. Not much to play with, so grade = C.
ETA two more photos here to show that the Very Large Cake fits perfectly on the silver stand from Felicity's retired Tea Treats (if you define perfectly as having no edge room to spare). I like it elevated in this manner because it makes the punch bowl look more proportional to the rest of the set.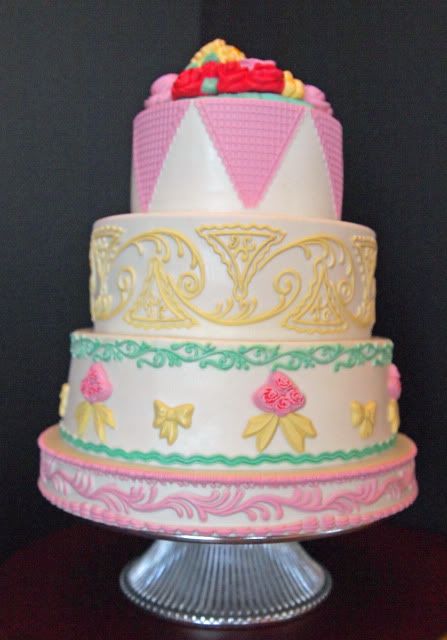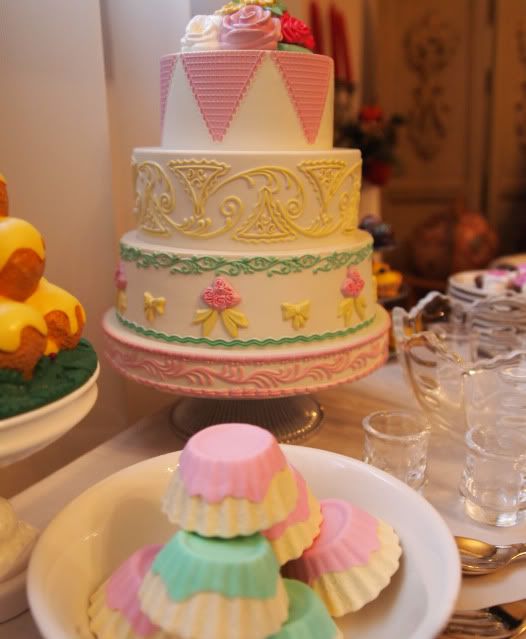 AG's description: "A white pedestal laden with faux cream puffs." It's actually two pieces and the puffs are quite detailed. Not sure what those red things are on the bottom, though I'm pretty sure they're not meant to be eaten. (Kidding. I'm kidding).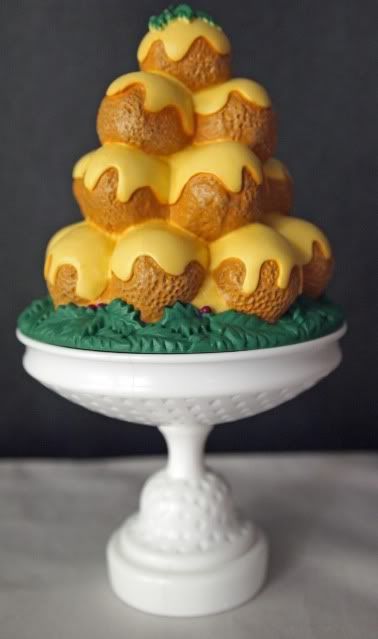 After reading a fair number of complaints about the 'clumped' nature of the items in this set, I have to add here that it would have been impossible for AG to create this particular piece with separate items for people to play with and then re-assemble. AG calls these 'faux cream puffs' (the 'faux' in the description is amusingly redundant to me because, honestly, did AG believe anyone would think they were REAL cream puffs?). In reality, this is in fact a replica of a special-occasion French dessert called a croque-en-bouche, an assembled tower of profiteroles or choux pastry balls filled with cream. Actually, these days you can see croque-en-bouche style desserts made of lots of things -- for example the gorgeous Ladurée macaron towers. But anyway, I cannot imagine any way that a child or even most adult collectors could skillfully assemble a toy croque-en-boche made of little resin pastries, so this had to be all of a piece. Grade B- mostly for effort.
The pedestal could have been a prettier color at least, so it didn't look like milk glass (which isn't necessarily wrong as opal glass was made as far back at the 16th century, but it wasn't as ugly as this replica is). For that matter, the pedestal could at least have been made of ceramic because IMO this plastic thing is fugly.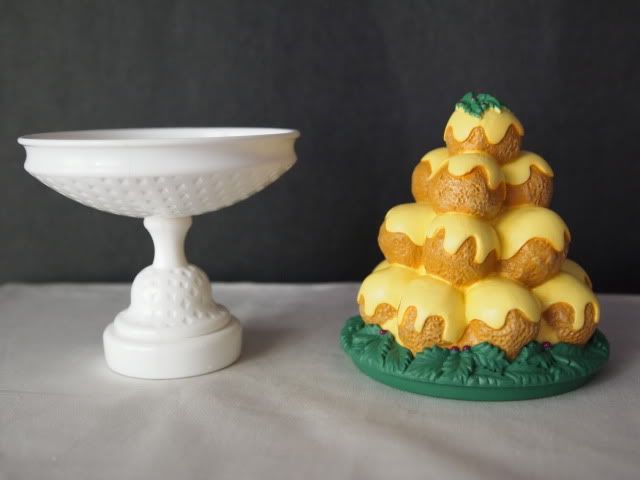 "A ceramic bowl, filled with pretend pastries."
Okay, what are these pastries? I don't even know. They remind me of Samantha's ice cream bombs, only not as pretty. I wouldn't be surprised if the same mold was used for them. There are four pink and three mint green pretend pastries. If your doll chooses not to consume the pastries, perhaps she can amuse herself by stacking them for fun and profit. In all seriousness, they are iced cakes, but the execution leaves a lot to be desired.
I like these the least of all the delicacies. They'd be awfully sticky and messy, stacked the way AG has them arranged. Grade C-.
And finally, the pièce de résistance: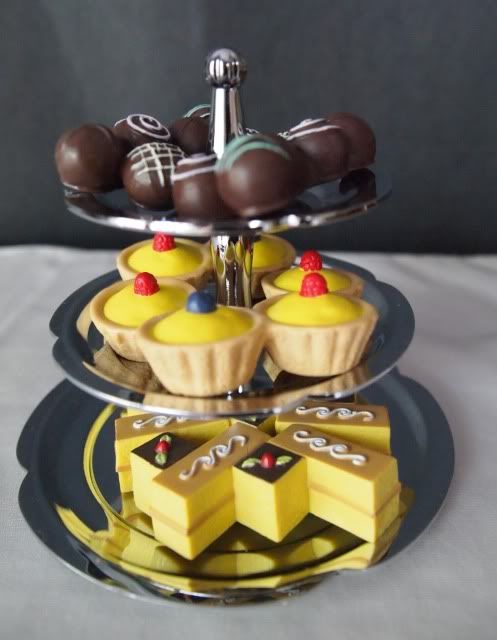 OMG so much love for this. Granted, the pieces are not individual like
Felicity's long-retired Chocolate Set
but if I had a nickel for every time I had to chase a strawberry or tart across the room I'd, well, I'd have lots of nickels. I think for practicality and manageability for kids, the grouped pieces make sense but do decrease the play value. As is, it's fine for my display purposes but I would have liked a few individual petit fours, tarts and candies all the same and I'll be dealing with that on my own. Grade A-.
So that's everything. The big question: is it worth AG's original retail price of $150? Subjective decision, of course. Obviously I wanted a set enough to pay that asking price, but I don't know that most parents of target market children or even that most collectors will. AG's reputed new policy on replacement parts means that collectors will not be able to pick up their coveted bits and pieces, so I foresee people buying this set and perhaps splitting out what they want to keep.
Total grade for me on this set is a B+ and that only because the whole is greater than the sum of its parts. I've supplemented this set with a lot of my own pieces and that brings its playability and display value up in my estimation. So I do think it is a lovely supplement to a collection for antebellum New Orleans life, and I'm glad to have it.
Now if you'll excuse us, Marie-Grace has some serious eating to do.