Post by august on Sept 23, 2011 11:03:21 GMT -5
I cannot say enough good things about this bed. It was very easy to put together and once constructed, it is very sturdy. The wood is heavy and the carving is very nicely done. The bed is all wood and the honey colored wood is simply elegant. My only complaint is the linens. They are very pretty but the coverlet is somewhat thin and I wish the mattress had been a little more plush but the beautiful wood bed more than makes up for it! I think this is one of the best pieces of furniture AG has ever made. I give it an A+.
MATTRESS-it is not as plush as other AG mattresses. I guess this has to due with the design of the bed.
COVERLET - one side is satiny pink with a white spinning wheel design. The other side is pink cotton.
PILLOW is made of the same pink cotton material found on the coverlet.
I much admire E of A's reviews because she includes tidbits of history with her reviews which are immensely interesting and often times downright fascinating. My DD has become very interested in Cécile's time period, so she and I have been perusing the internet for more information and came across a few similar examples of Cécile's bed. So, I thought I would include what DD and I found.
This is a picture of an 1850's cradle from the DAR house located in Mobile, Alabama.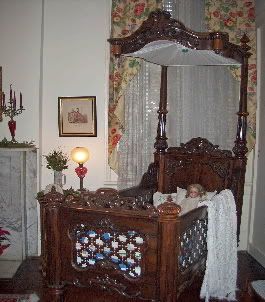 The cradle was made by cabinetmaker, Prudent Mallard. Prudent Mallard began his work in New York in 1829 but in 1832 moved to Louisiana. His store was located on Royal street until 1874. He was known for his beautiful and intricately carved furniture pieces in rosewood (call rosewood because when cut it smelled like roses). He made everything from settees to dressers to beds.
Another example of Prudent Mallard's work is a half-tester bed (like Cécile's) located in the historic home of Dick and Joanne Leike called White Arches located in Columbus, Mississippi: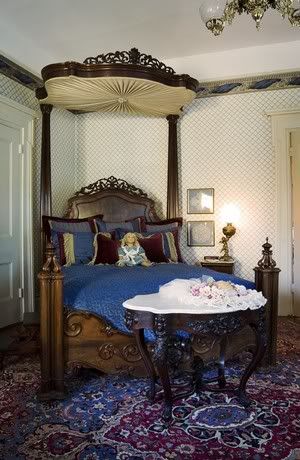 Here is a link to their website
www.commercialappeal.com/news/2007/nov/30/meant-to-be/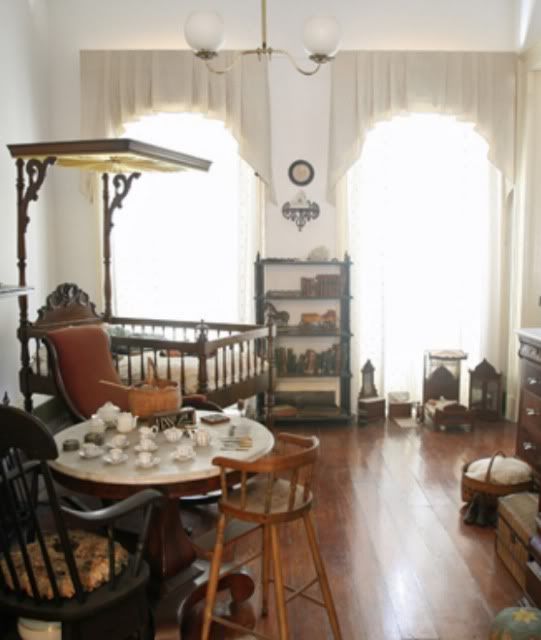 Here is a picture from a child's bedroom in the 1850 House located in New Orleans' French Quarter. Check out the doll-sized bed and dresser. So cute! The style looks like that of Prudent Mallard but I am not sure.
You can learn more about the 1850 House at
www.crt.state.la.us/museum/properties/1850house.aspx
*mod edit to remove dead-linked images*