Post by EofA on Sept 14, 2011 13:46:31 GMT -5
This outfit is worn by Marie-Grace in the book Marie-Grace Makes a Difference.
Why, yes, yes I did. I've taken a photo up Marie-Grace's dress.
I did so because I wanted to show the pantaloons that come with this outfit, because they constitute my main complaint and I want to get this out of the way first.
See, I have a Marie-Grace doll. She comes with pantaloons. These ones: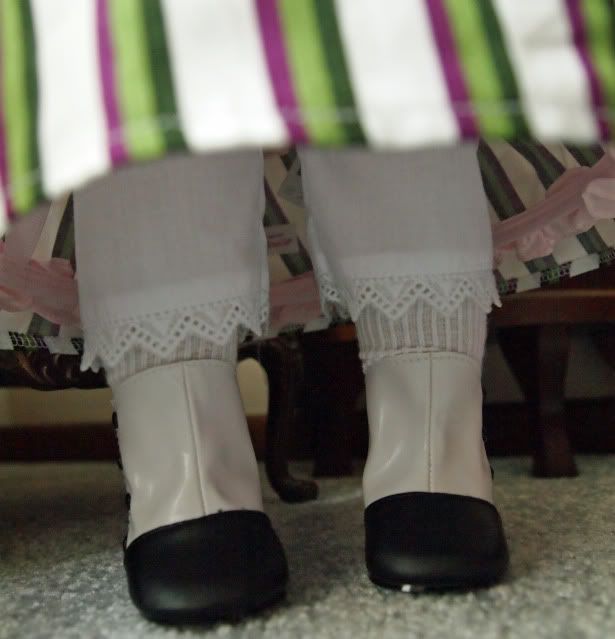 She's a doll, and therefore she doesn't need a spare pair of underwear.
Granted the lace trim on the first set differs from her Meet panties, and this pair balloons more and is longer so the bottoms can peek out winningly beneath her skirt.
It's completely appropriate for antebellum girls of this age to wear fancy undies. But do doll owners need more than one pair of them for their dolls? Me, I don't. I could have easily lived without pantaloon variation in my collection.
Ask me if I think it's worth it? No, it's not worth it. Not for the original retail of $34 and not even for the 25% off of the entire collection that came later in 2011.
I'd far rather have had AG sell us the matching bonnet from an illustration in
Marie-Grace Makes a Difference
. I'd have paid more for it, too. This one:
*grumbles* Okay, enough about pantaloons. Let's talk about the rest of the Party Outfit.
Faithfulness to Historical Fashion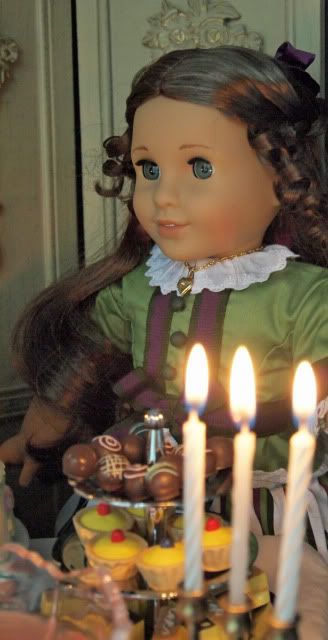 You'll notice that the outfit as illustrated above differs somewhat from the one AG produced for the doll. The latter contains more purple accents. I like that as I think it adds visual period interest, and on a personal level I adore green and purple combined. However, the combination of such strong colors might look slightly garish to modern eyes, particularly for little girls who constitute the target market AG is trying to reach and who might prefer to gravitate to florals and pastels.
It's a tough thing for AG to negotiate. Antebellum fashion included VERY bold plaids and stripes. AG has largely steered away from those designs in the interest of catering to the fashion sensibilities of modern children, who presume that all gowns should be lacey and flowery. Lace and floral patterns exist in this era, to be sure, but so too do the bold plaids and stripes.
This outfit is definitely historically accurate for the time. Member CI Fairfield found a fashion plate on the NY Public Library digital archive from an October 1854 edition of Harper's Magazine that illustrates how spot-on the outfit is. Change a few details on the girl's jacket, color it purple and green and voilà you've got Marie-Grace's outfit:
There is also this 1852 fashion plate from Petit Courier des Dames: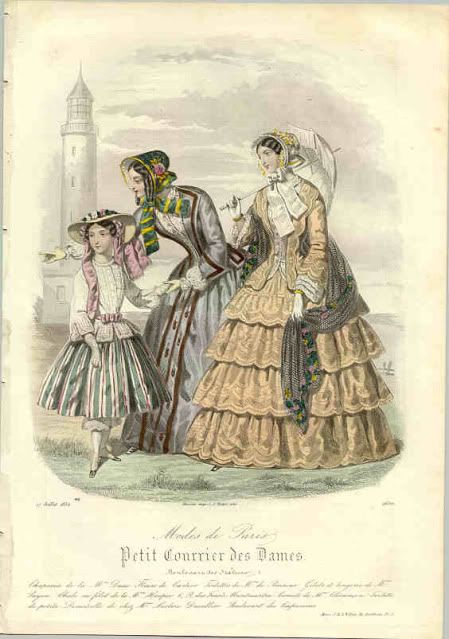 Even the Dover Paper Dolls that Tom Tierney does features the same design in his Fashions of the Old South Paper Dolls!
I for one am glad that AG didn't avoid the bolder designs entirely. I like historical accuracy, and I like these stripes. I give lots of points to AG for getting this right!
General Comments
Some photos of Marie-Grace. She is wearing her crinoline under the skirt. The skirt really should be fuller if it is meant to be worn over the cage crinoline. Because it is not full enough, I think the skirt looks better sans crinoline but over a stiff petticoat to give it shape.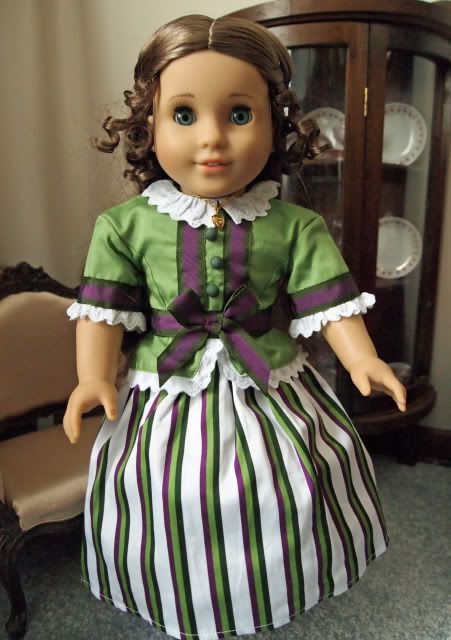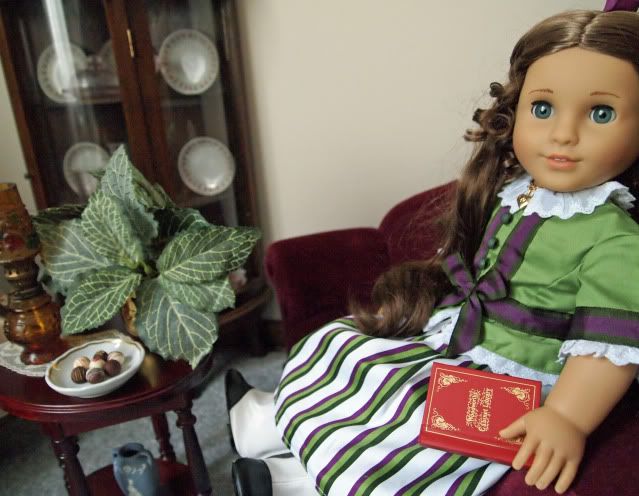 The purple hair ribbon that was included is a great color but it's pretty short to do much with. Grace has it tucked back into her braids, where it gets lost because it's so small.
The fit of this outfit is great. The jacket fastens in the back (beware hair-eating velcro), so the little buttons on the front are for show only. The skirt pulls on easily.
I like that the jacket is referenced in the books as being special to Marie-Grace because it is a gift from Mademoiselle Océane. I believe it is AG's homage to the style known in Victorian times as a Basque jacket, but fashion experts can correct me if I am wrong on that.
So the outfit has fit, looks, story-significance, and period-accuracy in its favor. I'd say it couldn't get any better than this, except less pantaloon/ more bonnet, and more fullness in the skirt.
A- for what it is.
B+ for the disappointment of no bonnet and superfluous pantaloons.