Post by Keri on Jan 28, 2007 0:09:14 GMT -5
$8
I have to start by apologising for the absolutely awful quality of the pictures. I may retake them in better lighting - as it is, I was using the small viewfinder type screen rather than the large screen on my digital camera, and it was very difficult to see how well the photo came out.
Anyway, this bag earns an A from me!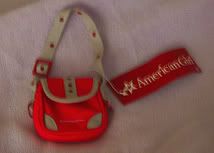 It is a bright, cheerful red with grey accents - sooo stylish, and sooo not pink! Yes!!!
The shoulder strap is too short to sling diagonally across her body, but it fits very nicely over one shoulder. It is a grey weave with red rivet-things spaced one inch apart along the length. Each end is stitched to the side of the bag in a large square shape, like real bags have, and there is a red d-ring at the end - you can attach the keyring from the JLY meet accessories to it.
There is an H-square ring on the left of the bag, to look like the strap is adjustable, but it is for decoration only.
The flap of the bag is rounded and has a smaller version of the strap stitched vertically down the middle. The edge is covered with grey. It has a magnet-style closure and is red underneath.
The main body of the bag is red on the outside and grey inside. The back is plain but the front has small grey semi-circles in the corners, as if they were reinforcements. In between them, on the red part of the bag, is the AGP logo in white.
The bag is made from canvas, I think, and feels fairly sturdy.
Despite the non-functionality of the H-square, and the fact that the shoulder strap can't go diagonal, I think this bag is about fifty million times better than the ones offered with the last few JLY meet outfits. Not only is it red and grey -- which is a really nice color combination! -- but it is practical and useful. It doesn't fit much (what doll-sized bag does?), but it does fit one of Beatrice's hotwheels cars, or her digital camera, or some of her christmas
toys.
If you're going to an AGP or having something ordered, I think this is a really cute addition to your doll's collection. I especially like it because Beatrice isn't into frills or the pastels much, and it fits her personality to a "T"!

--- KERI