Post by Keri on Aug 19, 2007 0:46:39 GMT -5
This suitcase/backpack set is great for traveling dolls. The suitcase has a sturdy plastic frame so that it keeps its shape, even while being made of a soft vinyl-look fabric. There is a plastic support tray under the bottom with wheels and two legs attached. Of course, since there's wheels, there's a pull-out handle on the top. The backpack zips onto the front of the suitcase and has a special place in front for your doll's doll, just like the girl version.
There's so many little details that make this true-to-regular size, like the little handles and patterns and things. There's even a tiny id card attached with a ball chain to the top handle, where you can put your doll's information in case the suitcase gets lost.
I love how roomy this suitcase is. I managed to get a set of pyjamas, two pairs of shoes, two pairs of pants, and two shirts into the main compartment (one of the shirts is rather bulky, too!). I put a jacket into the backpack, and there was room for a few more things. For the record, I used it to carry 8 AA batteries along with said jacket.

The color is cool: it's a lavenderish purple, but at just the right angle or light reflection, it has a shiny blue tint. All the zippers, straps, &c are black.
The backpack fits okay on the doll, but I think it rides a bit high. There isn't a lot of room to adjust the straps, and the bag is a bit tall anyway. Though your minidoll will fit quite well in the front, her head might bang against the regular doll's head. Also, the plastic buckles were a bit difficult to undo - I had to press quite firmly and then they popped open.
This is really great for traveling, though. It's small enough to fit inside a larger suitcase or between someone's feet in the car and you'll be able to keep extra clothes for the doll in one place. It's a bit easier than a tote, backpack, or plastic bag, yeah? Plus the detachable backpack is good for tossing into your purse/tote when out and about with the doll, so that you don't lose extra hair things or sunglasses, or whatever accessories you have for your photos.
My grade: A-
It's not an A+ because the backpack fits a bit oddly on the doll. Don't get me wrong, it fits fine, just not quite as well as I would hope, being the nitpicky person I can be.
Thanks to Sproutsmom and her traveling Nora for giving me the chance to see and photograph this guy!
PICTURES
Basic: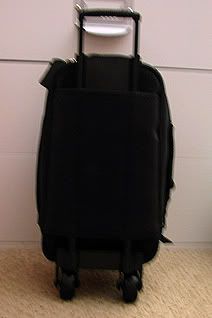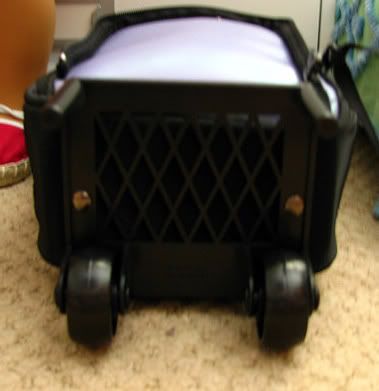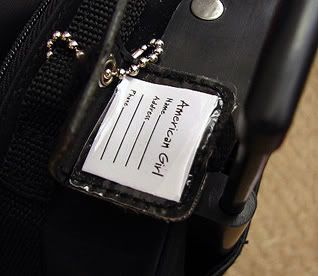 Stuff inside!
-everything that went in
-this pair of crops is just a smidge too long to lie flat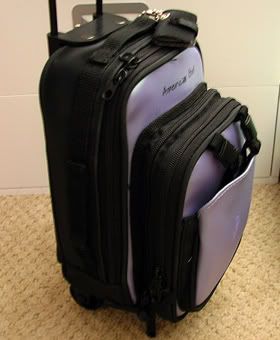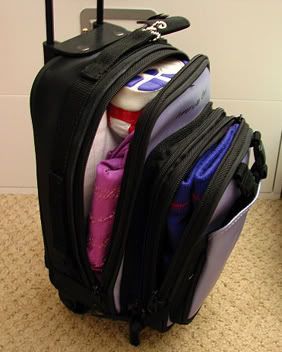 Size comparisons!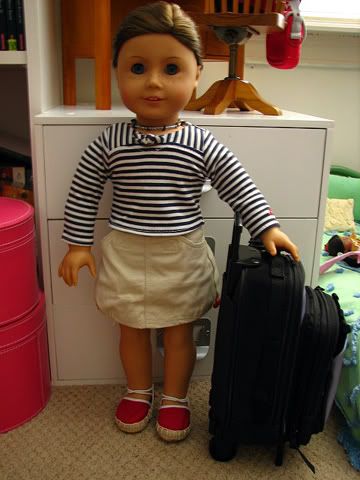 Check out the backpack portion: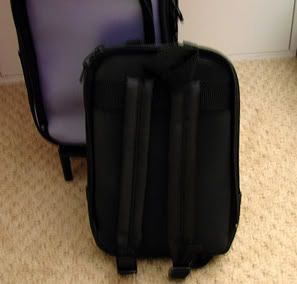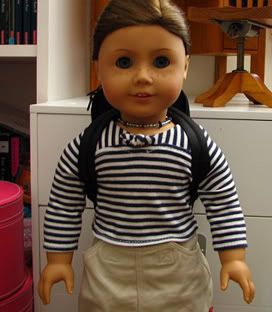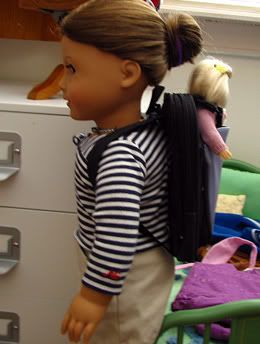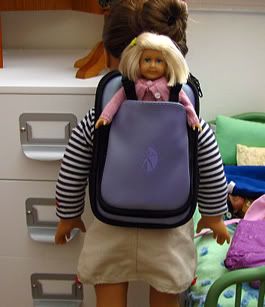 --- KERI