Post by maggiedoll on Dec 15, 2007 0:48:05 GMT -5
From the good people at American Girl.com
For mouth-watering, make-believe fun, get this set featuring:
A root beer float
Pink lemonade in a fancy glass
A classic banana split
A large ice cream sundae
Also includes a napkin holder, four napkins, two spoons, and two reversible place mats with a design on one side and a menu on the other, plus an order pad for snack selection
$22
From my good collection: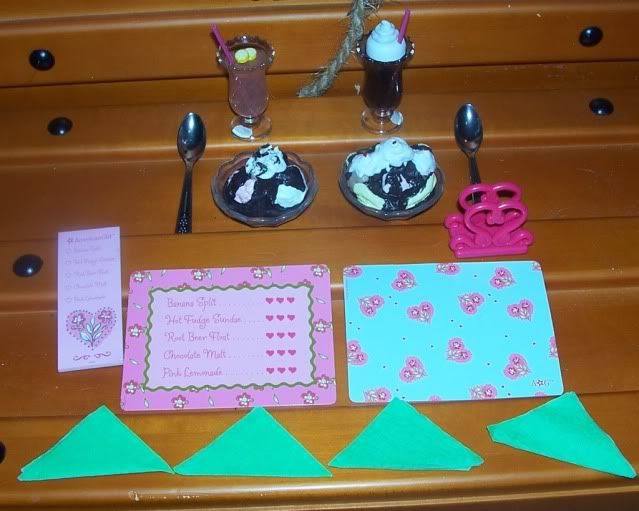 Please note (1): Due to a difficult camera, I could only beat one picture out of the photo shoot. Its a big picture but just one. Sorry about the lack of detail.
Please note (2): Due to a new puppy, my sundae has a big bite out of it. If your sundae comes looking like mine, I strongly recommend calling CS.
As for my review, I bought it on a whim at AGPC when the set was first placed on backorder on the website in late summer. I kind of like have a nice little food set that did not cost almost a $100 and was so fragile. Even though I don't regret the purchase, I think I could had bought something of higher quality.
The set comes with a
sundae and banana split
. The paint is little sloppy (some one really liked the black for "syrup" on my banana split). I assume that the ice cream is soft plastic and the bowl is harder plastic. They are very durable, I'm sure that they can handle a little brother's antics. The spoons are more substantial than the spoon from Felicity's retired tea set, but not has heavy as Kit's dishes. I do think that they are leftovers from Addy's now retired dish set.
The
pink lemonade and root beer float
are my favorite part. There was a great attention to making the drinks realistic, my best example is you can see the "uneven" part of the straw from where the straw leaves the liquid. The lemonade has two tiny little lemons and the float has ice cream and whip cream. The glasses have a slight pattern on them. With a little gentle force a doll can hold her drink.
The
place mats
are some sort of lamented paper they can be bended but it would take some effort. One side is a menu (apparently, everything costs three hearts) and the other side is blue with pink hearts and red flowers. Cute, but not widely impressive.
Order pad
is the interactive part of the set. The girl can play waitress to her dolls by asking them what they want (she can serve them everything except the chocolate malt). There is about twenty pages to mark up and rip out.
The
napkin holder
is cheep, light plastic in a unattractive shade of dark pink. It is in the shape of a heart that seems to be a theme in the set. The napkins are cheep, tissue paper shade of light green. The napkin is not very impressive, they are folded into neat little triangles that can be unfolded. The unfolded squares are not big enough to fit over a doll's lap.
If you are buying this for a little girl, this is a great idea. There are many of great pieces and there is potential for hours of play. For $22 the Sweet Treats set is nice play set and it is a nice display for a few dolls.
A
For an adult collector the Sweet Treats set is not a good addition to the collection. Compared to a dish set it is lacking in the quality that collectors know and love. The scale is also terrible. If a doll could talk, she would wonder why you are giving her so small portions. If you are buying it so you can display some dolls having ice cream or drinks it is a nice set, however, if you want something to keep for many years you might want to save the money toward a dish set.
C